By Abby Laub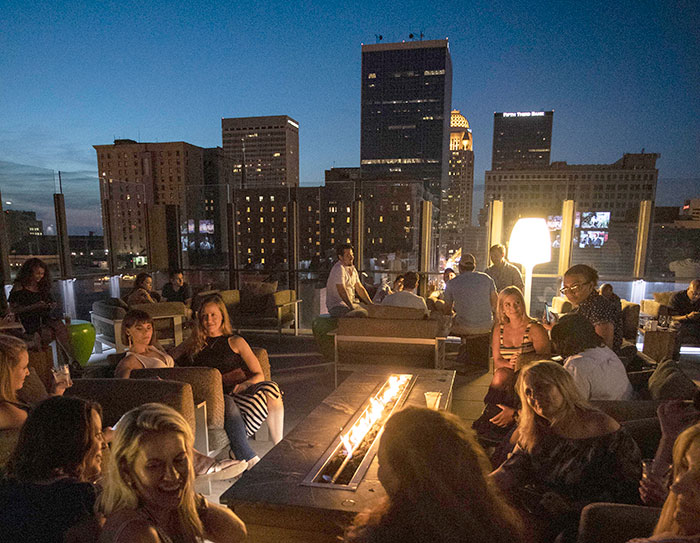 Every summer, 20 to 30 interns from around the country flock to an ultra-hip, high-tech firm that offers hefty salaries, workout breaks, in-office haircuts, and a dog-friendly environment – not to mention access to one of the country's largest private bourbon bars. This office isn't in Silicon Valley – it's the Louisville home of El Toro, a genius 7-year-old technology firm that specializes in marketing through IP targeting.

Stacey Griggs, CEO of El Toro, moved back to Louisville nine years ago after pursuing education and career elsewhere. Now, in addition to running his rapidly growing company, he's got his sights set on growing the tech scene and talent in the region. And shining a light on what's already here.
"People expect tech companies to be in New York or Silicon Valley. They're not surprised we're in Louisville, but they're surprised we're not in Silicon Valley," he said. "We've got this really cool tech scene starting to evolve here. Things like Appriss, Endeavor … and companies like Humana and UPS have very large tech staffs. There's kind of this hidden tech economy in Louisville. People say, 'Well, Humana is a health care company,' but they have hundreds of data scientists and programmers. Those are things every company is going to use going forward. There are a bunch of jobs [in tech in the Louisville area]."
Making young talent aware of this burgeoning ecosystem and filling those jobs is a challenge gladly undertaken by Griggs and his team.
"We're relocating a lot of younger people, especially, who are recent college graduates who might have grown up in the Carolinas, Arkansas, Illinois," he said. "We've brought in people from a broad regional footprint. If you're within 500 miles of here, you're much more likely to relocate here than someone from Silicon Valley and New York."
Aside from the fantastic job prospects available, the first thing they discuss is the great balance of life, he said, adding that "for the salary you have here, you don't need to have four roommates."
And given that Louisville is a mid-sized city, there's also ease in connecting and creating community, which can be hard to do in a massive environment where you're just another number.
---
IT'S FREE | Sign up for The Lane Report email business newsletter. Receive breaking Kentucky business news and updates daily. Click here to sign up
---
This is part of what has kept nanotechnology specialist Dr. Angelique Johnson, CEO of MEMStim LLC, in Louisville.
Using microfabrication, MEMStim manufactures low-cost, high-performance, implantable neurostimulators. Johnson's company currently produces cochlear implants, but MEMStim is still in the research and development phase as the company works to perfect its manufacturing process, she said. Johnson is in talks with major companies around the world, including Cochlear Unlimited. MEMStim was founded in 2011.
"I had originally started it just kind of as an entrepreneurial student at University of Michigan when getting my Ph.D.," Johnson said. "I just wanted to explore the world of entrepreneurship, but then I soon found out that if we were successful at automating the manufacturing process in electroleads that there were companies interested in that and that it would solve challenges people have been trying to address for decades."
Johnson has a doctorate in electrical engineering from Michigan, and previously earned undergraduate degrees in mathematics and computer engineering, as well as a master's degree in electrical engineering.
Johnson settled in Louisville after a short stint at the University of Louisville. She still works with the university in a small capacity and utilizes university laboratory space for her business, in addition to trying to get nanotechnology in the hands of UofL surgeons.
Aside from growing her business, her time in the region has been highlighted by building community, serving in leadership roles and working to foster an overall environment that is accommodating to entrepreneurs of all types, particularly women and minorities.
"I think Louisville really is a possibility city," Johnson said, echoing a Greater Louisville Inc. (GLI) branding phrase from a few years ago. "In terms of MEMStim, it can be difficult because getting access to talent and connecting with other companies in my sector – there aren't many. But what I enjoy most is giving back to other entrepreneurs. There is great opportunity here in the city to give back to women and other entrepreneurs of color as they're walking and building their dream."
She works with all entrepreneurs, whether it's selling muffins or electroleads, she said. She founded Diversity Pitch Fest, a multi-week training program in entrepreneurship from 2016-2018. She's been involved in myriad other mentorship, leadership and nonprofit roles that support entrepreneurs.
Her versatility, genius and desire to help others is the ultimate trifecta – but she admits it wasn't always for purely philanthropic reasons that she began giving back.
"It probably started somewhat from a selfish perspective, being the only African-American female who would show up to startup community events … I was like 'Let me make some friends,' " she recalled. "I got to know people and recruited people to come to events. I was building the community that I wish I had when I came to Louisville."
'Skills … the most important issue'
This mentality of involvement and engagement with others is precisely what leaders in Louisville work to foster, and seek to do more. And, the fact that it's already happening is not lost on national influencers with deep pockets.
In April 2019, JPMorgan Chase named Louisville as one of five winning cities in its inaugural AdvancingCities Challenge, part of a $500 million, five-year initiative to drive inclusive growth and create greater economic opportunity in cities. The program awarded $3 million apiece to five U.S. cities that presented cross-cutting approaches to solving entrenched challenges in their communities. The four other winning cities were Chicago, Miami, San Diego and Syracuse, N.Y.
Louisville was selected because the proposal from its community organizations successfully outlined a local coalition of elected, business and nonprofit leaders working together to address major social and economic challenges, such as employment barriers, financial insecurity and neighborhood disinvestment.
The AdvancingCities Challenge attracted more than 250 proposals from 143 communities across 45 states and territories. Proposals were required to incorporate at least two of four strategic drivers of inclusive growth within JPMorgan Chase's Model for Impact: jobs and skills; small business; neighborhood revitalization; and financial health.
Louisville's winning proposal, Louisville Digital Inclusion and Economic Resilience, will use high-touch community outreach in six of the city's lowest income neighborhoods. The program will equip residents with the skills to compete for jobs while connecting them to financial and social services through a formalized referral network and a new shared data platform.
Just a week before the significant JPMorgan Chase news broke, UofL and IBM announced another big win: A new IBM Skills Academy – one of only five anywhere – will come to campus to help move the university, the City of Louisville and the Commonwealth of Kentucky to the forefront of data science and digital learning.
The academy opens in fall 2019 and will be housed in the newly created Center for Digital Transformation. It will provide future-focused curriculum in areas such as artificial intelligence, blockchain, cybersecurity and cloud computing.
IBM's artificial intelligence tools and related education initiatives are drawn from methods and technologies IBM has developed in-house to drive its own workforce transformation. The IBM Skills Academy transforms how cultures and people will operate with digital technology, including ethics and human bias in coding.
"This is a game changer for UofL and for the commonwealth," said university President Neeli Bendapudi. "The new skills academy will close the digital divide that has existed between Kentucky and high-tech areas such as the Northeast corridor and the West Coast."
IBM will make available software and cloud technology with an estimated value of up to $5 million to UofL students and faculty for teaching and non-commercial research purposes. IBM will provide training for select UofL faculty in eight areas: artificial intelligence, blockchain technology, cybersecurity, cloud technology, data science, internet of things, design thinking and quantum computing. Once trained, UofL faculty will teach colleagues and students and serve as workforce development agents for the community. Through the collaboration, UofL faculty also will participate in curricular innovation, including integrating digital learning into their college courses, as well as in K-12 classes.
"Skills are the most important issue of our time. The true potential in digital and AI systems is in their ability to work in partnership with humans," said Naguib Attia, vice president for Global University Programs, IBM. "The University of Louisville is empowering students and faculty to flourish in the era of AI and automation by preparing them with the necessary skills to make the partnership between people and AI as beneficial as possible."
Statewide partners
In-state partnerships also have created exciting possibilities for the Greater Louisville region, which will spill over into the rest of Kentucky.
In March 2019, the University of Kentucky in Lexington and UofL announced a $2.1 billion comprehensive fundraising campaign in a partnership to increase the number of degrees attained for a better statewide future. Citing Louisville's importance as an economic engine for the state, UK kicked off Kentucky Can: The 21st Century Campaign.
"Through our education, research, service and clinical care, we are building a brighter future for everyone we serve. … We are doing more, being more for Kentucky," said UK President Eli Capilouto at the announcement. "Louisville is central to our effort and to the state's future. In so many ways, its success and our success are inextricably linked."
The goals of the fundraising campaign, Capilouto said, align completely with many of the city of Louisville's aspirations for the future. Along with increasing graduation rates, UK has ambitious plans to nearly double the number of engineering students, and continuing to increase its research and health care efforts to reduce Kentucky's cancer rates and taking on the twin epidemics of opioid and substance abuse disorders, among other challenges.
In Louisville specifically, UK already is engaged in a number of collaborations, including a design studio focused on the historic Portland neighborhood, clinical partnerships in health care and nursing, agriculture extension programs and continuing to strengthen the city's nationally recognized presence in the bourbon industry.
Beating out Austin, Raleigh, Nashville
Influential statewide partnerships benefit Louisville and beyond. And now Louisville needs to shine as a "must-see alternative to Austin, Charlotte, Raleigh and Nashville," said Brian Mefford, executive director of KY Innovation, which operates in the state Cabinet for Economic Development.
"To outperform and truly reach its potential, Louisville can't be content with its role as a top metro for Kentuckians who want an urban lifestyle. It has to compete nationally," Mefford said. "We will outperform competitors by being our authentic selves, by leaning into industry/cluster strengths and by using our unique mix of Middle America resolve and practicality with a mix of Southern work ethic, charm and, yes, our penchant for making it fun."
Factors like having the highest speed broadband and nice office space "demonstrate that a city understands and has eliminated basic limitations to upward expansion," he said. But accessing talent often comes down to "softer elements," he said, things like a well-connected network of like-minded tech colleagues and space to bring them together.
"They're looking for culture and community that reveres and rewards creativity, innovation and risk-taking," Mefford said. "Those elements are represented tangibly by a vibrant arts community, by collections of companies that are thriving in technology-intensive industries, and by a 'density' of young companies and the investors who are actively providing capital to fuel their scale-up."
Many technology-based workers and startups are mobile based, he noted. And waiting in traffic in a huge metropolitan area doesn't do anyone favors. Enter Louisville.
"Competition for their attention is fierce," he said. "Data tell us there's a strong tendency towards cities or regions that offer convenient access to big city amenities but provide a smaller city feel, offer access to natural beauty and outdoor activities, and provide a lower cost of living and working."
This is where Louisville is leaps and bounds ahead of its competitors.
"Kentucky, and Louisville particularly, has most of these elements in some abundance," Mefford said. "We find consistently that once a family moves to Louisville or a business relocates to the area, they are pleasantly surprised that the region greatly exceeds even their highest hopes or expectations for quality of life and business climate."
Cultivating that environment, and getting the message out, are mission imperative. He cited the growth of Charlotte, Raleigh, Nashville and Austin – how they've outpaced Louisville.
"Louisville is on the right path," Mefford said. "It offers important strength in some key areas for supporting growth, like great location, supply chain and logistics efficiency, for instance. UofL, a fantastic partner of ours, is distinguishing itself as a leader on many fronts. Amenities are compounding, such as the SIDIS Entrepreneur Center, the Louisville FC stadium, a critical mass of local restaurants, breweries, museums, performance venues and recreational options. Louisville offers revitalized neighborhoods and bespoke attractions no other competitors outside Kentucky can."
And old standbys such as horse racing and bourbon continue to draw astounding crowds, as do the region's central proximity to other highlights in both Kentucky and southern Indiana.
Offering tools for growth
The icing on the cake: New companies, tech-based or not, can get the help they need to succeed in Greater Louisville.
"Our RISE Louisville initiative has successfully reset the ecosystem by coalescing new players along with existing proven partners through a financial investment roughly five to six times the state's previous annual investment into Louisville's innovation and startup ecosystem," Mefford said. "We're seeing early fruits in terms of top-rate leadership talent being attracted to this initiative, key corporate engagement, strong integration of university innovation and enthusiasm among entrepreneurs."
He cites Techstars, a national leader and expert in the area of cultivating vibrant startup communities, which generated excitement by adding the city to its global network.
And corporate leaders in Greater Louisville are more engaged than ever, as witnessed by the leadership role of the Louisville Healthcare CEO Council. In early May, LHCC along with KY Innovation and numerous other partners held the first CareTech Pitch Derby, a competition to identify, recognize and support innovators for Louisville's health care and aging care industry clusters. Hundreds of companies applied from around the world for the opportunity to pitch LHCC leaders.
A "Shark Tank" Open Casting Call took place that same week in Louisville.
An ongoing success is Kentucky's Small Business Innovation Research (SBIR) and Small Business Technology Transfer (STTR) Matching Funds program, which promotes growth and job creation by providing grants to match as much as 100% of federal SBIR and STTR investments in high-tech research-based companies when they commit to remain in or relocate to Kentucky. In February, the Cabinet named 10 new SBIR-STTR recipients – including two Louisville companies – for this year's round that are collectively receiving $2.18 million in state matches based on $5.1 million in federal grants.
These are just a few examples of partnerships at work and dollars flowing at the state and local level to boost the technology and entrepreneurial ecosystem in the Louisville region. From tax cuts to free classes and mentorship, to federal Opportunity Zones, the opportunities abound.
Middle American investment
These opportunities in some cases are unique to Middle America, which is still ripe for investment.
Louisville-based Poplar Ventures in March 2019 announced the launch of a new venture capital fund, Poplar Ventures L.P., focused on investing in early growth stage, cloud-based software technology companies in Middle America. The initial closing raised $17 million, with plans for a final closing in the second quarter of this year.
Poplar Ventures is led by founder and managing partner John Willmoth, a veteran corporate development executive and investor in numerous technology-based companies. Previous Poplar investments have been in Louisville, Chicago, Indianapolis, Atlanta and elsewhere.
Beefing up Middle America is crucial to Greater Louisville's economy.
Many Midwestern cities are vying to become the next big tech towns, said Mary Ellen Wiederwohl, chief of Louisville Forward.
"Louisville already has a nice density of tech talent and tech companies, and we're trying to make sure we tell people about that," she said. "A lot of our tech talent is hiding in plain sight. We have some amazing middle market tech companies like Appriss and Waystar, and bigger ones like Humana and UPS have very large tech operations here, but they're maybe not as well known.
"So we're peeling back the layers and making sure people know what's here. There are currently 20,000 people employed in pure IT jobs. That's a lot of our workforce and more than what people realize."
Wiederwohl cited the success of strategies by Louisville's five business clusters: advanced manufacturing; business services; food and beverage; lifelong wellness and aging care; and logistics. The strategy involves leaning into the strength of those clusters and building there. For example, innovation in health care involves increasing technology.
"We need to figure out where the tech jobs will be in those clusters … and think about where those specializations might be," Wiederwohl said.
But, one of the greatest advantages the city touts has nothing to do with those clusters. It's all about cost competitiveness and high quality of life, she said. Plus, new perks constantly crop up, such as new direct flights to places like Los Angeles from Louisville.
"Our airport is seeing really amazing growth," Wiederwohl said. "And just the last couple weeks we've had some really nice announcements in the tech space. We're getting noticed nationally and globally … ."
Focus on education and built environment
Regional leaders are continually ramping up educational efforts from kindergarten to college, including non-degree track certificates. There is something offered for everyone to remain competitive.
"We've surpassed the national average for our residents with a two- and four-year degree," Wiederwohl said. "This is critical with economic prosperity, and we'll keep accelerating it."
Another challenge is in the built environment.
"We have a renaissance in our downtown, and in our edge neighborhoods," she said, which are benefiting from still-new "bourbonism" activity and efforts to make the city even more walkable, connected and multimodal. "We are building a city that people want to live in. There are more neighborhoods (where) you can walk to a coffee shop or bike to work, and you have at your disposal all the amenities of a big city. There are new amenities coming online, and the redevelopment of some of our neighborhoods makes the livability enticing for the mobile talent of the 21st-century workers."
Site selectors looking to get companies away from high-cost markets like San Francisco and other coastal hotbeds are constantly in town, she said, attracted partly by the results of billions of dollars invested in the past five years to improve the built environment and infrastructure.
"I'm really excited about what companies will be created here going forward," Wiederwohl said. "If we train this workforce to the point where we think it needs to be, we're going to have some neat companies start here. Appriss was started here, and now look at their growth and their reach. Who is the next Appriss?"
Doing business in 'Funkytown'
Greater Louisville Inc. President/CEO Kent Oyler cites the liveinlou.com project as a chance to tout unique communities and show people just what to expect. Soon, he said, local companies will be "certified liveinlou" brands.
Oyler feels so passionately about the city's unique neighborhoods that he once called Louisville "Funkytown."
"Louisville is a very authentic town," he said. "Places like Bardstown Road – it's just a funky place. There's fully developed ecosystem there. Some other cities have just one block of it, but there are 2.5 miles of it just on Bardstown Road. And then Frankfort Avenue is also rivaling that. It's got unique, authentic stores. We have the chains and all the amenities. Louisville is very attractive to a lot of people."
But attracting even more people is imperative to Louisville to get even 'funkier.' As part of the Greater Louisville 2020 campaign, Oyler said, the region would like to see 38,000 new people to the workforce. The regional leaders from the public and private sector are not to be underestimated and already have education, top hospitality and attractions, big business and an eager startup environment on their side.
Think Kentucky
Old Capitol Annex
300 W. Broadway
Frankfort, KY 40601
1-800-626-2930
As leader of the Kentucky Cabinet for Economic Development, Vivek Sarin has overseen a record level of investment in Kentucky. The commonwealth's new pro-business approach and aggressive efforts to reduce red tape have fostered unprecedented growth from companies throughout the globe. The Cabinet offers innovative economic development approaches to help companies of all sizes grow, develop their workforce and succeed long term.
Humana heads up tech talent attraction
Fortune 500 company Humana is a constant innovator, and its presence in Louisville provides leadership and inspiration to the region. It has its sights set on growing its future through a prepared workforce.
Humana has approximately 2,000 employees working in technology roles in Louisville, according to Humana spokesperson Kate Marx.
"To continue to attract talent, we offer a variety of intern programs for high school, undergraduate, and graduate students," she said. "Humana also offers competitive benefits, including tuition reimbursement, which offers our current employees the opportunity to continue their education and growth."
And in May 2019, the Humana Foundation, Interapt and the University of Louisville announced a partnership to bring a paid, immersive training program that teaches high-demand IT skills to the underemployed and unemployed in the Louisville community. The program, dubbed "Louisville Skills," will provide up to 25 individuals the opportunity to build the technical, business and life skills necessary to work in a fast-paced, high-tech environment, preparing them to launch promising careers in the tech industry.
The Humana Foundation has earmarked $325,000 for the project, which will be targeted to residents in Louisville Metro, particularly in West Louisville. This is Interapt's first partnership with a major university.
More for the money: Oldham has the greatest purchasing power of any Kentucky county
A May 2019 study from financial technology company SmartAsset shows where in Kentucky people can get the most out of their money. The study compares median income and cost
of living data nationwide to find the counties where people hold the most purchasing power.
Five of the top 10 counties are in the Greater Louisville MSA.
| | | | | |
| --- | --- | --- | --- | --- |
| Rank | County, State | Cost of Living | Median Income | Purchasing Power Index |
| 1 | Oldham, Ky. v | $47,588 | $92,237 | 85.40 |
| 2 | Spencer, Ky. v | $41,994 | $68,916 | 72.31 |
| 3 | Boone, Ky. | $44,587 | $72,731 | 71.88 |
| 4 | Scott, Ky. | $40,920 | $65,598 | 70.64 |
| 5 | Shelby, Ky. v | $39,513 | $63,171 | 70.44 |
| 6 | Nelson, Ky. v | $36,096 | $55,182 | 67.36 |
| 7 | Bullitt, Ky. v | $39,218 | $59,917 | 67.32 |
| 8 | Woodford, Ky. | $40,231 | $60,604 | 66.38 |
| 9 | Kenton, Ky. | $39,173 | $58,674 | 66.00 |
| 10 | Campbell, Ky. | $39,099 | $57,208 | 64.47 |
Big bucks to Greater Louisville companies
In February 2019, 10 high-tech Kentucky companies were announced as recipients of $2.18 million in state matching funds to promote growth and job creation in high-paying research and technological fields, from disease research to water treatment. The Kentucky grants match in part the recently announced $5.1 million in federal grants the businesses will collectively receive.
The grants are part of the commonwealth's Small Business Innovation Research (SBIR) and Small Business Technology Transfer (STTR) Matching Funds program. The program, overseen by KY Innovation within the Kentucky Cabinet for Economic Development, matches all or part of federal SBIR/STTR awards received by Kentucky-based companies or companies that commit to relocation in the state.
Three of those companies – Bert Thin Films of Louisville, Endoscopy Assist Devices of Louisville, and Liberate Medical of Crestwood – were among the high-tech winners.
And then in April, the 21st class of Leadership Louisville Center's Ignite Louisville program graduated following a day of presentations to a panel of esteemed judges. The six teams put their work for local nonprofits on display in hopes of winning the Ignite Louisville Challenge and earning additional funds for the agency they worked to assist. The team working with Louisville Youth Group was selected as the winner of the challenge and will receive the $1,500 prize made possible by the Leadership Louisville Center. While one team was selected as the winner, all six nonprofit agencies received significant support, with the six teams contributing over 2,500 hours of service and providing over $350,000 in value to the nonprofit agencies.
These are just several of countless examples of partnerships and dollars across industry leaders and public leaders to create a more robust business atmosphere in the region.
And sometimes this comes in the form of free help.
In February 2019, EnterpriseCorp and the Forcht Center for Entrepreneurship at the University of Louisville College of Business partnered for the third year in a row to host the annual RevIt – Accelerating Customer Growth event. Revlt provides free, tailored marketing advice from marketing and branding experts for early-stage start-up companies in the Greater Louisville region. From the 16 applications received for this highly competitive program, the five companies chosen to participate were Autymate (formerly IBEX Software), Crypto Consulting Group, EZ-Chow, MobileServe, and Regulation and Revenue (formerly NoticeOfIntent.com).
Louisville transplants love Louisville life
Mary Ellen Wiederwohl, chief of Louisville Forward, cited statistics that Louisville is growing by about 1 to 1.5% per year.
"We'd really like to get to 2 to 2.5% in sustained growth," she said. "We're maintaining and growing. We don't want to have hyper growth and lose cost competitiveness and affordability and have infrastructure that can't keep up."
Since Louisville residents aren't reproducing at a rate that would increase the population and the talent battle is fierce, Wiederwohl said the region is utilizing tools like liveinlou.com to showcase the diversity of neighborhoods, jobs and amenities that Greater Louisville has to offer.
Local transplants from other states, like Dr. Angelique Johnson, CEO of MEMStim LLC, agree that the city is a great place to live.
"Louisville is great because it is a relatively big city but it does have a small feel to it," she said. "The cost of living is great, and you're not too far from Cincinnati and Nashville and other cities. It's a nice warm community where you can reach out and connect and build your family."
Selling this type of atmosphere to talented college graduates is as simple as getting students to town. Stacey Griggs, CEO of El Toro, said the company's intern pipeline is a key to ensuring more full-time workers will relocate – or in some cases, stay – in Louisville.
"Three years ago when we started interviewing interns, we found that many of them had already interned for one or two years at Google or Microsoft, and Louisville was essentially an exporter of tech talent," Griggs said. "They'd go intern with someone on the East or West Coast, and so they'd go there after their education. We need to stop exporting people after their education … Interns are going to stay where they know, and [our intern program] helps us build a team and a company."
One successful program that El Toro initiated is Bulldogs in the Bluegrass, which is a group of Yale graduates living in Kentucky.
"They'll bring 30-40 Yale interns to Louisville every summer," Griggs said. "We'll have one or two that'll intern for El Toro, but they'll have events and field trip nights and weekends. Or they'll hear a CEO talk or go to a concert. The whole point is, we want to get them introduced, and get more than six or eight kids back from Yale."