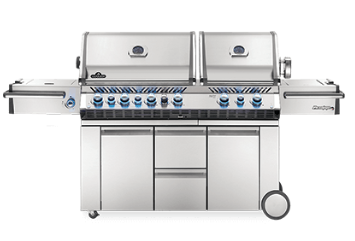 FRANKFORT, Ky. — Wolf Steel Ltd., a manufacturer of fireplaces, grills, HVAC and other products sold under the Napoleon brand name, plans to invest $5.9 million and create as many as 30 full-time jobs with an expansion at Wolf Steel USA in Crittenden, Ky.
"Kentucky is building a solid reputation as America's center for engineering and manufacturing excellence, and our distribution advantages are second to none," Gov. Bevin said. "As Wolf Steel looks to make its Napoleon products available to even more North American customers, we are proud that they are doing so right here in the commonwealth. Wolf Steel has demonstrated consistent growth over the past two decades, and we look forward to their continued success in the month and years ahead."
Wolf Steel manufactures Napoleon grills and fireplaces at the Crittenden location for distribution throughout the U.S. Company leaders plan to expand production and distribution capacity, allowing the company to increase its U.S. market share.
"We are very excited about the growth of our U.S. businesses," said Ron McArthur, president of Wolf Steel. "We are committed to doubling the size of our business, and our Crittenden facility will play a major role in manufacturing and distributing products to our U.S. customers. We are fortunate to have a highly skilled and committed associate group who are committed to producing and distributing quality products that allow our consumers to have memorable experiences in their homes."
Based in Barrie, Ontario, Canada, Wolf Steel manufactures Napoleon fireplaces, grills, HVAC parts and accessories to customers throughout North America and around the world. Since its establishment in 1976, Wolf Steel has implemented new and innovative patented technology. Through high-quality engineering and design, advanced manufacturing techniques and customer service, Wolf Steel distinguishes itself with a commitment to total home comfort.
The company established the entity Wolf Steel USA in 1997 to better serve the U.S. market, and production began in Crittenden two years later with 23 employees. The operation grew with the acquisition of additional property in 2009 and 2015. Since opening approximately two decades ago, the facility has increased from 39,000 s.f. to over 180,000 s.f. with 82 employees.
Sen. Damon Thayer, R-Georgetown, said Wolf Steel has been a good corporate partner in the community for decades.
"Wolf Steel has been located in Crittenden since 1999 and I am happy that they have decided to stay here and expand their business," said Thayer. "They will continue to utilize our local workforce and infrastructure by adding 30 new jobs with this project. The responsible growth shown by Wolf Steel will help make the expansion process a seamless one."
Rep. Savannah Maddox, R-Dry Ridge, said the expansion is symbolic of a widespread effort to create more economic opportunities.
"Pro-growth, conservative policies on the state and federal level have made it possible for manufacturers like Wolf Steel to grow and create more jobs for our citizens," Maddox said. "This creation of 30 new jobs is great news for Grant County, and also a testament to the manufacturing comeback currently underway in both Kentucky and the United States."
Crittenden Mayor Camilla "Kay" Patton wished the company success well into the future.
"Wolf Steel is one of the anchor industries in the Crittenden Industrial Park and we are excited they are willing to make an additional $5.9 million investment in their facility, as well as for what it means for the city of Crittenden and Grant County," Patton said. "We wish them much success with this expansion and plan for Wolf Steel to be in Crittenden for many years to come."
Grant County judge-executive Chuck Dills said the job creation will positively impact the local workforce.
"We, as a community, welcome the news of Wolf Steel's expansion in Crittenden," Dills said. "They have a proven track record as a good community partner and as a business good to its employees. Providing more opportunities for our citizens to work at home is one of the fiscal court and my goals. I am happy Wolf Steel chose to make this kind of commitment to Grant County."
Grant County Industrial Development Authority Executive Director Jamie Baker noted the expansion's local, long-term impact.
"This is good news for Grant County," Baker said. "Wolf Steel has been an excellent community partner since opening in 1999 and we are excited their business is growing. That means more jobs for Grant County residents and more tax revenue for the city and county."
To encourage the investment and job growth in the community, the Kentucky Economic Development Finance Authority (KEDFA) on Thursday preliminarily approved the company for tax incentives up to $350,000 through the Kentucky Business Investment program. The performance-based incentive allows a company to keep a portion of the new tax revenue it generates over the agreement term through corporate income tax credits and wage assessments by meeting job and investment targets.
In addition, Wolf Steel can receive resources from the Kentucky Skills Network. Through the Kentucky Skills Network, companies can receive no-cost recruitment and job placement services, reduced-cost customized training and job training incentives.
For more information on Wolf Steel's Napoleon brand products, visit www.Napoleon.com.
A detailed community profile for Northern Kentucky can be viewed here.