By Abby Laub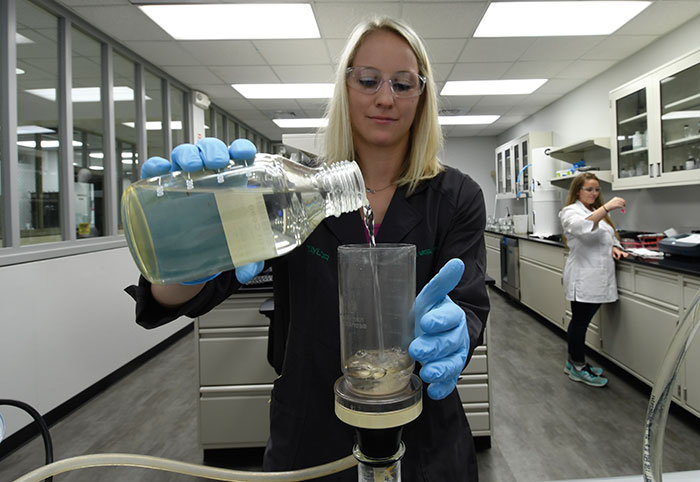 Innovation and technological developments touch every household and business in Greater Louisville and Southern Indiana – through the utilities that make them run.

And, it's no big secret that costs are low for both residential and commercial rates. According to Greater Louisville Inc., the commercial rate for Louisville's electricity is 9.25 cents a kilowatt hour, natural gas is 8.75 cents per cubic foot, and water is $3.14 per thousand gallons, respectively. According to Electricity Local, the average monthly commercial electricity bill in Kentucky is 27% less than the national average monthly bill of $629, and the rate per kilowatt hour ranks 33rd in the nation.
When it comes to the most important of human and business needs – water – Louisville Water Co. is continuing to drive new advancements. It has the advantage of a virtually unlimited supply of water from the Ohio River.
"Innovation is key for Louisville Water, not only delivering its product today but thinking about how we deliver it in the future and how we evolve the science of drinking water," said Kelley Dearing Smith, vice president of communications and marketing at Louisville Water Co. "Louisville Water is in the midst of developing new products and services that compliment our mission."
One of those includes field testing a filter solution that LWC scientists developed called "pure spout™."  Pure spout can replace the spout on a drinking water fountain. Inside pure spout is a filter cartridge that can effectively remove contaminants, such as lead, from the water.
"This product could be a good fit in facilities with aging plumbing," noted Dearing Smith. "At Louisville Water, we're focused on high-quality water leaving our treatment plants and to the customer's property. But there are variables beyond the private side, the customer's side, that we can't control. We're focused on developing water quality solutions beyond the water meter."
Billions in revenue and investment
The other big utilities supplier in the region is LG&E and KU, whose combined revenues in 2018 were about $3.2 billion. President/CEO Paul Thompson said in a January interview with The Lane Report that the gas and electric company has a combined 1.3 million customer sets – meters – stretching across the state. The company's energy sources last year were 80% coal, 19% natural gas and 1% renewable sources. He speculated that increases in renewable sources are still a long way off, but that they expect to go in that direction and are already investigating solar energy at the E.W. Brown Generating Station in Mercer County.
In October 2018, the company was recognized for fostering growth and economic vitality. Site Selection, the international economic development magazine, named LG&E and KU among the "Top 10 Utilities" in the U.S. for economic development. The magazine recognized the company's economic development team for its work in 2017, which included 155 projects in LG&E and KU's service territories that created nearly 7,500 jobs in Kentucky, with a related capital investment of more than $4 billion.
---
IT'S FREE | Sign up for The Lane Report email business newsletter. Receive breaking Kentucky business news and updates daily. Click here to sign up
---
Most recently, LG&E and KU announced the completion of a modernization effort at the company's historic Ohio Falls Hydroelectric Generating Station in Louisville. With the upgrades now in place, the facility is poised to enter a second century of generating clean, low-cost energy by harnessing the natural power of the Ohio River.
"We are especially proud of Ohio Falls, which was a modern marvel when first constructed in the 1920s," said LG&E and KU Chief Operating Officer Lonnie Bellar in a press release. "Now, thanks to this renovation, we're able to marry the past with the future, and the same units that used renewable energy to power Louisville in 1927 will continue to benefit our customers for decades to come."
LG&E and KU is a subsidiary of PPL, based in Allentown, Pa., which has 10 million customers in four states and the United Kingdom. PPL is planning to invest $15 billion in infrastructure improvements in the next four years (through 2022), and Thompson speculates that Kentucky will see roughly a third of that. PPL also is working to implement "smart grid" devices in Kentucky.
Louisville Water Co. is also keeping an eye on its modernization needs and is in the midst of wrapping up the largest water-main replacement in the company's history. Louisville Water began as Kentucky's first public water provider in 1860, but today relies on robotic technology to assist in inspection and repair of aging mains.
Modernization and forward-thinking business strategy includes regionalization for Louisville Water Co.
"We're coming off the best year yet for regionalization – partnering/selling water to other communities," said Dearing Smith. "We'll finish the new water main to Shelbyville in 2019 and begin delivering water to the city in the fall. Our regional footprint extends south to Hardin County, to the east in Shelby County."
In addition, businesses have a competitive edge thanks to multiple fiber-optic networks. And although Google Fiber announced it was pulling out of Louisville, the company is paying Louisville Metro Government $3.84 million to restore infrastructure affected by its departing service in Louisville.
"It's clear that Google Fiber's presence in Louisville led other providers to step up and increase investment in Louisville, and that was good news for consumers everywhere," said Grace Simrall, LMG's chief of civic innovation and technology. "Moreover, we appreciate Google Fiber's donation to our digital inclusion work, because improving equity in access to technology and digital skills is essential for Louisville's economy today and tomorrow."
Greater Louisville has a myriad of phone, cable and internet providers, including AT&T, Spectrum, Mediacom, Viasat, Windstream and multiple others.
LG&E and KU Energy LLC
220 W. Main St.
Louisville, KY 40202
1-800-981-0600
Consistently ranked among the best companies for customer service in the United States and recognized eight times as one of the top utilities in the country for economic development by international economic development magazine Site Selection, Louisville Gas and Electric Co. and Kentucky Utilities Co. are committed to attracting and keeping businesses in the Bluegrass and making the commonwealth a better place to live.
As the energy landscape continues to evolve, LG&E and KU are evolving with it. The utilities continue to create programs and offerings to help meet the goals of business and residential customers – including opportunities to support and grow renewable energy and installing publicly accessible charging stations to support electric vehicle adoption. Comprised of coal, natural gas, hydroelectric and solar, LG&E and KU maintains a diverse generation mix and rates that are among the lowest in the nation.
Louisville Water Company
550 S. Third St.
Louisville, KY 40202
(502) 583-6610
Louisville Water provides a high-quality, reliable supply of drinking water to Louisville Metro and portions of Bullitt, Hardin, Nelson, Oldham, Shelby and Spencer counties. Louisville Water began as Kentucky's first public water provider in 1860 and today its treatment plants are ranked as two of the top 16 in North America for outstanding water quality.