By Kathie Stamps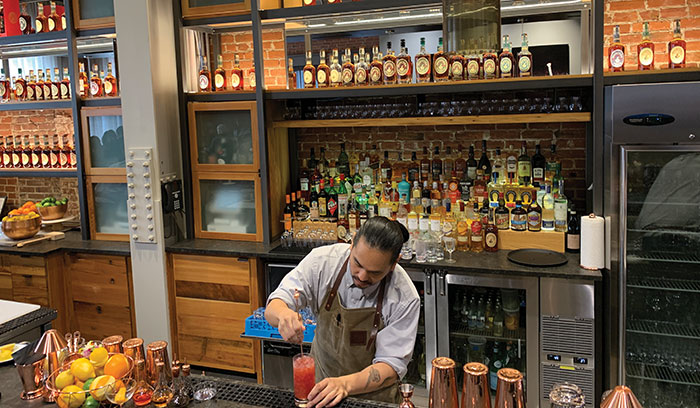 Louisville is known for many things, and bourbon and hotels are skyrocketing to the top of the 'it' list – for both locals and visitors.

While guest rooms are typically booked by out-of-towners, hotels in Greater Louisville are increasingly used by locals. From a small business meeting to presentations and pitches, any number of spots on a hotel property are patronized. And if it seems like hotels are popping up all over the place, that's because they are.
A generous culture of things to do, places to go and people to see – particularly centered around bourbon – all contribute to people moving to Louisville after they visit for leisure or business. Four more hotels are slated to come in downtown Louisville, bringing another 534 rooms. The hospitality newcomers include a combination of boutique and chain enterprises: Cambria Hotel, Holiday Inn, Hotel Distil and Moxy Hotel.
Several miles south in the area near the airport, Delta Hotels by Marriott, LaQuinta Airport & Expo, Motel 6 Airport/Expo Center, Staybridge Suites and Studio 6 Extended Stay will contribute another 642 rooms. In East Louisville, 402 new rooms will come from Candlewood Suites, Radisson and Ramada Plaza.
Rooms galore, millions in revenue
"The hotel industry generates more than $250 million in annual revenue in Louisville, based on recent estimates," said Greg Jewell, executive director of  the Louisville Hotel Association.
Of the roughly 20,000 hotel rooms serving the Greater Louisville area, almost 2,000 have been added in the last couple of years. LHA represents over half through its 50 hotel members.
But it's not just Louisville. Shelby County has two new hotels, Hampton Inn of Simpsonville and Saddlebred Suites in downtown Shelbyville, an upscale vacation rental. There's also TownePlace Suites Louisville North, an extended-stay hotel by Marriott in Jeffersonville at the base of the Big Four Pedestrian Bridge, and a new Home2 Suites by Hilton in Clarksville. In April 2019, Bullitt County celebrated the ribbon-cutting of Tru by Hilton Shepherdsville Louisville South, an 83-room hotel that opened in December 2018 on Centre Drive at exit 121 off I-65.
Moxy is Marriott International's millennial-focused brand that debuted in 2014 in Europe. Moxy Louisville has an anticipated opening in November on Main Street near the KFC Yum Center and will have a rooftop bar called Bitter's End, among other attractions. Its sister property, Hotel Distil, is an independent affiliate of Marriott's Autograph Collection Hotels.
History, and the bourbon attraction
The Seelbach Hilton, built in 1905 and mentioned in "The Great Gatsby," is listed on the National Register of Historic Places. In March, Paul Sant was appointed executive chef. The native Australian has been in Louisville since 2008, when he started working for Dean Corbett, and now is responsible for culinary operations at Gatsby's on Fourth, Old Seelbach Bar, special events at The Oakroom, the banquet kitchen and in-room dining, and for growing on-site restaurants at the Seelbach.
Omni Louisville Hotel, 21c Museum Hotel and Marriott Louisville East are just a few examples of hotels with bourbon-themed rooms and bourbon-inspired foods.
---
IT'S FREE | Sign up for The Lane Report email business newsletter. Receive breaking Kentucky business news and updates daily. Click here to sign up
---
"Our hospitality industry is part of our secret sauce that makes the Kentucky Bourbon Trail tours so appealing to visitors," said Adam Johnson, senior director of the Kentucky Bourbon Trail experiences.
The Kentucky Bourbon Trail celebrates its 20th anniversary in 2019; it was created by the Kentucky Distillers' Association, an organization that's been around since 1880. KDA's economic impact report, released in January 2019, estimated 20,100 jobs in the state's distilling industry that produce $1 billion in annual payroll and $8.6 billion of economic output. The number of licensed distilleries has tripled in less than a decade. Last year, around 1.7 million barrels of new bourbon were produced in Kentucky, joining 7.5 million barrels of aging bourbon.
KDA's Kentucky Bourbon Trail Welcome Center opened in August 2018 at the Frazier History Museum on West Main Street in downtown Louisville, aka "Whiskey Row." The center serves as the official starting point of the Kentucky Bourbon Trail tour.
A region flush with bourbon dollars
Bourbon Heritage Center, the visitor center at Heaven Hill Distillery in Bardstown, was one of the first centers of its kind for Kentucky Bourbon Trail visitors in 2004. It is undergoing a $17.5 million expansion, which will include a rooftop bar, larger retail space, a You Do Bourbon experience and other interactive showcases. Heaven Hill is also increasing its production capacity through a $47.5 million investment.
In addition to Bardstown's longtime moniker as the Bourbon Capital of the World, the city was named an official gateway sponsor to the KDA's Kentucky Bourbon Trail adventure. Nelson County distillery tours include Bardstown Bourbon Co., Heaven Hill, Lux Row Distillers, Preservation Distillery and Willett Distillery, along with other venues such as Old Talbott Tavern and the Oscar Getz Museum of Whiskey History.
The Bulleit Distilling Co. became the second distillery to open in Shelby County. It's a 300-acre campus that includes four barrel houses, each capable of holding 55,000 barrels for aging, and a 52-foot still crafted by Vendome Copper and Brass Works. A visitor experience just opened in June.
The Kentucky Bourbon Festival (KBF) began in 1992 as a bourbon tasting and dinner. It has become a five-day event each September in Bardstown with 50,000 in attendance. Extra KBF-sponsored events are scheduled from June to November.
Plenty of distilleries offer tours and tastings, and now they're starting to operate their own bars, as witnessed on Whiskey Row with George's Bar at Old Forester Distilling Co. and ON3 at Evan Williams Bourbon Experience. There's also ALEX&ANDER at Copper & Kings American Brandy Distillery in the Butchertown neighborhood, and The Bar at Fort Nelson, in the 800 block of West Main.
After several years of renovating a stately Whiskey Row structure, Michter's Fort Nelson Distillery opened in February in the historic Fort Nelson Building. Michter's Shively Distillery handles operations for processing and bottling the brand's bourbons, ryes and whiskeys. l