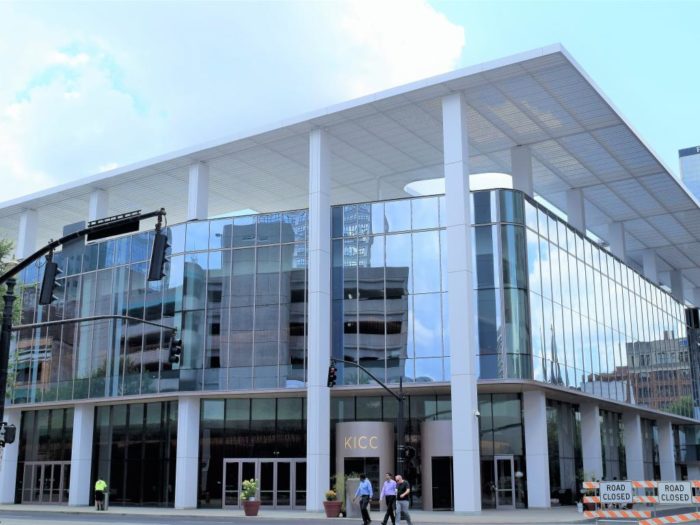 LOUISVILLE, Ky. — Louisville's hospitality industry is celebrating the one-year anniversary of the $207 million renovation, expansion and re-opening of the Kentucky International Convention Center. The investment is paying off in record hotel room nights booked and estimated economic impact to the community.
While KICC is one of three major event facilities hosting convention business in Louisville, this first anniversary showcases the center's contribution to the city's economic vibrancy as Louisville Tourism worked with industry partners to meet and exceed a significant sales measurement. The sales team closed out the June 2018-July 2019 fiscal year with a historic amount of booked room nights at 711,864, almost 57,000 room nights above the annual goal of 655,000. A secondary goal, the number of meeting planners hosted for site visits as they consider booking in Louisville, was also exceeded at 471 site visits to the annual goal of 280.
This momentum is likely to continue as 2020 is shaping up to look as favorable as 2019.
"From a group standpoint, we look very strong, specifically at KICC," said Doug Bennett, senior vice president of convention development at Louisville Tourism. "Our mission is evolving to factor in group size and needs along with strategic assessments in determining what events to host as more groups consider Louisville. Demand has never been higher."
For the 2019 calendar year, KICC will host 51 events with an estimated economic impact of $95 million compared to 2015, the last year KICC was open year-round, where the center hosted 49 events bringing in an estimated $56.7 million in economic impact. Several of these events are industry-specific conventions, such as Connect Marketplace bringing in more than 3,200 meeting professionals Aug. 26-28, allowing Louisville to showcase its convention package to prospective meeting planners looking for future host cities.
"I'm encouraged by our team's continued goal to elevate our operational excellence," said Blake Henry, KICC general manager. "Our entire community wins when our facility is performing well from the economic impact of booked meetings and conventions to the variety of events open to locals."
The additions and upgrades to Louisville's hotel inventory have also played a role in creating a demand for the destination. Currently there are 20,478 hotel rooms in the Louisville area with another 1,509 under construction, including the anticipated fall opening of the 205 room Hotel Distil and 110 room Moxy Hotel, as well as the renovation in-progress at the 1,310 room Galt House Hotel, to be completed in 2020. Of the city's hotel rooms, nearly 6,000 are located downtown.
Louisville's hotel market is quickly absorbing the 1,000 rooms added to downtown over the last year, making a strong case for developers looking to build more hotels. According to CBRE Research, Louisville had the largest year-over-year hotel demand increase in the first quarter of 2019 at 11.4%, while demand nationally only grew 2.4% in the same quarter, slightly below last year.
"We are seeing tangible results from the tourism industry's hard work over the last decade to invest in the infrastructure needed to attract demand for the destination," said Karen Williams, president and CEO of Louisville Tourism. "We plan to build on that momentum."