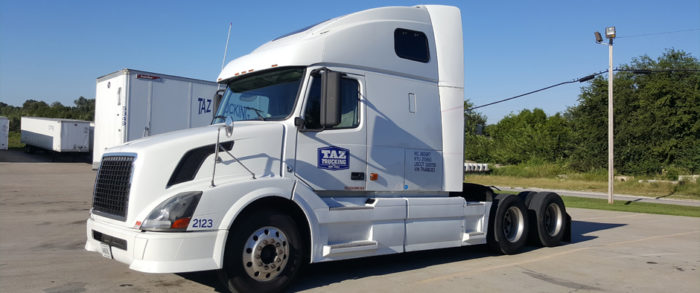 BOWLING GREEN, Ky. — TAZ Trucking Inc. announced Thursday it will expand its operations after recently opening its new facility off Nashville Road. The company will invest $7.3 million towards the purchase of 30 new trucks, 60 trailers and shop equipment, as well as a parking lot and road expansion. Additionally, TAZ plans to hire 57 new employees in Warren County to include 30 truck drivers and 27 employees to support their administrative office and newly built machine shop.
"We are ready to grow with the Bowling Green community and increase our capacity to serve our current customers and new customers," said TAZ Trucking President Tahir Zukic. "We know this will assist in the access to transportation in South Central Kentucky and are excited to be part of the solution."
In 2017, TAZ Trucking invested nearly $10 million towards the purchase of 53 acres and construction of a 30,000 s.f. machine shop and truck loading station, as well as the building of a 20,000 s.f. administrative office. With this latest expansion, TAZ Trucking will have invested approximately $17.3 million over the past two years.
"We are excited for TAZ Trucking's expansion after opening their new facilities only two months ago," said Ron Bunch, president and CEO of the Bowling Green Area Chamber of Commerce. "We look forward to supporting them on the continued growth of their trucking operations in South Central Kentucky."
"Kentucky's extraordinary logistics strength extends beyond our major shipping hubs in Northern Kentucky and Louisville," Gov. Matt Bevin said. "As evidenced by the rapid growth of TAZ Trucking, the commonwealth's prime location provides a distinct advantage in shipping and distribution for communities across the state. Congratulations to a company that is truly on the move and to the Bowling Green region, where we continue to see remarkable progress and job creation."
"We appreciate TAZ Trucking's continued investment in Warren County," said judge-executive Mike Buchanon. "Their continued growth and success further emphasize the strength of the transportation sector in Warren County."
The transportation sector in Warren County employs over 1,000 people, increasing an average of 5.4% per year over the past five years.
"TAZ Trucking is a prime example of what Bowling Green has to offer for those wanting to start and grow a business," said Bowling Green Mayor Bruce Wilkerson. "We are thrilled TAZ Trucking decided to call Bowling Green home 19 years ago and applaud them on their continued success."
Climbing from number six in 2013 to number one in 2018, Bowling Green has been ranked for six consecutive years in Site Selection Magazine's "Top 10 Metro Areas for New and Expanded Facilities" among metro areas with populations less than 200,000. Bowling Green was also ranked 2018's 'Best Place to Live in Kentucky' by TIME.com.
The Bowling Green Area Chamber of Commerce has closed six economic development projects totaling $134.5 million in capital investment and 751 new jobs for 2019.