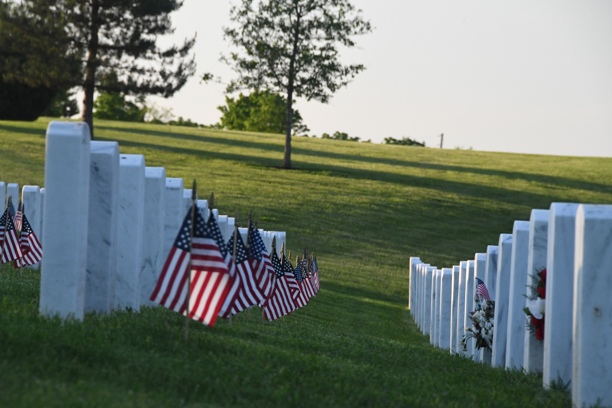 FRANKFORT, Ky. — After a meticulous two-day inspection by the National Cemetery Administration, Kentucky Veterans Cemetery North in Williamstown, Ky. scored 96 – the highest score of any state veterans cemetery in the country.
"The very highest standards are what we strive to reach every day," said Benjamin Adams, commissioner of the Kentucky Department of Veterans Affairs, which operates five state veterans cemeteries in Kentucky. "NCA standards are exacting and their inspectors famously strict. To achieve this highest score in the nation is an enormous accomplishment.
"Congratulations to KVCN Director Cathy Taylor and all of her staff for their exceptional work."
A team of inspectors from NCA visited KVCN on July 24-25. Five highly trained professionals skilled in all aspects of cemetery operations examined KVCN to ensure the cemetery is operating in compliance with the rigorous NCA guidelines.
They reviewed KVCN in five critical areas: interment operations; grounds maintenance; headstone, markers and niche cover maintenance; equipment maintenance; and other operational standards. They measured the cemetery's performance on each of the 93 applicable standards using a combination of documentation review, in-person interviews of cemetery staff, visual inspection and a statistical sampling of gravesites.
Based on the results of the on-site review, the cemetery earned 89 points out of a possible 93 for an overall compliance percentage of 96%. Based on NCA's compliance measurement criteria, the cemetery was found to be compliant with the terms and conditions of its VA cemetery grant awards.
After this inspection, KVCN currently sits as the top-rated State Veteran Cemetery in the country for 2019.
KVCN was dedicated in August 2008. Most of the staff has been working at KVCN since that day.
"The cemetery's staff stability and dedication is directly reflected in these positive results," said Al Duncan, KDVA's director of cemetery services.
The staff includes:
Cathy Taylor, Director
Chris Hammonds, Maintenance Superintendent
Elizabeth King, Administrative Specialist III
Jerry Morris, Caretaker II
Devin Hurley, Caretaker II
Roger Sturdivant Temp Caretaker
For more information about Kentucky's state veterans cemeteries, please visit https://veterans.ky.gov/cemeteries.