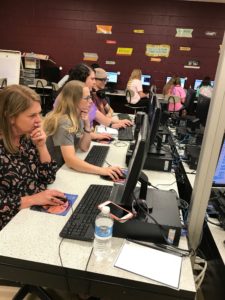 HIGHLAND HEIGHTS, Ky. — Northern Kentucky University's Information Technology (IT) introduced its inaugural outreach program this summer to introduce high school student to computer science.
The IT Enterprise Support Group (ESG) held a two-day workshop for nearly 20 students and teachers at Owen County Schools to teach the basics of Scratch, an oriented-language that demonstrates the fundamentals of computer science.
"NKU has been an outstanding partner providing opportunities, for our students and teachers, to learn about coding. Their support and expertise have enabled us to plan for further expansion of coding and computer science in our district," said Robert Stafford, Owen County Schools superintendent. "We also learned about the outstanding summer opportunities on NKU's campus. Two of our elementary students attended the summer session on cyber-security. Plans are being made to support more of our students being able to attend these sessions."   
The workshop provided students with opportunities that aren't readily accessible in their community and highlighting careers across the profession.  NKU's Chief Information Officer Timothy Ferguson, a native of Owen County, knew of these issues and wanted to provide accessibility to the community. Ferguson tasked his team with leading the initiative.
"Computer science is one of the top areas for future careers. Exposure to this science is needed in every industry and can be used across the professional world," said Ferguson. "Many students take part in IT's Experiential Learning Program, where they are paid to set up classroom computers, implement innovative software solutions and provide IT support during their academic year. This program helps to provide a path to a computer science degree and aligns with NKU's mission to align student success with the needs of the region."