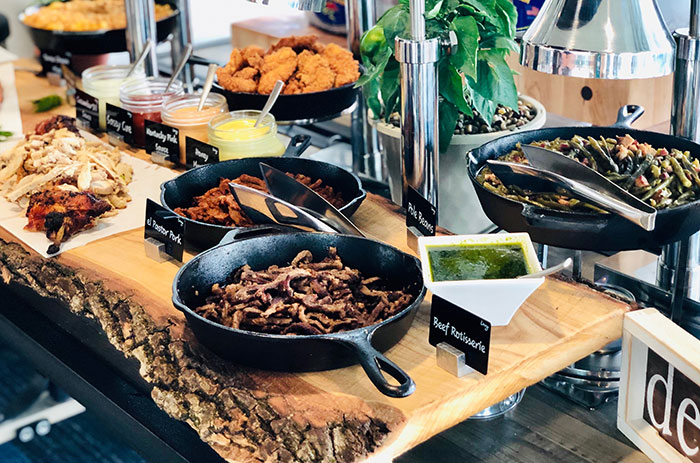 LEXINGTON, Ky. — Lexington Center announced Thursday its partnership with Levy, an industry leader in delivering dining and hospitality experiences at major sports and entertainment venues and convention centers. Levy will partner with Lexington Center to craft unique food and beverage experiences across Rupp Arena, Lexington Convention Center and Lexington Opera House.
"We are looking forward to a new opportunity. Starting this fall, Levy will elevate our concessions and catering capabilities with restaurant quality dining and service to better serve Lexington Center patrons," said Lexington Center President and CEO Bill Owen. "We are confident Levy will take us to a new level in delivering a premium hospitality experience to respond to the needs of our clients and patrons."
The partnership with Levy starts Oct. 1 and will include all concessions and special event catering for Lexington Center venues, including the new expanded Lexington Convention Center facilities as they are completed, Rupp Arena, and the Lexington Opera House.
Levy, leveraging market intelligence from its analytics company E15 Group, will develop experiences, menus and service unique to each venue. Kentucky Wildcat basketball fans can expect more Lexington and Kentucky restaurants and signature dining options in concessions. Events at Lexington Convention Center and Lexington Opera House will offer expertly-crafted catering menus using fresh Kentucky grown ingredients. Levy will also be involved designing new experiences across venues as part of the Lexington Center Expansion project.
"More than one million guests visit Lexington Center each year, and we want every experience to reflect Kentucky's extraordinary dedication to world-class food and beverage," said Andy Lansing, president and CEO of Levy. "Whether they're here for a large convention, a show at the Opera House, or a Wildcat basketball game, every guest will taste the absolute best of Kentucky."
Levy will tap into its experience serving fans at premier collegiate athletic venues, world class convention centers, local Kentucky venues, and iconic sports and entertainment events. Levy's current partners include the Rose Bowl Stadium and Ohio State Athletics, Kentucky International Convention Center and Kentucky Expo Center in Louisville and Georgia World Congress Center in Atlanta, and the Kentucky Derby, U.S. Open Tennis Championships, and Grammy Awards, among others.
On Levy's website, the company wrote: "Sports catering was born. In 1982, Levy pioneered the concept of fine dining in stadiums at the old Comiskey Park (then home of the Chicago White Sox). In 1985, we expanded our services to Wrigley Field, and the rest is history."
The image below is some of Levy's clients: