By Sarah Modgling, UK Now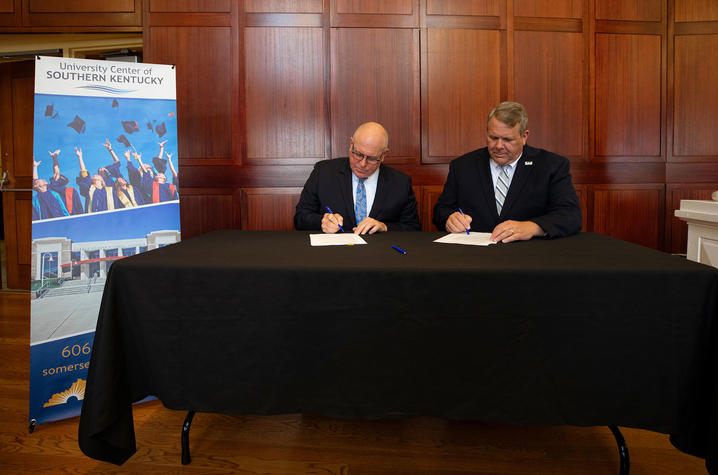 LEXINGTON, Ky. — The University of Kentucky and Somerset Community College (SCC) signed a memorandum of understanding with the University Center of Southern Kentucky Wednesday, Aug. 14.
This new partnership provides SCC students with an opportunity to earn a bachelor's degree from UK on the community college's campus in Somerset. Students will first attend SCC to obtain their associate degree and then transfer to the partnering university to earn their four-year degree.
Specific programs offered through the University Center of Southern Kentucky and UK will be announced in the near future.
"We are proud to partner with the University of Kentucky. Together, we are proactively ensuring an enhanced academic experience for current and future generations of students," said Carey Castle, president, and CEO of SCC.
The partnership makes earning a four-year degree more accessible. Under the agreement, students complete half of the degree at SCC's much lower tuition rate and the other half of the bachelor's degree from UK, allowing an affordable bachelor's degree from a four-year university.
"This action represents another step toward a robust academic collaboration and commitment to increasing access to postsecondary education in Southern and Eastern Kentucky," UK Provost David W. Blackwell said.
University Center students will have access to UK's admissions, registration and academic advising staff from SCC's campus. A library agreement was also signed so students will be able to utilize the Learning Commons on the SCC's Somerset campus.
"I am excited that students in Southern Kentucky will benefit from this partnership," said Doug Way, dean of UK Libraries. "We look forward to providing them access to our print resources, our online resources, materials available at other libraries via interlibrary loan and most importantly, access to the expertise of our dedicated library faculty and staff."
For more information, visit the University Center webpages at www.somerset.kctcs.edu. Click on Community and scroll down to University Center of Southern Kentucky to see what programs are being offered.  Contact the University Center office 606-451-6667 or e-mail [email protected].