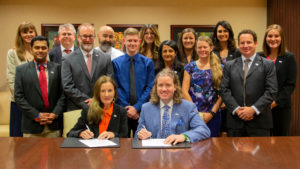 LEXINGTON, Ky. – Alltech has taken a significant step toward its sustainability goals and its vision for a Planet of Plenty. Dr. Mark Lyons, president and CEO of Alltech, signed a letter to the secretary-general of the United Nations committing Alltech to the U.N. Global Compact focused on positive advancements in human rights, labor, the environment and anti-corruption.
In addition, Nicholasville-based Alltech has committed to nine of the United Nations' 17 Sustainable Development Goals (SDGs). In 2015, all United Nations member states adopted the SDGs, which are an urgent call to action by all countries. Each SDG has specific, actionable targets that contribute to the overall goal.
[ Alltech Research Keeps Finding … Growth ]
The U.N. Global Compact, the world's largest corporate sustainability initiative, allows the U.N. to work with companies to help move the SDGs forward. Companies that join the Global Compact are asked to select the targets they feel are most closely aligned with their core business and are therefore actionable by the company.
"We believe that by adopting new technologies, improving business practices and embracing innovation, the agri-food sector can support a Planet of Plenty™," said Lyons, who was joined by Deirdre Lyons, co-founder of Alltech, and colleagues at the company's global headquarters. "Today, we join the growing number of organizations around the world united by a passionate commitment to building a more sustainable future."
Alltech chose nine SDGs that align directly with its core business and its vision for a Planet of Plenty:
Zero hunger – The definitive purpose of agriculture is to provide people with food. The ultimate goal would be to entirely alleviate world hunger and ensure that everyone on the planet has access to plentiful and nutritious food. Alltech's nutritional solutions for soil, crops and animal feed places it at the beginning of the food chain, and its global presence positions the company to work with others toward this goal and, indeed, to achieve the mission of a creating Planet of Plenty.
Good health and well-being – The research being conducted by Alltech Life Sciences applies the company's 40 years of innovation in animal nutrition to human health. Alltech is achieving advancements in gut health and brain health, and it is making breakthroughs in alternatives to one of the most expensive medications in the U.S. — insulin. Further, Alltech feed technologies support producers in reducing antibiotic use as antimicrobial resistance becomes a growing concern. The Lyons Family Life Foundation, established by the family of Alltech's founder, Dr. Pearse Lyons, aims to support patient care and medication safety.
Quality education – As the cornerstone of success, education should be a top priority for every company and country, but the challenges facing progress are many, including a lack of resources. Alltech encourages its team members to continue education through career development opportunities and by providing internal avenues for learning and training. The company has also created initiatives to educate children and young people by funding and designing school laboratories, providing scholarship opportunities through the Alltech Young Scientist competition and forming alliances with universities to support scientific bachelor's and doctorate degrees.
Gender equality – As a science-based, global company, Alltech is positioned to have a positive effect on the development of this goal throughout the more than 120 communities in which it operates. Alltech believes that promoting diversity is essential to shaping a sustainable future. Partnering with efforts such as the Women in Food and Agriculture summit supports the empowerment of women and helps ensure that young people see themselves reflected in agriculture so they can envision a future career in the industry.
Decent work and economic growth – This goal is focused on reducing the practices of informal employment, child labor, human trafficking and the gender pay gap. The development of decent work and economic growth is essential to companies, the communities in which they conduct business and, indeed, the world. Alltech's global operations network adheres to stringent employment practices, and its presence in over 120 communities gives the company an opportunity to impart positive change on the regions it serves.
Climate action – Climate change is one of the SDGs that affects people, animals and plants in all regions, on land and in water. Several Alltech products have been certified by the Carbon Trust to reduce greenhouse gas emissions. The company plans to utilize its industry partnerships across the agri-food sectors to further promote nutritional technologies and improved farm management practices that reduce environmental impact.
Life below the water – Fish oil and fish meal are often key components for animal diets. This contributes to overfishing of our oceans, and producers are always striving to identify sustainable solutions. Turning toward alternative feeds such as algae or insects has proved helpful, but there is still much that can be done to improve aquaculture's methods of food production. ​Alltech can contribute to these efforts in several ways, including through the Alltech Coppens Aqua Centre in the Netherlands.
Life on land – This SDG considers challenges such as desertification, land degradation, drought and deforestation. Alltech specializes in natural solutions that maximize performance and yield of animals and crops through nutrition, technology and improved management, which can have a significant positive impact.
Partnerships for the goals – This goal seeks to align technology and science, which are central to Alltech's founding principle of innovation. Alltech shares the belief that the ambitious goals outlined by the U.N. will not be possible without connecting as many companies, organizations and individuals as possible in united action. Alltech's Planet of Plenty™ vision is a call for collaboration across industry sectors and geographical boundaries.
Alltech's commitment was accepted into the U.N. Global Compact, and the company officially joined a network of over 9,500 companies and 3,000 non-business participants committed to building a sustainable future.
Along with the U.N. Sustainable Development Goals, Alltech also committed to the Science Based Targets initiative. These targets are designed to help companies reduce their greenhouse gas emissions and share their progress through transparent documentation and reporting.