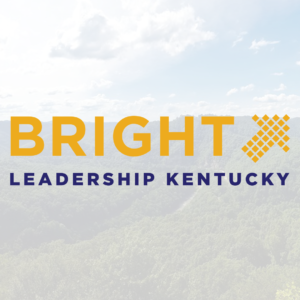 MOREHEAD, Ky. — A new statewide leadership program launched by the state and designed to spur economic growth in the Appalachian region includes two Morehead State employees.
Rachel Bowling, a general management consultant with MSU's Small Business Development Center (SBDC), and Dr. Johnathan Nelson, associate dean of the Elmer R. Smith College of Business and Technology and an associate professor of management, attended the first BRIGHT session last month. There are four more meetings scheduled between now and November.
The program, sponsored by Leadership Kentucky, consists of five three-day sessions held at locations across the state. During the sessions, participants receive nonpartisan, ethical leadership training, networking opportunities and mentorship. They learn skills in effective communication, collaboration, visioning and community engagement, to encourage participants to build upon the strengths of their communities to generate economic growth.
Bowling said she learned about the program through her supervisor, SBDC District Director Mark Murphy.
"Being a new employee for the KSBDC and Morehead State University, I was eager to network with other individuals across the state who have a passion for leadership. I saw the opportunity to gather the best practices from around the Bluegrass and bring them back to my community," she said. "The opportunity to network and establish connections around Kentucky will not only enhance my ability as a leader, but I will be able to share those ideas with my community."
Nelson said participating in BRIGHT is in line with his research interests.
"Much of my teaching, research and professional experience has been related to leader development. I think it is important that we all seek to continually develop as leaders, so I appreciate this opportunity to develop my own leadership skills," he said. "Perhaps most importantly, though, we want our students to be prepared to contribute to the communities in our region that they will be working in. I believe that this program will expose me to and help me to better understand the needs of our service region. I hope to use this information to serve our students and help prepare them for the next phases in their careers."
The program is funded by a $500,000 grant from the Appalachian Regional Commission (ARC) and private donations.
For more information about BRIGHT Kentucky, visit https://www.leadershipky.org/programs/bright-kentucky-5.
For information about business programs at Morehead State, visit www.moreheadstate.edu/business.