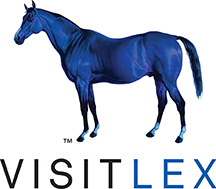 LEXINGTON, Ky. — VisitLEX earned a first-place award last night at the Destinations Council's Destiny Awards program held annually in conjunction with the ESTO travel conference. "Neigh-SMR" – VisitLEX's play on ASMR videos was entered in the public relations campaign category.
The Destiny Awards recognize U.S. Travel destination members for excellence and creative accomplishment in destination marketing and promotion at the local and regional level; and foster the development of imaginative and innovative destination marketing promotion programs and activities.
Mary Quinn Ramer, president at VisitLEX, and Gathan Borden, VP of Marketing at VisitLEX, attended ESTO's Tuesday night Awards Dinner and Presentation and accepted the award on behalf of VisitLEX.
"I am so proud of our team at VisitLEX and our marketing partners at Cornett! We are  continuously working on innovative ways to market Lexington and winning this national award validates those efforts. It is such an honor to receive awards in recognition of our hard work," said Ramer.
To create Neigh-SMR, VisitLEX joined forces with the Kentucky Horse Park, putting a mic on a horse named Hank and let him shine.
VisitLEX is the first tourism brand to introduce ASMR as part of a destination marketing strategy and is also the first brand to use a horse in an ASMR Video.  Neigh-SMR was released in April and has received more than 425K views to date. Watch the video below.