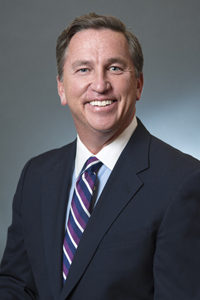 FRANKFORT, Ky. — Sean A. Muldoon, who spent much of his career in leadership roles at Papa John's International, Inc., is joining the Kentucky Cabinet for Economic Development leadership team as economic development executive.
In this role, Muldoon will seek new economic development opportunities for Kentucky in a variety of industries and will extend the cabinet's mission of job creation and attracting new investment from companies around the world. This includes efforts to bring new business sectors to the state.
"It is a huge benefit to Kentucky's economic development efforts to have Sean's senior-level expertise in our cabinet," said Vivek Sarin, interim secretary of the Kentucky Cabinet for Economic Development. "Sean helped build Papa John's into a global brand, and I am confident he will use those same skills to extend Kentucky's global identity. Sean's experience working with some of the largest corporations in the world will add tremendously to our overall strength. Both Governor Bevin and I have brought a pro-business perspective to state economic development efforts, and Sean's experience will further advance that mission."
"I have felt the 'call' to public service for quite a while, and now I am excited to serve Kentucky in growing jobs, investments and expanding markets," added Muldoon. "Kentucky is becoming recognized around the world for its record growth and improved business climate, and I am honored to channel my efforts to helping the Governor make Kentucky the engineering and manufacturing hub of excellence in America."
During his 20-year career at Papa John's, Muldoon held multiple senior-level positions across the organization, including research and development, marketing, supply chain management and quality assurance. He was a member of the company's executive leadership team for the past 10 years and helped lead the company's growth to more than 5,200 stores, including 2,000 locations in 45 countries outside the United States.
Prior to joining Papa John's, Muldoon worked in Lexington in related positions for Long John Silver's and Mitsui & Co. USA, a Japanese international trading company.
Muldoon is a graduate of the University of Kentucky, holding a Bachelor's of Business Administration in Marketing.
He will join the Cabinet on Aug. 26.