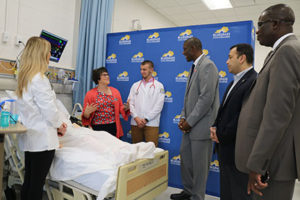 FRANKFORT, Ky. — To meet the rapidly increasing healthcare needs in Fayette and surrounding counties, the Bluegrass Community and Technical College (BCTC) Leestown Campus leaders in Lexington had to dream big, expand partnerships and find funding. Through a $3,040,000 Work Ready Skills Initiative (WRSI) grant from the Education and Workforce Development Cabinet (EWDC) and funds from community partners, that dream is now a reality.
BCTC Leestown Campus is putting the finishing touches on the newly renovated 37,000-square-foot nursing and allied health building just in time for a new semester. The completed project features dynamic classrooms and simulation labs with state-of-the-art medical equipment that mirrors what is currently used in hospitals.
EWDC Secretary Derrick Ramsey and Kentucky State Senator Ralph Alvarado, a physician, recently toured the new high-tech facility with BCTC President Dr. Koffi Akakpo.
"Congratulations to BCTC on the remarkable work they have done at the Leestown Campus. I remember what this building looked like many years ago and this transformation is astounding. It's hard to believe it is the same building," said Ramsey. "The exciting part is that it is already making a difference in the lives of students by preparing more well-trained healthcare personnel to meet the expanding needs of the area."
The completed project brings nearly all of BCTC's nursing and allied health programs under one roof on the Leestown Campus. The WRSI investment is allowing BCTC to add healthcare programs and classes, and increase the number of students enrolled to more than 730 including over 500 adults for a gain of 16 percent over last year. BCTC has expanded offerings in programs such as nurse aide, surgical technology, diagnostic medical sonography and practical nursing. In 2020, the school plans to add emergency medical services (paramedic) and health science technology.
BCTC Leestown Campus was one of 40 projects awarded the $100 million WRSI funding in 2017 after a competitive process. The first phase consisting of renovation and construction included new classrooms, labs and equipment and was completed in 2018. The second phase included mechanical work such as a new boiler and infrastructure for technology and is on track for completion in September. The transformation is benefiting employers and Central Kentucky communities by meeting a growing demand for a well-trained healthcare workforce.
"This grant allowed us to take our program to a significantly higher level in meeting the need of our local healthcare sector. Our space used to be a heavy focus on industrial maintenance with areas that looked radically different. This grant gave us funding to create the infrastructure and all of the equipment to prepare our students to meet the health care industry need as well as increase our capacity in all of our programs," said project coordinator Dr. Greg Feeney, vice president, Academics and Workforce Development at BCTC.
BCTC student George Kemcha said, "It's a great opportunity to prepare you from a hands on perspective. When you leave BCTC as a nurse you will be work ready from day one because of the labs we have and the opportunity to do simulations. To me nursing without hands on is like half of the package. You need the complete package to be a real nurse and this program does it all for me."
The WRSI infuses resources to expand career and technical education facilities and upgrade equipment in schools through local partnerships between private industry and educational institutions. The 40 projects that were selected during two rounds of competition in 2016 and 2017 are locally driven and tailored to the workforce and industry needs of their areas. The proposals required at least a 10 percent match by local partners.
Launched in July 2016, the Work Ready Skills Initiative is aimed at developing a highly trained, modernized workforce to meet the needs of employers and promote sustainable incomes for Kentuckians. Through the initiative, Kentucky has awarded $100 million in statewide bonds to train Kentuckians in the state's top five growth sectors of advanced manufacturing, transportation and logistics, business services and information technology (IT), healthcare, and construction trade.
Funded by the Kentucky General Assembly, the Work Ready Skills Initiative is administered by the Education and Workforce Development Cabinet.