By Katie Pratt
University of Kentucky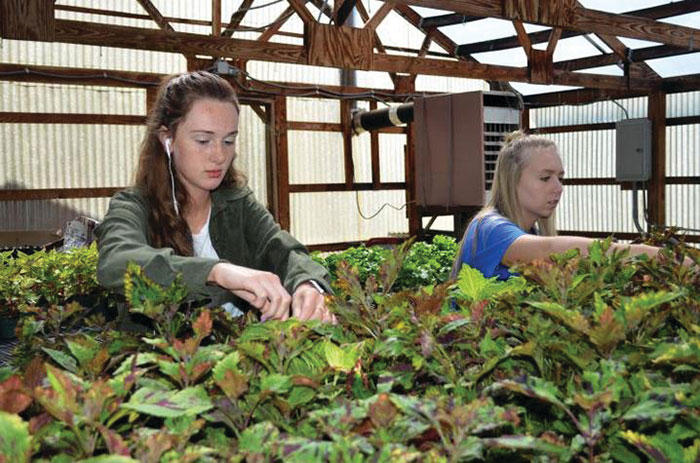 A mini farm at Elliott County High School is teaching students business and entrepreneurship skills they can use in their future careers and showing residents how they can use agriculture to improve their lives.
The mini farm is a project of Gary Selby, the high school's agriculture teacher, and Keith Center, an agent with the University of Kentucky Cooperative Extension Service. Selby and Center started the project to rekindle interest in agriculture among the county's young people. After a six-year absence, the school system reinstated agriculture education in the high school in 2015. Two years ago, Selby became the high school's first full-time agriculture teacher in many years.
The project has grown to cover most of the three acres behind the Elliott County Schools complex that includes three of the county's schools. As the project progressed, Center and Selby relied on the expertise of many UK College of Agriculture, Food and Environment experts on crop site selection, facility design and educational information.
In addition to a greenhouse, the mini farm includes a compost demonstration facility and areas for growing shitake mushrooms, blueberries and raised bed gardens. All are either highly popular in Eastern Kentucky or can be implemented on limited acreage. Grants from the Kentucky FFA Foundation have helped fund many of the projects.
By working at the farm, the students learn not only how to grow and harvest a variety of crops but also about the economics of having a business and how gardening can save on grocery costs, which is critically important in the economically strapped county.
"I have learned about writing grants and business proposals and even presented them to the principal to ask for permission on some of the things we have done," said Marissa Mayse, who plans to pursue a career in agricultural law. "It has given us skills we can use for whatever career field we might go into."
---
IT'S FREE | Sign up for The Lane Report email business newsletter. Receive breaking Kentucky business news and updates daily. Click here to sign up
---
The number of students participating in agricultural education has increased from 30 in 2015 to more than 100 this year.
The crops grown by the program are sold to the community. It's a source of fresh produce that many residents appreciate, as fresh options are limited in Sandy Hook. The town's only sources of food are a small grocery store and a seasonal farmers market. The nearest large grocery retailer is at least 30 minutes away.
The program is continuing to grow and evolve. Selby and Center are repairing another existing structure that will serve as a livestock barn on the property and future plans include adding goats, sheep and cattle to demonstrate how to use rotational strip grazing to get the most use out of available forages.