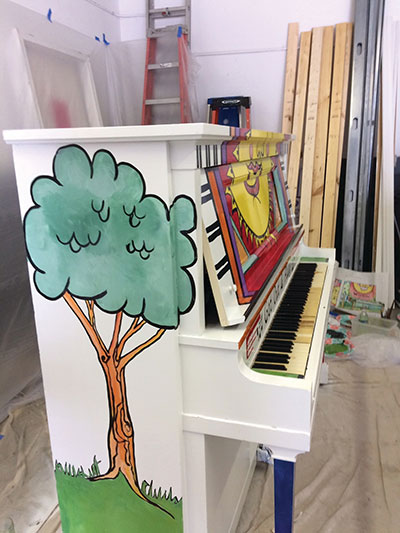 A new public art program in Lexington this summer, aimed at public involvement, has just about concluded.
The Lexington Parks and Recreation Department placed pianos at four parks throughout the city, where they are available to anyone and everyone who wants to sit down and tickle the ivories, whether it be a Chopin etude or "Chopsticks."
To add even more visual interest, the pianos – which are located at Phoenix, Thoroughbred, Woodland and Castlewood parks – have been painted by Parks and Recreation staff artist Carol Drury.
Special waterproof covers protect the instruments from the elements and they are locked up at night to prevent theft and keep them from being a source of too much noise late at night.
The Pianos in the Parks program originally began in 2014 in Seattle. Since then, several cities have launched their own programs to bring the community outdoors to celebrate music and art in city parks. Dave Bush, a Lexington businessman, liked the concept so much that he brought the idea to the Lexington Parks and Recreation department and has been instrumental in securing donated pianos and providing space for them to be painted.
The pianos will be on site in the parks through Aug. 30.
---
IT'S FREE | Sign up for The Lane Report email business newsletter. Receive breaking Kentucky business news and updates daily. Click here to sign up