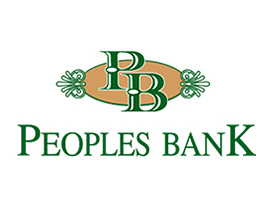 LEBANON, Ky. — King Harris Bancorp and Community Financial of Kentucky today announced they have entered into an agreement whereby King Harris Bancorp will acquire controlling interest in Community Financial of Kentucky for cash. The transaction has received approvals from each party's board of directors and is expected to close in the fourth quarter 2019, subject to regulatory approvals and other customary closing conditions.
King Harris Bancorp is a new entity based in Louisville, Kentucky, formed for the purpose of engaging in this transaction.
Community Financial of Kentucky is the holding company for Peoples Bank, a community bank headquartered in Lebanon, Kentucky.
"Peoples Bank is proud of our legacy as a trusted financial institution in this community for over a century", said Bobby Miles, president and CEO of Peoples Bank. "Over the years, we have built a great bank by placing tremendous value on our relationships with our customers and community, which we look forward to continuing. As a result of the partnership with King Harris Bancorp, Peoples Bank will continue to be a Lebanon, Kentucky based community bank. Joining with King Harris Bancorp will allow us to expand our geographic reach and continue the growth in our franchise. Our increase in capital and resources as a result of this partnership will allow us to further enhance the banking experience and capabilities we provide to our customers".
Ronnie Harris, a principal in King Harris Bancorp, commented on the transaction saying "This is an exciting time for our family as we begin our partnership with a great bank. We believe that a community bank is a vital part of the community and it has a responsibility to the community and its customers. We found our values and commitment to community banking are shared by Bobby Miles and his staff. In addition, local board members have agreed to continue to serve on the bank's board. This will ensure consistent local bank oversight. As we move forward, we will continue to honor the great legacy of Peoples Bank and work hard every day to better serve Marion County and the surrounding communities."
Freddie Higdon, chairman of the Board of Peoples Bank said, "Since our founding in 1910, Peoples Bank has focused on providing our customers with the best banking experience available, thanks to the efforts of a dedicated staff, our management and our ownership group. In the future, as our community grows and new opportunities develop, the Bank is committed to continued excellence and expanding customer relationships. Our strategic association with our new partners allows us to enhance our existing products and expand our footprint in the Central Kentucky region, while steadfastly holding to our community bank roots. Our goal and mission is to always offer the best banking services to the citizens of our community."
Frost Brown Todd, LLC, Louisville, Ky. is serving as legal counsel and M. Lynn Cooper of Milynco Financial served as investment advisor to King Harris Bancorp. Wyatt, Tarrant & Combs, LLP, Louisville, Ky. is serving as legal counsel to Community Financial of Kentucky.