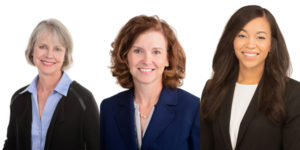 LOUISVILLE, Ky. — Former financial institution in-house compliance officer Nancy Eff Presnell and veteran public and project finance attorney Laura Theilmann joined Frost Brown Todd's (FBT) Financial Services Industry Team. Both members, they are based out of the firm's Louisville's office.
Most recently, Presnell served as the senior vice president and managing director of compliance at one of Louisville's largest banks. Her practice focuses on regulatory compliance matters in the financial services industry. Presnell has managed consumer compliance across multiple lines of business, developed compliance management systems and acted as lead contact for various compliance examinations. Presnell is a graduate of University of Louisville Louis D. Brandeis School of law. She is a Certified Regulatory Compliance Member.
Theilmann has represented various public entities including school districts, public utilities and local governmental issuers as they finance multi-million-dollar developments through the issuance of tax-exempt bonds and notes. Louisville Magazine recognized her as one of the "Top Lawyers" in project and public finance law. Theilmann is a member of the National Association of Bond Lawyers and listed in the Bond Buyer's Directory of Municipal Bond Dealers of the U.S. Theilmann is a graduate of the University of Kentucky law school and participated in the Moot Court Board.
Also joining FBT's Louisville office is Associate Holland Hawkins. She represents institutional lenders as part of the firm's Commercial Mortgage-Backed Securities practice group. Hawkins previously served as legal counsel and assistant vice president for a Fortune 500 title insurance company. A graduate of Loyola University Chicago School of Law, Hawkins served as associate editor of the International Law Review and a clinician for the Business Law Clinic.