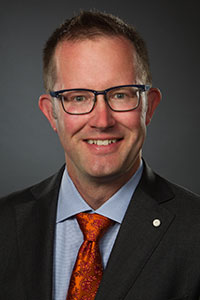 LEXINGTON, Ky. — Winchester native Dr. Travis Sewalls has been named chief medical officer for Saint Joseph Hospital and Saint Joseph East. He joined CHI Saint Joseph Health July 29.
"We are pleased that Dr. Sewalls decided to come home to Kentucky," said Dr. Dan Goulson, senior vice president/CMO for CHI Saint Joseph Health. "His leadership experience spans simultaneous work with multiple medical staffs where he worked to create a better environment for patient care. We are excited about what he has to offer Saint Joseph Hospital and Saint Joseph East."
Sewalls completed his undergraduate and medical degrees at the University of Kentucky. He completed his Emergency Medicine residency at UK and began his career as a staff physician in the emergency department at Clark Regional Medical Center in Winchester, Ky. He served in various positions at the VA Medical Center in Lexington, including deputy chief of staff, before being named chief medical officer at Baptist Health Madisonville.
Most recently, Sewalls served as vice president of medical affairs for St. Charles Health System, in Bend, Ore. In this role, Sewalls provided physician executive support for four medical staffs with 850 providers. He has also provided executive leadership for several programs, including medical education, research and AHEC.
Sewalls said he is thrilled to be a part of CHI Saint Joseph Health and the Central Kentucky community again. "It is truly rare to combine the work that brings me joy in such a special location as home," he said.
Sewalls, his wife Andra and two children, live in Lexington.