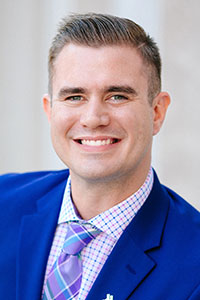 LEXINGTON, Ky. — Matt Schulte has been named beverage manager at the Lexington Marriott City Center and Residence Inn Lexington City Center hotels.
"Matt is one of the most passionate and creative individuals I have ever met. He truly loves the beverage world, and he is dedicated to ensuring that you leave City Center with experience that you will never forget! We are looking forward to seeing his creativity come to life," said Ricky Carpentieri, director of food and beverage.
After earning a B.S. degree in healthcare administration at Ohio University, Schulte went on to work in practice management at the Athens Cancer Center. During this time, he began at Pawpurr's Bar where he found his true passion in mixology and hospitality. This passion would take him on a journey to Florida, Virginia and Washington D.C.
In 2016, he joined the hotel industry at the boutique Embassy Row Hotel in Washington D.C. He would later be promoted to head of food and beverage, leading the charge at one of D.C.'s top rooftop venues.
"I am excited to join such a first-class team and continue to grow as a hospitality professional with the Lexington Marriott City Center hotels in the heart of Lexington," said Schulte. "This property is an amazing opportunity to lead a team that excels in true southern hospitality and allows me to showcase my passion and creativity with the beverage programs."
Born and raised in Cincinnati, Schulte is the youngest of three. He loves attending sporting events or concerts especially outdoors. He also enjoys spending time with his nephew who is now a freshman at the University of Dayton.