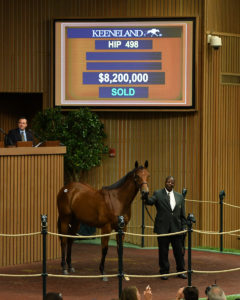 LEXINGTON, Ky. — A filly by Triple Crown winner American Pharoah who is a half-sister to four-time champion Beholder, Grade 1 winner Mendelssohn and Grade 1 winner and leading sire Into Mischief sold for a record $8.2 million to Mandy Pope's Whisper Hill Farm to headline Wednesday at the Keeneland September Yearling Sale. Eight yearlings brought seven-figure prices Wednesday, the final session of the three-day premier Book 1 catalog, driving gross sales for the session to more than $65 million and average price to more than $524,855.
The $8.2 million price set a September Sale record for a filly and equals the fourth-highest price for a yearling sold at the auction. It is the highest price paid at the September Sale since the $11.7 million given for Meydan City in 2006.
The day's session results reflected robust commerce. Keeneland sold 124 horses for $65,082,000, for an average of $524,855 and a median of $375,000.
This year's Book 1 spanned three days versus a four-day Book 1 in 2018. Cumulatively, 340 horses have grossed $160,463,000, for an average of $471,950 and a median of $355,000.
A total of 20 yearlings sold for seven figures in Book 1, including seven that brought final bids of $2 million or more.
"I would describe today's session as the cherry on top of the three days that is Book 1," Keeneland Vice President of Racing and Sales Bob Elliston said. "That's the way you close out a Book 1: under 19% on RNAs; an average of nearly $525,000; 28 horses sold for $700,000 or more; 27 fewer horses sold today compared to this session last year and the gross was $12 million more. Congratulations to consignor Clarkland Farm and buyer Mandy Pope on the $8.2 million filly. What a tremendous part of an incredible session that was."
Clarkland bred the top-selling filly, whose dam is the stakes-winning Tricky Creek mare Leslie's Lady.
"I don't have any words," Clarkland's Fred Mitchell said. "It's unreal. But in my opinion, this was the best individual the old mare has ever had. Can you believe a 22-year-old mare (in 2018) had something like this? But Leslie's Lady, she still thinks she's 12 or 13 years old."
In 2006, Clarkland bought the-then 10-year-old Leslie's Lady in foal to Orientate for $100,000 at Keeneland's November Breeding Stock Sale. Clarkland sold Beholder, by Henny Hughes, for $180,000 at the 2011 September Sale and sold Mendelssohn, by Scat Daddy, for the 2016 sale-topping price at $3 million.
Mitchell said the record-setting daughter of Leslie's Lady was special from birth.
"She was born with muscle," he said. "She was correct when she was born, and she just has such a mind on her. When I watch her – compared to Beholder and Mendelssohn growing up – it looked like she had Beholder's sprinting speed because when the other fillies came to her out in the field and were running, she was like, 'I'll see ya,' and had another gear. She's just been special since Day One."
Selling the filly for $8.2 million was "something we never dreamed of in our life," Mitchell said. "We dream of breeding a nice horse, and this is what it's all about for the little consignors and the small guys. The farm has been in the family since 1774, and it'll be there for the children for the rest of their lives. We're keeping two fillies out of the old mare; this is the last one to sell out of her. The fillies will stay there for the kids and grandkids."
"You can't fault her," Pope said about the filly. "She's perfectly balanced. She's gorgeous – not too big or small."
Pope said the filly was the only horse in the September Sale she really wanted, adding, "This will probably put me out of shopping in November; I think I pretty much went through my broodmare budget for November."
Wednesday's leading buyer with her lone purchase, Pope said the filly would enter training at Whisper Hill's training center in Florida.
Mike Ryan, agent for e Five Racing Thoroughbreds, paid $2.1 million for a Pioneer of the Nile colt who is a half-brother to two-time 2019 Grade 1 winner Guarana.
Ryan said he hoped the colt would be as good as another e Five runner, champion Good Magic.
"He's a different color but he reminded me of (Good Magic) a lot – his mechanics, his movement, his mind, his demeanor," Ryan said. "He's a May foal, but he's beautifully made. He's got a stallion's pedigree.
"Based on how the market is going," Ryan added, "we knew it would take that kind of money to buy him."
The colt, who is out of the Distorted Humor mare Magical World, was consigned by Taylor Made Sales Agency, agent, which led all consignors on Wednesday with sales of $11,085,000 for 24 horses.
Shawn Dugan, agent, paid $2 million for a filly by Empire Maker who is a half-sister to 2018 champion 2-year-old-filly Jaywalk. Consigned by Gainesway, agent, she is out of the Orientate mare Lady Pewitt and is a half-sister to stakes winner Danzatrice.
"We're speechless," Dugan, who bought the filly for Al Shira'aa, said. "We're so happy. We really, really wanted her, and she's just a top physical. She's a half-sister to a champion."
"She is a gorgeous filly, and this is great for Empire Maker," Gainesway Director of Public Sales Brian Graves said, referring to the Gainesway stallion. "(Gainesway owner) Antony Beck had bought this mare privately quite a while ago and bred Jaywalk. The result today was fantastic. We are delighted."
The second horse in the ring on Wednesday was a colt by American Pharoah who sold for $1.3 million to Jamie McCalmont, agent for Coolmore's M.V. Magnier and Sarah Kelly.
"We are absolutely delighted to get him," Magnier said. "He will go to (Southern California-based trainer) Bob Baffert. He was very high on the horse. He has a couple of very good American Pharoahs. And (trainer) Aidan O'Brien is pretty confident with Monarch of Egypt (a Group 1-placed 2-year-old by the stallion) in Ireland. American Pharoah is going so well at the moment."
Consigned by Hunter Valley Farm, agent, the colt is out of the Smart Strike mare Escampette and is from the family of champion Althea and Grade 1 winners Bayern and Ketoh.
"Brilliant result. We are delighted," Hunter Valley Manager Adrian Regan said. "As a weanling, we thought he was the best foal on the grounds. He is only going to get better."
Hunter Valley paid $340,000 for the colt at Keeneland's 2018 November Breeding Stock Sale. He was consigned by Four Star Sales, agent for Dixiana Farms.
Two colts sold for $1.2 million each.
West Bloodstock, agent for Robert and Lawana Low, paid the amount for a son of Curlin who is a half-brother to Grade 1 winner Mo Town.
"We waited around on him, did our inspections early," Jacob West said. "We saw him early on and fell in love with him. We passed on some others, which I don't think we would have had the money (to spend on them) anyway based on how the sale has been going. But he was one of our favorites."
Consigned by Glennwood Farm, agent, the colt is out of the Bernardini mare Grazie Mille.
"We thought he was one of our best in the consignment that we brought over," Glennwood's John Gunther said. "It takes a lot out of you – you fall in love with these animals. I don't know whether to be sad or happy."
Ben McElroy, agent, purchased the other $1.2 million colt, a son of Medaglia d'Oro who is the first foal out of the Grade 2-winning Pulpit mare Keen Pauline.
"He's by a top stallion," said Simon Callaghan, who will train the colt for Qatar Racing. "I thought physically he was one of the top horses in the sale. We knew he was going to be in and around a million (dollars), and we were lucky to get him. I think he's a really good horse.
"(The market) has been strong, particularly for the high-end horses like this. We're looking forward to him. (Qatar Chairman) Sheikh Fahad is upping his interest in racing in America and is spending more time in California, so he wants to go after some of these high-end colts and go down the road of the (Kentucky) Derby (G1)."
The colt was consigned by Gainesway, agent for Stonestreet Bred & Raised.
"Another quality offering from Stonesteet," Gainesway's Graves said. "They do a great job there. We are privileged to sell for them. They have invested deeply, done their homework, and they produce these beautiful, athletic horses that can run.
New River Equine paid $1.1 million for a filly by Medaglia d'Oro who is the first foal out of Grade 3 winner Gloryzapper, by Ghostzapper.
"We knew she would be expensive and we knew we would have to stretch to get her, but we really like her," said Ben Colebrook, who will train the filly. "We thought she was athletic, and we really liked the pedigree."
The filly was consigned by Taylor Made Sales Agency, agent for Aaron and Marie Jones.
"We are delighted," Marie Jones said. "She is just beautiful – from her pedigree to just how she stood, she was beautiful. She was absolutely gorgeous. We watched her every day outside and she has a very strong mind. I think she'll be a great, great filly for the new owners."
Repole Stables, St. Elias and Magnier paid $1 million for a son of Curlin who is out of Grade 1 winner Got Lucky, by A.P. Indy, and was consigned by Hill 'n' Dale Sales Agency, agent.
"A tremendous family," said Todd Pletcher, who trained Got Lucky and signed the ticket for the Curlin colt. "He is by a world-class stallion and is a very athletic colt, good mover, a classic prospect, a stallion prospect – all the qualities we are looking for.
"The market has been very, very strong," Pletcher added. "This is a really good group of yearlings."
The September Sale takes a one-day break tomorrow then resumes Friday with the first of the two-day Book 2 beginning at 10 a.m. ET.
The entire sale, which runs through Sunday, Sept. 22, is streamed live at Keeneland.com.