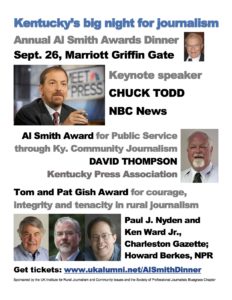 LEXINGTON, Ky. – NBC News Political Director Chuck Todd will be the keynote speaker Sept. 26 at the annual Al Smith Awards Dinner, which the organizers are promoting as "Kentucky's big night for journalism."
The Al Smith Award for public service through community journalism by a Kentuckian will go to David Thompson, executive director of the Kentucky Press Association. He is the longest-serving executive of any newspaper association in North America.
"David has played an important role in making sure public officials in Kentucky know that this state's newspapers stand united in their insistence that government operate openly and transparently and obey the state's open-records and open-meetings laws. All Kentuckians have benefitted from his dedication to this principle," said Tom Eblen, president of the Bluegrass Chapter of the Society of Professional Journalists, which presents the award with the Institute for Rural Journalism and Community Issues.
The institute, based at the University of Kentucky, will present its Tom and Pat Gish Award for courage, tenacity and integrity in rural journalism to three reporters who have provided outstanding coverage of the coal industry in Central Appalachia:
Howard Berkes, who retired from NPR at the end of 2018 after 38 years in public media, much of it reporting from rural America. He discovered an epidemic of black-lung disease among coal miners that federal regulators had ignored or even denied. His work was the basis for "Coal's Deadly Dust," a recent documentary for "Frontline" on PBS.
Ken Ward Jr. of the Charleston Gazette-Mail, who won a MacArthur Foundation fellowship based on his investigative reporting for the newspaper. The foundation said Ward excels at "revealing the human and environmental toll of natural-resource extraction in West Virginia and spurring greater accountability among public and private stakeholders."
Paul J. Nyden, who "defended the public's interests by consistently taking on powerful state businesses and challenging political leaders across West Virginia. He exposed deadly safety violations, renegade strip-mining and unscrupulous tax scams in a career that spanned more than three decades," Ward wrote in Nyden's obituary in January 2018.
These reporters did their work in the Central Appalachian coalfield, where the late Tom and Pat Gish published The Mountain Eagle for more than 50 years. The weekly newspaper in Whitesburg, Ky., became nationally known for its battles with coal operators, bureaucrats and politicians, and the firebombing of its office by a city police officer.
The Al Smith Award is named for the retired newspaper publisher who was founding producer and host of KET's "Comment on Kentucky," and federal co-chair of the Appalachian Regional Commission. He was the driving force to create the Institute and is chair emeritus of its advisory board. He will be recognized at the dinner, as will winners of the SPJ chapter's scholarships.
Chuck Todd is host of "Meet the Press" and "MTP Daily" and author of The Stranger: Barack Obama in the White House, drawing on his six years as NBC's chief White House correspondent. He is a Miami-area native but has an affinity for rural issues; on election night 2016, as he watched the county-by-county map of the U.S. go mainly red, he told viewers, "This is rural America saying, 'Stop ignoring us!'"
"The Al Smith Awards Dinner is Kentucky's big night for journalism each year," says Al Cross, director of the institute. "It is a grand gathering of people who believe in journalism as an essential element of democracy and want it to observe high standards; who recognize the importance of rural America to the rest of the country; and who agree with us that rural Kentucky and rural America deserve good journalism just as much as the rest of the state and nation."
Tickets to the Al Smith Awards Dinner are $125 each. Table sponsorships of $1,250 are still available; major sponsors of the dinner are Kentucky's Electric Cooperatives and the Tallgrass Farm Foundation. Reservations can be made online at www.ukalumni.net/AlSmithDinner, by emailing [email protected] or by calling the Institute at 859-257-3744.
Net proceeds of the dinner go to the endowment of the Institute, which helps rural journalists define the public agenda in their communities through strong reporting and fair commentary, especially on issues that have local impact but few good local sources. For details, see www.RuralJournalism.org. The Institute is part of the School of Journalism and Media in UK's College of Communication and Information.