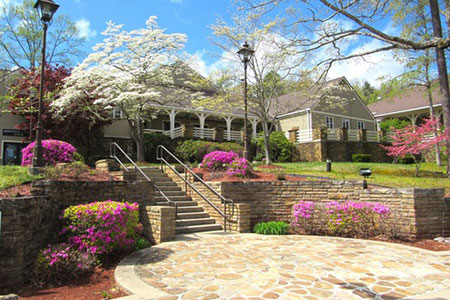 PINEVILLE, Ky. — Gov. Matt Bevin announced Friday more than $1 million in improvements to Pine Mountain State Resort Park.
Part of Kentucky State Parks' "Restoring the Finest" initiative, the funding will go toward renovating the Laurel Cove Amphitheater at the park and to other various utility and safety needs. With this announcement, Pine Mountain will have received an estimated total of $2.4 million since 2016 as a result of additional state parks funding.
"We are committed to investing in and improving our state parks for the next generation," said Gov. Bevin. "Our 'Refreshing the Finest' initiative was an important first step to address deferred maintenance, and now the 'Restoring the Finest' initiative will allow us to build on our momentum and advance further improvements within our state park system. The more than $1 million announced today for Pine Mountain State Resort Park will provide much-needed safety and infrastructure upgrades, which will further enhance the state park experience and increase tourism opportunities in the area."
Kentucky State Parks received $18 million and $20 million in additional funding as part of the "Refreshing the Finest" program in 2016-2018. Gov. Bevin and lawmakers approved a $50 million bond issue for the "Restoring the Finest" campaign in state parks during the 2019 General Assembly.
"State parks are critical to our communities," said Regina Stivers, Deputy Secretary of the Tourism, Arts, and Heritage Cabinet. "Our parks give us a sense of pride and unite us as Kentuckians. We are beyond grateful to Governor Bevin and to the General Assembly for recognizing the significance of our parks and investing in their future."
State Parks Commissioner Donnie Holland echoed the comments from Governor Bevin and Deputy Secretary Stivers.
"When this administration came in, we inherited nearly $240 million in deferred maintenance at state parks," he said. "Thanks to this funding, we have now stopped the digging and are moving in the right direction, but there is still work to be done. We appreciate all who helped secure this investment and look forward to these improvements at Pine Mountain and at parks across the state." 
Pine Mountain State Resort Park offers a lodge, cottages, conference center, Mountain View Restaurant, Wasioto Winds Golf Course, hiking, birding, swimming, mini-golf, gift shop, and more. For more information about Pine Mountain and other state parks, visit www.parks.ky.gov.