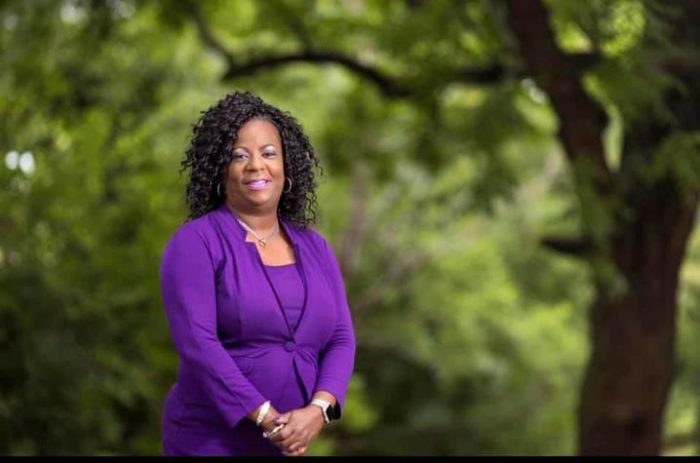 LEXINGTON, Ky. — Tina M. Harris, who holds a doctorate from the College of Communication and Information at the University of Kentucky, is a teacher, mentor, researcher and is now the chair in race, media and cultural literacy — the first position of its type in the nation. Harris recently joined Louisiana State University's Manship School of Mass Communication as the Douglas L. Manship Sr.- Dori J. Maynard Endowed Chair of Race, Media, and Cultural Literacy.
The position was created by the Manship and Maynard families to tackle issues of race and culture in the media and to promote cultural literacy. They wanted students to be challenged to think more critically about these topics and be on the forefront of future efforts to facilitate social justice. Harris was approached about the job because of her history with research about diversity and media representations, interracial communication, and race and ethnic disparities and religious frameworks in health communication. She is also the co-author of the leading textbook "Interracial Communication: Theory to Practice."
When asked why she considered applying for the position after being on faculty at the University of Georgia for 21 years, Harris said, "When I learned of the many opportunities the position would bring, I just had to take it. It's not about money. It's about providing the tools to transform the teaching world."
As the chair, Harris is teaching graduate and undergraduate classes every semester, conducting research that advances issues of diversity and social justice in media as well as serving as a mentor to undergraduate and graduate students and junior faculty.
Harris gained her passion for race and cultural studies from her childhood experiences. Born in Detroit, her family soon moved to Rota, Spain, when she was 4 years old, where she learned an appreciation for racial and cultural diversity. It was not until she was in college that her observations related to race and culture caused her to realize that more research needs to be done that reflects the human diversity oftentimes ignored or underrepresented in the field of communication studies.
Her teaching inspiration came from a professor at the University of Georgia's Department of Speech Communication (now Communication Studies) when she was an undergraduate who told her she would make a great teacher. Harris said her experience later at the UK College of Communication and Information led to a key part of her career now.
"My experience at UK helped me develop my interest in mentoring. It showed me what a mentor should be and what a mentorship should look like in order to help your mentee reach their professional goals," she said.
While Harris is excited about the endowed chair position, she is focused more on the impact she can make through this opportunity.
"It means a lot to be able to translate theory into practice," she said. "I now have the platform to engage not only students but the community and have access to resources to take my research and apply it outside of my classroom."
Harris is also the recipient of more than 30 recognitions and awards for her teaching and research accomplishments, including the University of Georgia's 2017 Engaged Scholar Award and the Distinguished Josiah T. Meigs Teaching Professor Award.
In the future, she hopes to continue her research and help others realize their dreams for improving race relations and having an impact on an increasingly diverse world.