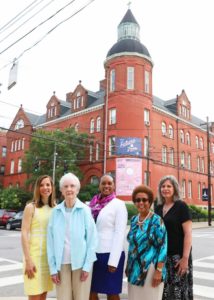 LOUISVILLE, Ky. — Seven women leaders will be honored with a 2019 Tower Award on Thursday Oct. 10 at the Kentucky International Convention Center. Now in its 24th year, the annual awards are presented by Presentation Academy and serve as a way to highlight the contributions these women role models have made to Presentation Academy students and the Kentuckiana community.
Leadership is an integral part of Presentation Academy's curriculum. The Tower Awards serve as a fundraiser and a catalyst to open the doors for all young women to experience a Presentation Academy education. All proceeds from the event go to the school's tuition assistance program, and since inception, this event has raised over $2.5 million.
The 2019 Tower Award recipients are:
ARTS & COMMUNICATION
Cathy Smith Shannon, co-owner of E&S Gallery
BUSINESS TECHNOLOGY & TRADE
Kim Clements Evans '75, founder and owner of the Institute for Integrative Medicine
EDUCATION
Jennifer Klump Kowalski '96, associate professor of Biological Sciences, Butler University
GOVERNMENT & LAW
Denise Guess Clayton, chief judge of the Kentucky Court of Appeals
SCIENCE & HEALTHCARE
Dr. Erica Sutton, founder of Surgery on Sunday
SERVICE & ADVOCACY
Maria Scharfenberger '82, family counselor, LMFT, MSSW
LIFETIME ACHIEVEMENT AWARD
Sister Maureen Coughlin SCN
The event will include a cocktail reception at 6 p.m., followed by dinner and the awards ceremony at 7 p.m. Seats to the 2019 Tower Awards may be purchased for $125 each, or $1,250 per table of 10.
For more information visit PresentationAcademy.org.