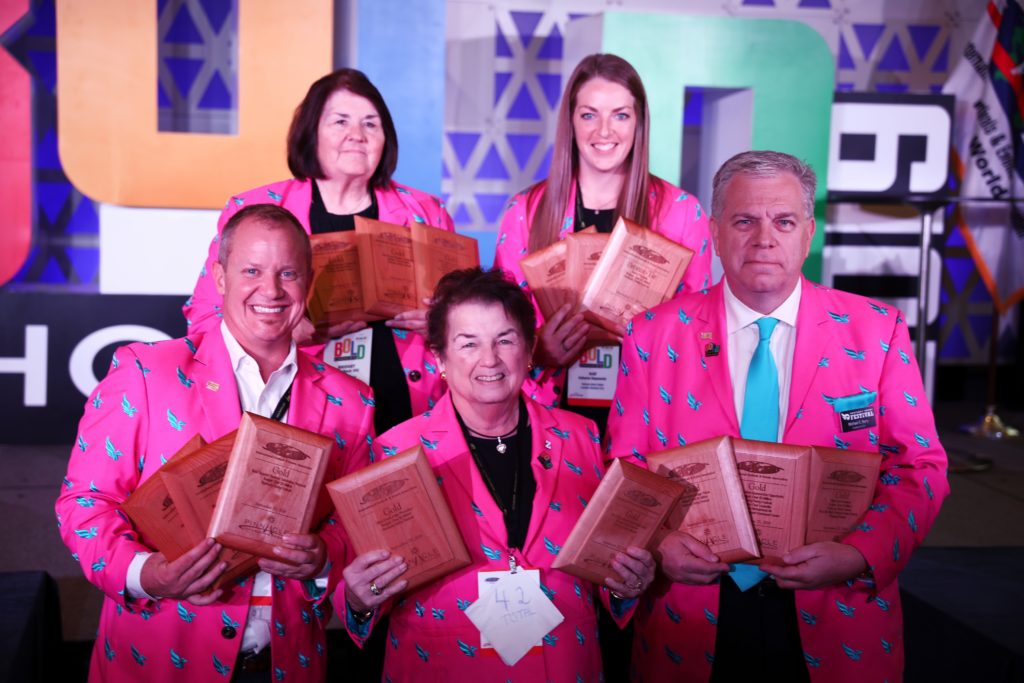 LOUISVILLE, Ky. — The Kentucky Derby Festival has received 43 top honors at the International Festivals & Events Association's (IFEA) Convention and Expo in Colonial Williamsburg, West Virginia.
The Derby Festival tied for the Bronze Grand Pinnacle in the "Best Overall Festival Program" category, with the National Cherry Blossom Festival (Washington, D.C.), Pennsylvania Horticultural Society was runner-up with silver and the Vivid Sydney, Destination NSW (The Rocks, NSW Australia) won gold. The Grand Pinnacle is the IFEA's highest award. The Festival competes each year against other major festivals and events from around the world.
"We take great pride in putting on a celebration for the community every spring," said Mike Berry, Kentucky Derby Festival president and CEO. "These awards are truly a reflection of all the support we receive from our volunteers, sponsors and patrons. In my final days as CEO, it is a special honor to join our Festival partners in a celebration of our successes this past year."
The Festival also received 42 Pinnacle Awards – 13 gold, 19 silver, and 10 bronze – in various categories for events, media relations, advertising campaign, sponsorship and merchandise.  The IFEA is the premiere association that supports festival and event professionals worldwide. The Pinnacle Awards competition recognizes the best special events, festival materials, promotions and ideas in the festivals and events industry.
More than 2,000 member festivals compete for the annual IFEA awards. The Kentucky Derby Festival competes with among the ranks of the Indy 500 Festival, OC Fair & Event Center (Costa Mesa, California), Destination NSW (The Rocks, NSW Australia), Winterfest, Inc. (Ft. Lauderdale, FL), Memphis in May International Festival, National Cherry Blossom Festival, Pasadena Tournament of Roses. 
The festival won gold awards for:
BEST EVENT VIDEO PROMOTION: Derby Festival "Live it Up" video. Song written by Jecorey "1200" Arthur.
BEST FESTIVAL/EVENT MOBILE APPLICATION: 2019 Derby Festival app. Designed by Aloompa.
BEST SINGLE DIGITAL/SOCIAL AD: 2019 Humana miniMarathon/Marathon Facebook ad. Designed by Vimarc.
BEST COMPANY IMAGE PIECES: 2019 Derby Festival license plate.
BEST SINGLE NEWSPAPER DISPLAY AD: 2019 "Social" Events ad. Designed by Vimarc.
BEST SINGLE MAGAZINE DISPLAY AD: 2019 "Girls Night Out" ad. Designed by Vimarc.
BEST EVENT INVITATION: 2019 Grand Marshal invite. Designed by Vimarc.
BEST NEW MERCHANDISE: 2019 Derby Festival Christopher Radko ornament.
BEST TARGETED SPONSOR SOLICITATION PROPOSAL: AT&T First Net.
BEST SPONSORSHIP PROGRAM FOR INDIVIDUAL SPONSOR: LouCity FC Soccer Club
BEST SINGLE NEW SPONSORSHIP OPPORTUNITY: Louisville Muhammad Ali International Airport, Thunder Over Louisville Command Center Sponsorship
BEST FOOD & BEVERAGE PROGRAM: Kroger's Fest-a-Ville and the Chow Wagon.  Concessions by Cox
MOST CREATIVE/EFFECTIVE NEWS STUNT: Kathrine Switzer training run for 2020 Humana miniMarathon/Marathon
Silver awards:
BEST EVENT WEBSITE: 

DerbyFestivalMarathon.com

BEST EVENT/ORGANIZATION E-NEWSLETTER:  "Festival Times." Designed by Vimarc.
BEST MISCELLANEOUS MULTI MEDIA: 2019 Derby Festival recap video
BEST MISCELLANEOUS PRINTED MATERIALS (multiple page): 2019 Republic Bank Pegasus Parade program
BEST AD SERIES: 2019 "Live it Up/Doodles" ad series. Designed by Vimarc.
BEST COMMEMORATIVE POSTER (FOR SALE): 2019 Official Derby Festival limited edition poster. Designed by poster artist Chimel Ford. Printed by Derby City Litho. Distributed by 12/13 Apparel by Synergism.
BEST STREET BANNER: 2019 Derby Festival street banners on Main St.
BEST MISCELLANEOUS CLOTHING: Derby Festival hat, scarf and glove set
BEST SPONSOR GIFT: Thunder Over Louisville cooler
BEST OVERALL MERCHANDISING PROGRAM 
BEST INDIVIDUAL SPONSOR FOLLOW-UP REPORT: WellCare follow-up book
BEST SPONSOR PARTNER: UPS
BEST PARADE: Republic Bank Pegasus Parade
BEST EVENT/PROGRAM WITHIN AN EVENT TO BENEFIT A CAUSE: miniMarathon/Marathon Charity Program
BEST EMERGENCY PREPAREDNESS & RISK MANAGEMENT PLAN FOR AN EVENT: Derby Festival Emergency Action Plan
BEST NEW EVENT: Drag Brunch at the Chow Wagon
BEST NEW PROMOTION ACTIVITY: "Pegasus Pin Tuesdays" at Main Event
BEST MEDIA RELATIONS CAMPAIGN
BEST SOCIAL MEDIA CAMPAIGN: 2019 Derby Burger campaign
Bronze awards:
BEST OVERALL FESTIVAL (TIE): Bronze Grand Pinnacle
BEST TV PROMOTION (TIE): Humana miniMarathon/Marathon TV Spot. Produced by Vimarc.
BEST RADIO PROMOTION: BB&T Great BalloonFest radio spot. Produced by Vimarc.
BEST SOCIAL MEDIA SITE: @KyDerbyFestival Instagram
BEST T-SHIRT DESIGN: 2019 BourbonVille T-shirt. Produced by 12/13 Apparel by Synergism.
BEST PIN OR BUTTON: 2019 Pegasus pin
BEST HAT: 2019 Derby Festival Est. 1956 navy hat. Produced by 12/13 Apparel by Synergism.
BEST OTHER MERCHANDISE: LouCity FC Derby Festival scarf
BEST GIVEAWAY ITEM: 2019 miniMarathon/Marathon medal with Louisville Slugger bat
BEST OVERALL SPONSORSHIP PROGRAM:  miniMarathon, Marathon and Relay Sponsorship Program
BEST CHILDREN'S PROGRAMMING: Girl Scouts of America and Parade preview party