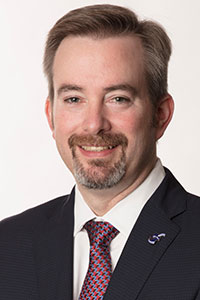 LEXINGTON, Ky. — Jason M. Adams has been named the new president of Saint Joseph East and chief operating officer of Saint Joseph Hospital. Adams will join CHI Saint Joseph Health in this role Oct. 14.
"Jason has been successful in leading facilities similar to Saint Joseph East to new heights of excellence in patient care," said Bruce Tassin, CEO, CHI Saint Joseph Health, and president, Saint Joseph Hospital. "His experience with a faith-based health care system makes him a good choice for our Lexington hospitals."
Adams has served in various leadership roles in health care for the past 20 years, most recently as system chief operating officer for CHRISTUS Good Shepherd Health System in Longview, Texas. He was responsible for the day-to-day operations of the Good Shepherd system and CGS Marshall Hospital, implementing corporate strategies for efficiency and effectiveness and expansion of services.
Working with the senior management team, Adams helped to develop a comprehensive turnaround plan taking an organization that was 23 days from bankruptcy into a positive NOI within 17 months. This occurred at the same time Adams and the leadership team was working to increase associate satisfaction result from the 33rd percentile to the 76th percentile.
Adams also served as regional chief operating officer for CHRISTUS St. Vincent Regional Medical Center in Santa Fe, N.M., and held other leadership roles in Massachusetts, Nevada and Texas.
He received a bachelor of business administration in finance from the University of Georgia, and an MBA and master of health administration from Georgia State University. He began his career with an administrative fellowship for the Memorial Hermann Healthcare System in Houston.
Like CHI Saint Joseph Health, CHRISTUS Health is a faith-based health care system and Adams said that was appealing to him.
"I greatly value the mission and values of CHI Saint Joseph Health," Adams said. "Working with people who believe they are called to serve is a great personal fit for me."
Adams and his wife Jennifer have three children, Jackson, 11, Ansley, 9, and Alex, 8. They are all looking forward to being an active part of the Lexington community.
"We are looking forward to calling Lexington home," Adams said. "The community has a tremendous quality of life, which is very appealing to us."