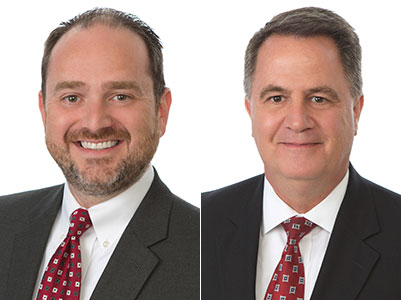 LOUISVILLE, Ky. — Jason Adler and Kelley Chandler have joined German American Bank's commercial lending team to serve the financial needs of the Louisville community, the company announced Thursday.
"Expanding a commercial lending team into Louisville with the strong talent level of Jason and Kelley further solidifies German American Bank's commitment to being the top choice for financial services in the Greater Louisville area," said Adrian Brown, market president. "We've grown to be one of the most successful banks in the country by focusing on listening to our clients and providing customized financial solutions. Both Jason and Kelley share that philosophy along with a deep knowledge of the Louisville business community."
Adler joins the company as market executive. Chandler joins the company as senior vice president, commercial banking.
Adler has 16 years of experience in business banking, including nearly 14 years with a national bank serving the Greater Louisville and Kentucky markets, at which he has served the past nine years as the area manager in business banking.
He received a bachelor's degree in economics from Centre College and an MBA in management from Xavier University. He is a board member of the NAWBO of Kentucky Foundation, serves on the Economic Development Committee of One Southern Indiana, is a Junior Achievement Bowl-A-Thon Champion, and is an Ignite Louisville graduate.
"With German American Bank's robust growth into Kentucky this past year, it's an exciting time to join this team of financial professionals as we look to grow our presence in the Louisville Market," said Adler. "As a large, regional financial company, German American is able to offer competitive financial solutions while maintaining a focus on client relationships and quality, local service."
Chandler has 35 years of banking and commercial lending experience, most recently as a senior relationship manager in business banking, also with a national bank serving the Greater Louisville and Kentucky markets. He holds a bachelor's degree from the University of Kentucky's School of Business and Economics.
Chandler currently is a member of the K-Men Association, the St. Raphael's Men's Club and the Giants Club. He also serves on the Trinity High School Business Forum and has coached multiple youth sports teams for over 20 years.
"It's a pleasure to join a bank that hangs their hat on setting high standards in financial services delivery," said Chandler. "German American is a big believer that banking is a people business, and the company is committed to investing in current technology solutions. I'm excited to offer the German American Bank experience to the Louisville business market."