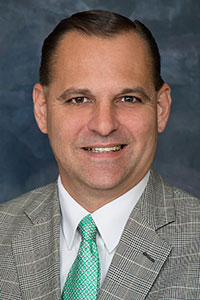 PRESTONSBURG, Ky. — Appalachian Regional Healthcare (ARH) has named Tim Hatfield as the new Community CEO for the Highlands ARH Regional Medical Center.
Hatfield, who officially assumes his duties at Highlands ARH this week, has had a lengthy career with the ARH system. Most recently, Hatfield served the Community CEO for the Tug Valley ARH Regional Medical Center in South Williamson, Ky.
A 23-year veteran of ARH, Hatfield also served as CCEO of Morgan County ARH Hospital, as well as interim CEO for the former Man ARH Hospital. He also previously served as assistant vice president for Pikeville Medical Center.
For the past 14 years, he has also headed up the physician recruitment efforts for the ARH system.
Under Hatfield's leadership, Tug Valley ARH experienced major growth within its service line expansion, physician recruiting and has built strong internal/external business partnerships. The hospital achieved a Level 4 Trauma Designation, and was recognized by the Hurst Group as one of the top producing facilities in the U.S. for patient satisfaction. In 2016, Hatfield was appointed by Gov. Matt Bevin to serve a six-year term on the Kentucky Foundation for a Healthier Kentucky. This group is responsible for establishing programs to support and improve several of the key health challenges in the state of Kentucky.
"We are pleased that Mr. Hatfield will lead the Highlands ARH Regional Medical Center during this time of transition and extensive growth. His wealth of knowledge and experience of both healthcare delivery and the region will serve him well," said Joe Grossman, president and CEO for the ARH system. "He shares ARH's commitment to providing quality care and we are confident that he will work diligently to continue to build the level of healthcare provided to the residents of Prestonsburg and surrounding communities."
While Hatfield said he will always be fond of the time he has spent at Tug Valley ARH, he is excited to lead Highlands ARH moving forward.
"Tug Valley ARH Regional Medical Center will always hold a special place in my heart. I was born and raised in this community. I know a lot of the community as extended family," Hatfield said. "I have been blessed over the past 12 years at Tug Valley with a strong medical staff and leadership team. I have challenged both of these teams to keep growing the Tug Valley footprint in the Mingo/Pike/Martin communities. One person does not define a hospital. I have great faith that Tug Valley will continue to grow and prosper."
"Highlands Regional has been known for years as a great healthcare facility in the Big Sandy Region," said Hatfield. "I look forward to joining the Highlands Team and continuing to grow the market to meet the needs of the Big Sandy Region. There are so many exciting opportunities that this hospital presents to ARH. It is great to have them as the newest member of our ARH family. I am very blessed to have the opportunity to be the first ARH CCEO at Highlands Regional Medical Center."