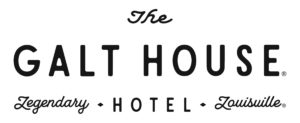 LOUISVILLE, Ky. — The Galt House has announced that it was honored with the inaugural Developer of the Year Award for Trademark Collection by Wyndham during the brand's global conference in Las Vegas. The award honors significant, landmark additions to the portfolio which represent the best of the best developments for the brand.
Special recognition was given to Scott Shoenberger, president and chief executive officer of The Al J. Schneider Company – which owns and manages the hotel – for his efforts to spearhead the overhaul of this beloved Louisville icon. As the only hotel on Louisville's waterfront and the official host hotel of the Kentucky Derby, the Galt House is currently welcoming guests while it undergoes an extensive $80 million renovation project, launched in 2018.
"The Galt House Hotel is a flagship destination for The Trademark Collection by Wyndham, a curation of hotels with a signature style and unique personality all their own," said Chip Ohlsson, Wyndham's executive vice president and chief development officer, North America. "This award honors the hotel and all the work the teams have put in to make it the true landmark that it is today. Through our partnership with strong, savvy operators like Scott Shoenberger and his team, we continue to make our mark in some of the world's most alluring cities."
The full transformation of The Galt House, slated for completion in fall 2020, will usher in a new era for the city's grand dame hotel, which features 1,310 guest rooms, more than 130,000 square feet of convention space, 50+ meeting rooms, and seven food & beverage outlets, with four already open and new concepts being introduced in the fall of 2019. The Galt House is ideally located in downtown Louisville, with easy access to the city's top attractions, such as the Urban Bourbon Trail, The Kentucky Center for the Arts, The Louisville Slugger Museum & Factory, Fourth Street Live, and more.
"We are incredibly honored to be recognized by The Trademark Collection by Wyndham as Developer of the Year and we are proud to be a flagship property for this unique brand," said Shoenberger. "As the renovation of the hotel continues to gain momentum, it is gratifying to see the concerted efforts of the entire team behind this project honored on the global stage by our partners at Wyndham."