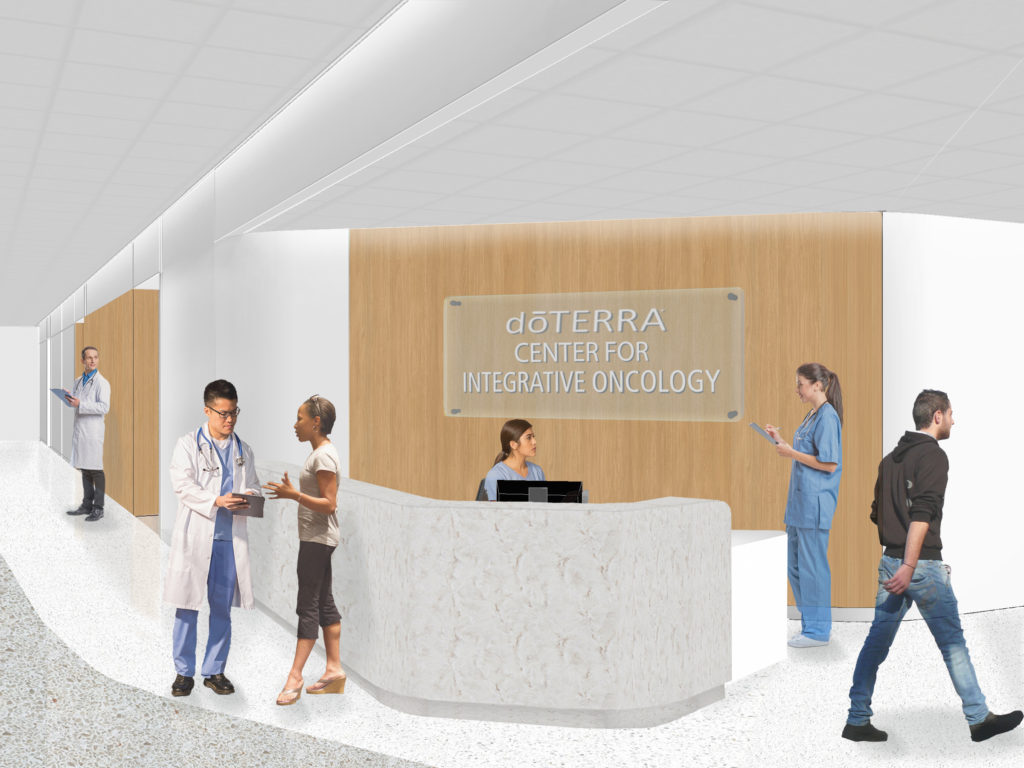 EDGEWOOD, Ky. — St. Elizabeth Healthcare has announced a partnership with doTERRA International, an integrative health and wellness company and the world leader in the Global Aromatherapy and Essential Oils market. doTERRA will play a foundational role in the development and implementation of the forthcoming Center for Integrative Oncology within St. Elizabeth's new Cancer Center in Edgewood opening in the fall of 2020.
"When the St. Elizabeth Cancer Center opens next fall, it will include nearly an entire floor of the building that is dedicated to the holistic, patient-centered approach to care known as integrative oncology," shared Garren Colvin, president and chief executive officer of St. Elizabeth Healthcare. "We want patients (and their caregivers) to have as much support and access to resources as possible under one roof."
The doTERRA Center for Integrative Oncology will be more than 8,400 square feet on the first floor of the St. Elizabeth Cancer Center. The Center will provide a calming space with holistic care options to complement St. Elizabeth's comprehensive medical care, including the use of doTERRA essential oils and aromatherapy, yoga, meditation and a spa-like atmosphere for patients undergoing cancer treatment. Additionally, experts at St. Elizabeth Healthcare will be conducting clinical trials related to complementary and alternative medicine, providing evidence-based options that may help patients better manage symptoms.
"Our priority at St. Elizabeth is to offer the highest quality care and comfort to our patients and their loved ones," said Dr. Doug Flora, executive medical director of Oncology Services at St. Elizabeth. "Adding supplemental resources will help improve the quality of life for our patients and families as they are going through diagnosis, treatment and into survivorship."
doTERRA first learned of the St. Elizabeth Cancer Center from one of its wellness advocates who was a former patient of Dr. Flora and is now a cancer survivor. Inspired by St. Elizabeth's personal and integrative approach to medicine, which aligns with doTERRA's philosophy and focus on wellness and addressing the needs of the whole person, doTERRA made a generous donation of $5 million to the St. Elizabeth Foundation Cancer Center Community Campaign—the largest corporate donation in St. Elizabeth Foundation's 30 year history. This donation symbolizes the start of a synergistic partnership between the two organizations.
"doTERRA is honored to join St. Elizabeth Healthcare in supporting patients undergoing cancer treatment," said Dr. David Hill, founding executive, Scientific & Healthcare Initiatives, of doTERRA. "Going through chemotherapy, radiation and other related treatments are challenging experiences. We are pleased to help bring support to these individuals through the doTERRA Center for Integrative Oncology during their healing journey."
doTERRA's dedication to advancing the field of essential oils through its collaborative healthcare and research partnerships consists of a team of experts including its chief medical officer, clinical scientists, MDs and medical professionals, a medical advisory board of leading experts in fields ranging from dentistry to orthopedic surgery, and institutional partners.