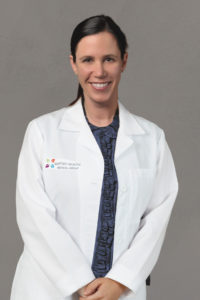 NEW ALBANY, Ind. — Baptist Health Medical Group has announced that Dr. Ashley Lankford is now part of its New Albany-based general surgery practice located at 2125 State Street, Suite 3. She is currently accepting new patients.
Dr. Lankford is a board-certified general surgeon and a graduate of the University of Louisville School of Medicine. She completed her general surgery residency at Memorial Health University Medical Center, Savannah, Georgia and a breast oncology rotation at the renowned Memorial Sloan-Kettering Cancer Center.
Dr. Lankford performs advanced surgical procedures, including minimally invasive laparoscopy and treats a wide range of conditions, including, benign and malignant disease of the breast, skin and soft tissue; hernias; disorders of the biliary tract and diseases of the large and small bowel. In addition, she provides state-of-the-art wound care.
Together with colleagues Jordan Brown, MD; John Clayton, DO; John "Paddy" McCormick, MD; and Sarah Wilson, PA-C, also new to the medical group, the fully staffed surgery office is equipped to see patients from young adults to the elderly.
Dr. Lankford is certified by the American College of Surgeons and the American Board of Surgery. To schedule an appointment with Dr. Lankford call 812.949.5575.