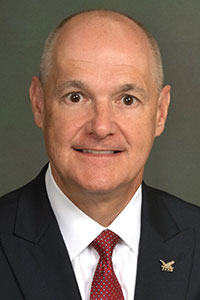 SOMERSET, Ky. — Terry Pugh was appointed First & Farmers National Bank president and CEO recently by the board of directors.
Pugh assumes this role as the bank ushers in a new era with its recently constructed corporate headquarters and retail banking center, located at 2020 South Highway 27 in Somerset, Ky. Immediate past President and CEO Steve Morgan will continue to serve as Albany market president and as a director on both the First & Farmers National Bank and Albany Bancorp boards.
Pugh attended Eastern Kentucky University, where he earned his bachelor of business administration degree with an emphasis in finance. He is also an alumnus of the Graduate School of Banking of the South at Louisiana State University.
Pugh brings to the position over 37 years of experience in banking, the last 10 of those with First & Farmers National Bank. He has most recently served the bank as senior vice president and chief lending officer.
Pugh continues to work closely with Morgan to ensure a smooth transition.
"I am grateful for Mr. Morgan's dedication to First & Farmers," Pugh said. "Under his leadership, the bank has grown into one of the region's premier lending institutions, and I look forward to continuing this legacy into the future. As the banking industry continues to adapt to address the needs of the always-changing business landscape, First & Farmers National Bank is dedicated to meeting these modern challenges with the same commitment to customer and community service that has guided this bank since 1818. The rich history of First & Farmers continues to evolve with our new state-of-the-art facility on U.S. 27. The investment in our new corporate headquarters by the bank's shareholders represents their commitment to providing first-class banking services to south central Kentucky."
---
IT'S FREE | Sign up for The Lane Report email business newsletter. Receive breaking Kentucky business news and updates daily. Click here to sign up
---
First & Farmers National Bank Chairman John G. Prather Jr. said, "Mr. Pugh's astute knowledge of banking, his strong leadership skills, and most importantly his commitment to First & Farmers' role in helping our local communities to thrive, will continue to move FFNB forward as one of the strongest and best banks in Kentucky. On behalf of the board, I would like to extend our heartfelt gratitude to Mr. Steve Morgan, for over 20 years of service as president and CEO. Under his guidance, the bank has grown from a single location with $73 million in assets to 11 locations, operating in four counties, with $512 million in total assets."
Over the last decade, Pugh has shared First & Farmers' commitment to his community and strives to highlight the bank's mission to demonstrate responsible corporate citizenship. He has served as president of the Somerset-Pulaski Morning Rotary Club, and he continues to be an active leader for the club's ramp building projects.
In their free time, he and his wife, Sarah, are passionate about the outdoors and enjoy spending time with the local Southern Performance Cycling Club. They have two adult children, Chase and Jordan, and are active members of St. Patrick's Episcopal Church.