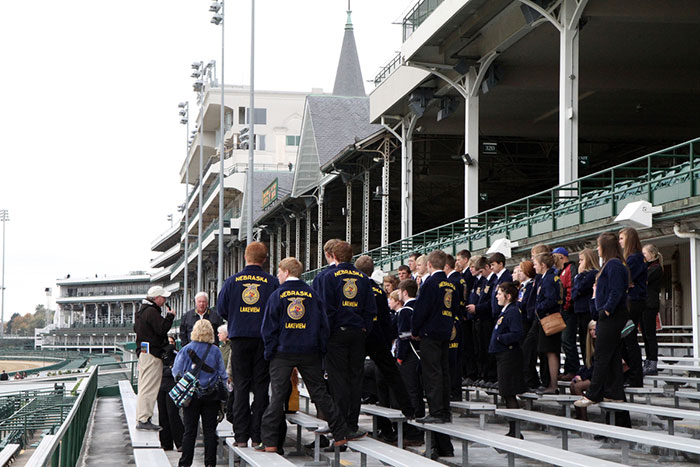 LOUISVILLE, Ky. — Kentucky Derby Museum is preparing for an increase in admissions the week of Oct. 27, when the National FFA Convention is in nearby Indianapolis.
The 92nd National FFA convention will be held in Indianapolis Oct. 30 – Nov. 2. FFA, the Future Farmers of America, is a student organization interested in agriculture and leadership. In addition to the next generation of farmers, FFA also welcomes members who aspire to be teachers, doctors, scientists, business owners and more, according to the FFA website.
Even though the convention is more than an hour away from Louisville, 2,337 FFA members have booked tours through Kentucky Derby Museum, the exclusive tour provider of Churchill Downs.
The museum fares extremely well when the FFA convention is held in Louisville. In 2015, the last time the convention was held in Derby City, there was a jaw-dropping 929% increase in museum visitors, up over 17,000 visitors compared to the following week. Even when the convention is in nearby Indianapolis, the museum sees a sharp rise in FFA blue jackets walking through the doors. In 2018, there was a 55% increase in visitors during FFA week and a 28% spike in Gift Shop sales, compared to the previous week.
The Kentucky Derby Museum Gift Shop is hiring up to eight additional staff members to work in retail and inventory to accommodate the influx of visitors.
"It's all hands on deck during FFA week," said Pat Armstrong, president & CEO of Kentucky Derby Museum. "From a bustling lobby full of blue FFA jackets, to a gift shop brimming with business, the economic impact we feel from a convention stationed an hour away is impressive. We are grateful that the museum is a choice destination for FFA visitors in Indianapolis."
"The Kentucky Derby Museum is such a unique visitor experience, it's no surprise it is a regional draw. Louisville has a long tradition of being one of the most hospitable communities in the world and we are thrilled to welcome FFA students and advisors to enjoy one of our premier attractions," said Karen Williams, president and CEO of Louisville Tourism. "These students are the icing on the cake to an already banner year for the museum."