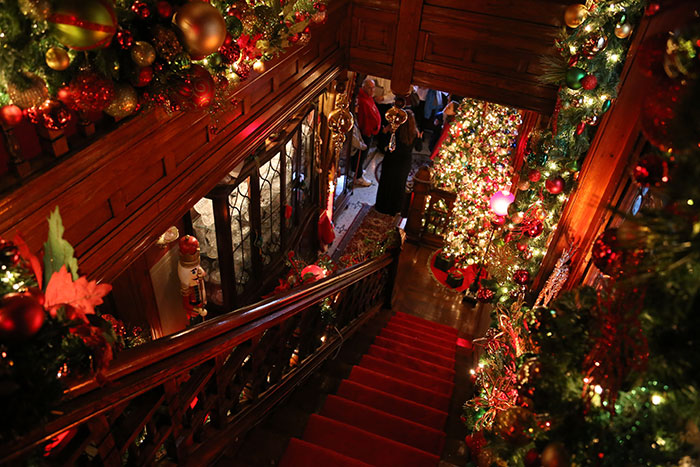 LOUISVILLE, Ky. — Returning on the first full weekend in December, the Old Louisville Holiday Home Tour gives visitors a rare glimpse inside several beautiful Victorian-era private residences and historic buildings dressed in their holiday finery. The tour is set to showcase the rich and diverse history of Historic Old Louisville during the Yuletide season.
The 43rd annual Old Louisville Holiday Home Tour will take place Saturday, Dec. 7 and Sunday, Dec. 8 from noon to 6 p.m. Each year it attracts thousands of visitors to Old Louisville to experience "One of the Great Places in America," as named by the American Planning Association.
A one-of-a-kind historic preservation district boasting the largest contiguous collection of Victorian architecture in the U.S., Old Louisville is anything but "old." This year's tour brings the past into the present, showcasing several homes that were, at one point, run-down or even condemned, but are now revived and alive after restorations. Many of the homes and historical buildings on the 2019 Holiday Home Tour are true mansions, one of which is located on the iconic St. James Court. The tour also highlights the architectural diversity of the neighborhood by featuring a beautifully renovated 800 s.f. home that was formerly an artist's studio.
"For 43 years, Old Louisville has opened its doors during the holiday season with a festive and welcoming spirit," said Susan Coleman Layman, Old Louisville Holiday Home Tour chair. "I invite you to see for yourself how our historic neighborhood blends Yuletides past with today's urban vitality during this year's Old Louisville Holiday Home Tour, a beloved community tradition."
There is something for everyone during the Holiday Home Tour. Step back in time and enjoy an authentic Victorian Tea, set within the Conrad-Caldwell House Museum (1402 St. James Court), which will be fully decorated for the holiday season. This traditional tea party is an all-ages event and will feature a variety of teas, provided by the Louisville Tea Company, and a sampling of savory and sweet treats enjoyed during the Victorian era. Guests can also get a head start on holiday shopping at The Woman's Club Of Louisville (1320 South Fourth Street) at the holiday gift boutique and their year-round consignment shop, Carriage Trade. For convenience, there will be free parking and regular shuttle pick-ups throughout the tour area. More information may be found on online.
Old Louisville Holiday Home Tour pre-sale tickets are available until Friday, Dec. 6 for $25 and can be purchased by clicking here, or by visiting the Historic Old Louisville Visitors Center in Central Park (1340 South Fourth Street), which also serves as the ticketing headquarters during the event. Guests are encouraged to bring the whole family. Children 12 and under are free. Day-of tickets can be purchased for $30 online and redeemed at the Visitors Center, or on site, where guests will receive their tour booklet (which serves as the admission ticket).
The Old Louisville Holiday Home Tour serves as the primary fundraiser for the Old Louisville Neighborhood Council, which preserves, protects and promotes the history and culture of Old Louisville. For more information about the tour, visit oldlouisville.org/holiday-home-tour and follow on Facebook at facebook.com/HolidayHomeTour.