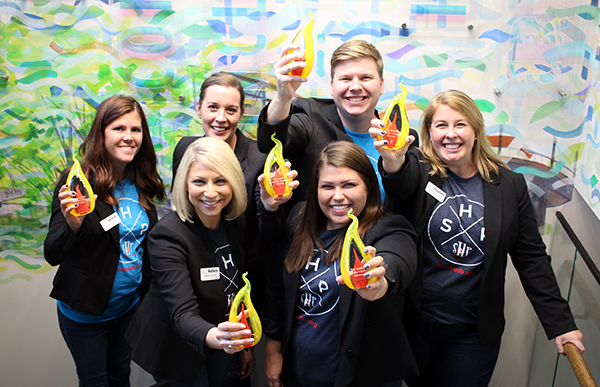 LOUISVILLE, Ky. — The 22nd class of Leadership Louisville Center's Ignite Louisville program graduated Oct. 23 following a day of presentations to a panel of esteemed judges.
The six Community Acceleration Teams put their work for local nonprofits on display in hopes of winning the Ignite Louisville Challenge and earning additional funds for the agency they worked to assist. The team working with Sleep in Heavenly Peace-Derby City (SHP) was selected as the winner of the challenge and will receive the $1,500 prize made possible by the Leadership Louisville Center.
While one team was selected as the winner, all six nonprofit agencies received significant support, with the six teams contributing over 2,500 hours of service and providing over $187,000 in value to the nonprofit agencies.
Presented by Norton Healthcare, Ignite Louisville is a six-month program that grows young professionals by developing the key components of leadership. The program has graduated over 1,000 up-and-coming leaders and offers two classes each year, preparing next-generation talent for expanded roles in their organizations and in the community.
The Ignite Louisville Challenge is an opportunity for teams from the Leadership Louisville Center's Ignite Louisville program to undertake a project for a local nonprofit, gaining experience in community leadership, board involvement and teamwork. Since the first class graduated in 2005, Ignite Louisville Community Acceleration Teams have worked on over 130 projects for area nonprofits to plan, execute and sustain new strategies for success. Participating nonprofits benefit from the expertise and energy of these Community Acceleration Teams, which each invest hundreds of hours with their nonprofit agency as they compete for donations.
Ignite Louisville Challenge winning team and agency:
Sleep in Heavenly Peace – Derby City (SHP)
Kristin Ayres, Tri-Arrows Aluminum; Elizabeth Cobb; Mallory Howell, Humana Inc.; Allison Hughes, GE appliances, A Haier company; Taylor Jolly, Mercer; Jessica Thornton, Louisville Metro Government
This 100% volunteer-based organization builds beds for children in Louisville and surrounding communities who do not have a bed of their own. Sleep in Heavenly Peace-Derby City (SHP) was formed in 2018 and recognizes the importance of having a bed for the growth, development, mental health, and academic success of children and teenagers. The team collaborated with SHP-Derby City to build their local brand, grow awareness on social media, increase fundraising, and develop corporate partnerships. The five-month collaboration resulted in an increase of three times the media presence, engagement of 47 participants and 13 organizations in the inaugural golf scramble fundraiser, and the second-ever corporate-sponsored bed build. The team raised over $29,000 which was allocated to purchase a trailer to transport build equipment and deliver beds, purchase additional tools, and fund the building of more than 100 beds in the future. Key to the long-term sustainability of this organization, a multi-disciplined advisory committee was established to provide guidance for future fundraising, outreach, media relations, and partnerships.
Kyle Fogg, chapter co-president of Sleep in Heavenly Peace-Derby City, had this to say:
"The Ignite Louisville team has been amazing to work with. They have done more in six months for Sleep in Heavenly Peace than our team was able to do over the past year. The Ignite team has opened more doors for SHP than we ever thought possible. They have made us excited about the future of our organization and about the impact we will be able to have on children in our community."
Click here to see team photos and results achieved by each team for their nonprofit partners.