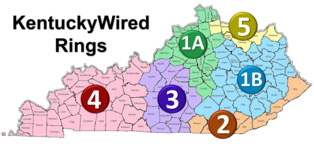 FRANKFORT, Ky. — Data traffic began flowing through a major segment of the commonwealth's fiber optic cable network, KentuckyWired Oct. 23.
Although cable construction of Ring 1A was complete in June, the flow of data could not begin until work was complete inside the main data base centers in Frankfort and Florence. Data traffic is now flowing between those data base centers in a 2-week testing stage. Ring 1A is the Louisville-to-Lexington-to-Cincinnati segment of the network, and is the first of six rings to be completed.
Deck Decker, interim director of the Kentucky Communications Network Authority, the state agency overseeing KentuckyWired, says, "Government sites will soon begin lighting up along 1A, which means state offices will have faster service." In addition, says Decker, "Half of the fiber in the 288-strand cable will be available for lease to private companies, helping to pay for the construction and maintenance of the network."
Completion of fiber construction in Rings 1B and 2 in Eastern Kentucky was announced at the 2019 SOAR Summit in Pikeville on Sept. 6. Independent certification of sites is still ongoing in those areas and is expected to be completed very soon. According to Decker, those rings should be "fully operational before Christmas."
KentuckyWired is a state-run project constructing high-speed, high-capacity fiber optic cable in every county in Kentucky. The KentuckyWired network is a "middle mile" project connecting government offices, universities, community colleges, state police posts, state parks, and other government institutions to the global internet.
The entire 3,000-mile KentuckyWired fiber optic cable network is scheduled to be completed by October of 2020.
For more information on the KentuckyWired project, visit https://kentuckywired.ky.gov.