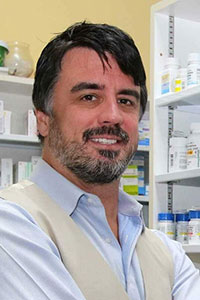 NICHOLASVILLE, Ky. — Jessamine County native and business owner Dr. John McDaniel and his partner pharmacist Fei Xiong recently opened Med-Save Pharmacy Nicholasville, an independent pharmacy.
Med-Save Pharmacy Nicholasville is located at 1025 North Main Street, near Tractor Supply.
McDaniel is known to many in the Jessamine County community as the owner of Med-Save Wilmore (formerly Sims Drug & Gifts) and son of former Jessamine County Clerk Eva McDaniel.
"Nicholasville, Wilmore and Jessamine County in general are really important to me," McDaniel said. "This is my hometown, and I couldn't be more excited to open another independent pharmacy here. Our pharmacy is literally a tradition here in Wilmore—many of our customers have been coming to us for generations, because they know we truly care about their health and well-being. We're excited to extend that tradition to the Nicholasville community."
Like the Wilmore pharmacy, Med-Save Pharmacy Nicholasville will be part of a "family" of Med-Save pharmacies scattered throughout Kentucky, offering patients the same streamlined service as any big box pharmacy, but with the type of personalized care that only an independent can provide.
"No matter where they are, our Med-Save pharmacies are connected, so a patient who lives in one county but works in another can stop by and pick up their prescription during their lunch hour, if they'd like," McDaniel said. "We're making it even more beneficial for patients to use an independent pharmacy, and we aren't losing any of the qualities that make independents so special.
Pharmacist Fei Xiong is an excellent example of the "family" aspect of all Med-Save pharmacies, McDaniel said. "Fei divides her time between the Med-Save Nicholasville and Med-Save Wilmore stores. Fei is one of the most professional and dedicated pharmacists I know; she is also one of the nicest people I know, and she's become a fixture here our Wilmore store. Our customers absolutely love her. So if/when our Wilmore patients happens stop in Med-Save Nicholasville to fill a prescription, it will be like stopping by to see an old friend."
In addition to the Med-Save Pharmacy Nicholasville, McDaniel and his Med-Save Pharmacy partners will open a Med-Save Pharmacy Lexington in early 2020.
"Visit a Med-Save pharmacy and you'll see why we're known as pharmacies 'where everybody counts,'" McDaniel said. "We get to know our customers, and we truly care about their well-being. All communities, whether they're large or small, need the type of personal pharmaceutical care and service provided by independent pharmacies. My partners and I are proud to be part of a family of independent pharmacies determined to fulfill that need."
McDaniel and Xiong invite everyone to participate in the Med-Save Nicholasville Grand Opening Celebration Appreciation Nov. 15 and 16 from noon to 3 p.m. The event will offer an old fashioned hot dog cart and other free refreshments, a bouncy house for the kids, a drawing for a flat screen television and other giveaways.
"It will be a fun and free activity for families. We hope lots of people will come to celebrate with us and join the Med-Save family," McDaniel said.