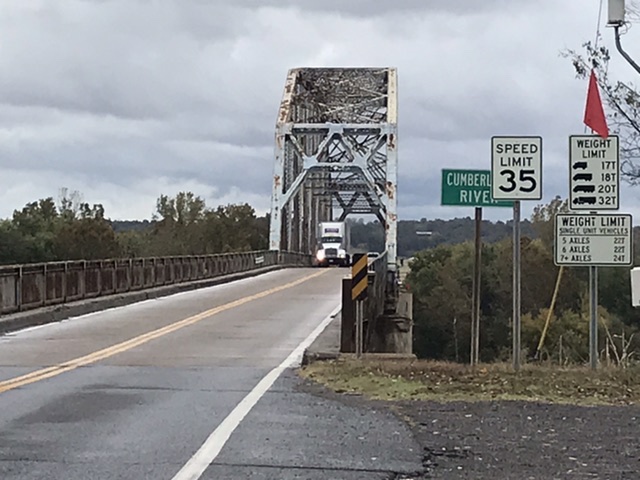 PADUCAH, Ky. — The Kentucky Transportation Cabinet has announced night repair work on the U.S. 60 Cumberland River Bridge at Smithland in Livingston County will start Friday, Nov. 1.
A repair project to replace beams damaged by overweight trucks will require the bridge, also known as the Lucy Jefferson Lewis Memorial Bridge and the Smithland Bridge, to be closed to all traffic from 8 p.m. to 5 a.m., for two weeks.
There will be no marked detour. Portable message boards at key locations along U.S. 60 will alert through-traffic to the nightly closures. The bridge is expected to have all lanes open during the day with a reduced work zone speed limit.
The location of the bridge creates a critical transportation gap along U.S. 60 in the middle of Livingston County. A self-detour via U.S. 641, I-24 and KY 453 creates a 74-mile detour from one end of the bridge to the other. Many night commuters in northern Livingston County who work in the Paducah area should expect an additional hour or more of travel time. The nightly closures will also impact residents of Crittenden County who work in the Paducah area.
KYTC District 1 Chief Engineer Kyle Poat is urging commuters who depend on the bridge to plan ahead to be fully prepared for the overnight closures.
"This expedited repair project will create a substantial detour for anyone who travels this section of U.S. 60 through Livingston County at night," Poat said. "We want everyone to be prepared for two weeks of nightly travel impacts."
During a pre-construction meeting today, KYTC engineers and the contractor provided a more detailed briefing on the work plan to county officials and emergency agencies. KYTC engineers and the contractor are working with area agencies to develop contingency plans to deal with a number of potential emergency scenarios.
KYTC engineers and the contractor will work with election officials to assure election results from precincts from the northern half of the county can be delivered to the courthouse in Smithland in a timely manner the evening of Tuesday, November 5.
In addition to creating an extended detour for workers on the night shift, Poat noted that the overnight closures will stretch through opening week of modern gun deer hunting season, possibly requiring some hunters to adapt their plans.
"While traffic volume drops substantially during the overnight hours, about 3,500 vehicles cross the Smithland Bridge in an average day," Poat added. "With the Cumberland River dividing Livingston County in half, the bridge provides a critical transportation connection."
Some workers who face an extended detour at night have indicated they plan to stay with friends and relatives closer to their worksite to avoid adding an hour or more detour to their commute.
Hall Contracting is handling the bridge repairs, the same company that completed the emergency replacement of a span on the U.S. 68/KY 80 Eggners Ferry Bridge after it was struck by a cargo ship in 2012.
The project schedule is aimed at restoring the bridge to normal traffic flow before Thanksgiving and returning the bridge to a standard 40-ton load limit.
Reduced load limits were posted for U.S. 60 Cumberland River Bridge at Smithland in July after inspectors determined a beam below the bridge deck had been damaged by grossly overweight trucks crossing the structure.
"The reduced weight restriction has created problems for farmers, local rock quarries, and other businesses," Poat said. "This repair work is specifically aimed at returning the bridge to normal weight limits."
The Smithland Bridge is expected to return to normal 40-ton load limits shortly after the work is completed. KYTC engineers have asked area law enforcement agencies to continue monitoring the bridge for overweight loads.
The U.S. 60 Cumberland River Bridge at Smithland is at U.S. 60 Livingston County mile point 12.697. The 1,817-foot through truss structure opened to traffic in 1931. The bridge is located at Cumberland River navigation mile point 2.7.
KYTC is currently in the final design phase for the construction of a new bridge immediately downstream from the existing structure. The new $45 million bridge remains on track for bidding in February 2020, with construction expected to take just over two years to complete.
Reducted load limits on the S. 60 Cumberland River Bridge at Smithland are posted as follows:
• Type 1: 17 tons—Two axle single unit trucks
• Type 2: 18 tons—Three axle single unit trucks
• Type 3: 20 tons—Four axle single unit trucks
• Type 4: 32 tons—Five axle SEMI trucks
• Single Unit Vehicle with five axles: 22 tons
• Single Unit Vehicle with six axles: 22 tons
• Single Unit Vehicle with 7-plus axles: 24 tons