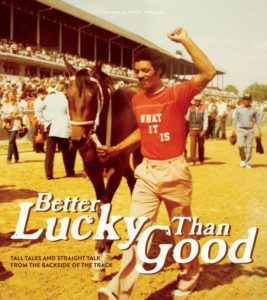 LOUISVILLE, Ky. — Join the Kentucky Derby Museum Nov. 4 as it launches the Louisville Story Program's latest book, Better Lucky Than Good: Tall Tales and Straight talk from the Backside of the Track. The event will take place from 6-8 p.m. inside the Museum's Great Hall.
The book launch at the Museum is free and open to the public. Guests will have the chance to speak with the authors, purchase a copy of the book and have it signed. In all, there are 32 people featured in the book, ranging from equine workers, Backside employees, a silks seamstress, assistant trainers, and people from the neighborhoods surrounding Churchill Downs. They now all have bragging rights that they are a published author!
One author includes Kentucky Derby Museum employee, Carla Grego. Grego, the membership and horseman relations manager, has been around horses her whole life. In her chapter, she talks about working at Wagner's Pharmacy, meeting her husband (a trainer) there, and her great-uncle Roscoe Goose, the Kentucky Derby winning jockey aboard Donerail in 1913, the longest long-shot to this day to ever win the Derby. "There are just so many great stories, and such colorful history," said Grego. I feel very blessed to be included in this book. It lets me look back at my life and really appreciate the richness and how fortunate I am to live the life I have lived in the horse racing industry."
The book has been three years in the making through Louisville Story Program, an organization that amplifies unheard voices from historically underrepresented communities.
"This is the first book of its kind ever published in the history of American Thoroughbred Racing," said Joe Manning, deputy director of Louisville Story Program. "It's been three years of developing community, dipping our toes into relationships on the Backside, making friends, and really working with people to allow them to feel comfortable opening up and telling their stories."
Kentucky Derby Museum will carry this book for purchase in its Finish Line Gift Shop and at the Churchill Downs store.