By Kathie Stamps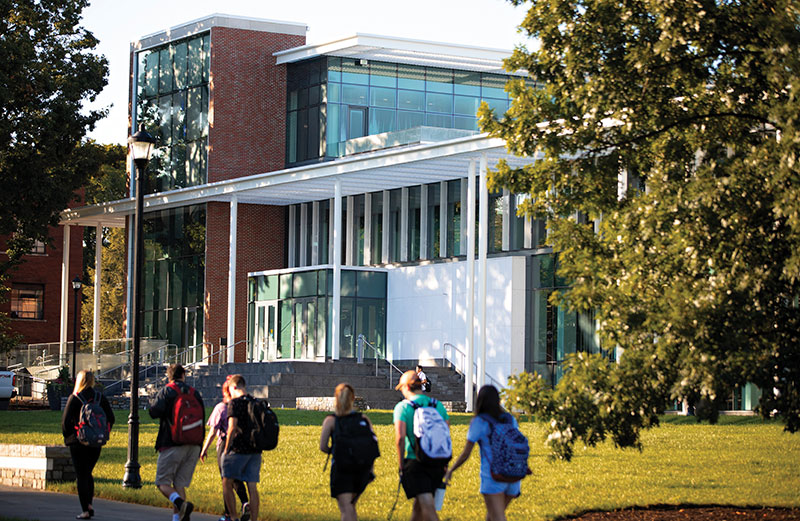 Reading, writing and arithmetic will never go out of style, because technology allows them to keep up with changing times. These fundamentals of education are key elements in tech itself, in areas such as industrial maintenance, electrical technology and advanced manufacturing technician programs at the Bluegrass Community and Technical College satellite campus in Danville.

A new Advanced Manufacturing Center (AMC) is anticipated to open in summer 2021. Groundbreaking took place in September 2019 in the John Hill Bailey Industrial Park. The $4.8 million project is funded by a 2016 Kentucky Work Ready Skills Initiative grant of $2.7 million, by $1 million raised from community businesses and individuals and BCTC's own $1.1 million investment. The 13,780 s.f. facility will house the advanced manufacturing technician (AMT) and electrical and industrial maintenance programs. A similar but larger facility was built in Georgetown in 2017.
"Opening this new facility for advanced manufacturing training will free space to increase capacity for general education classes and other educational initiatives to serve the community," said Mark Manuel, BCTC vice president of Advancement and Organizational Development.
BCTC graduates in the AMT program support manufacturing in Danville and surrounding areas at Denyo Manufacturing Corp., Hitachi Automotive Systems Americas, and Tarter Farm and Ranch Equipment, among other companies, all of which are backing the new center.
"The Danville AMC project is representative of our strategy to bridge the workforce skills gap and support the communities of Central Kentucky," Manuel said.
Businesses supporting students before they enter the workforce is an innovative trend that's paying off. At three high schools within Fayette County Public Schools, students are receiving a career-focused education in a "talent pipeline development" model known as The Academies of Lexington. The program launched in 2017.
"In order to truly prepare our students for the world that's waiting for them, we have to transform the way we approach public education," said Kim Lyon, strategic partnership manager with The Academies of Lexington. "We are looking beyond our own walls and beyond high school graduation and recognizing that we are a critical partner in workforce development. We do this through working with local business and industry partners that allow students to explore in-demand careers, engage in work-based learning experiences, solve real-world problems for authentic learning, and improve collegiate and workforce readiness by developing skills like a strong work ethic, problem-solving abilities, personal presentation, collaboration, creativity and responsibility."
During the 2018-19 school year, over 100 local business worked with students in The Academies, both off campus and in classrooms. Bryan Station High School offers academies in engineering; information technology; leadership and professional services; manufacturing and robotics; and medical sciences. Although it's only two years old, Frederick Douglass High has academies in health sciences; professional services; and technology. Tates Creek High's academies are in business, entrepreneurship and education; design and engineering; international baccalaureate and information technology; and medical and emergency services.
---
IT'S FREE | Sign up for The Lane Report email business newsletter. Receive breaking Kentucky business news and updates daily. Click here to sign up
---
"Academies allow the business community to take an active role in the educational experience and shape the workforce of the future," Lyon said.
The number of students attending all Fayette County Public Schools is at a record high of almost 43,000 for the 2019-20 school year. Coventry Oak Elementary and Garrett Morgan Elementary opened in 2016, Frederick Douglass High School in 2017, followed by the Success Academy program in 2018 and Brenda Cowan Elementary in 2019.
The school system has invested $12.1 million over the past two years for reading and math curricula. Through a "measures of academic progress" assessment, students in grades K-8 scored higher in both subjects last year than the national average. "We are especially excited to see the gains made by our youngest students," said Manny Caulk, FCPS superintendent. "Last year our kindergarteners showed more growth in math than 99% of the rest of the nation, and more growth in reading than 97% of the country."
FCPS also recently invested $13.3 million in school safety. Over a nine-month period, the district hired 24 additional police officers, installed 46 walk-through metal detectors at four high schools and 761 security cameras at 23 schools, among other measures, and hired 29 mental health professionals.
Also actively growing, the University of Kentucky conferred degrees to 5,363 students in May 2019, its largest graduating class ever. And UK faculty members received $417.1 million in competitive research awards between July 2018 and June 2019, a 25% increase over FY2018. One multiyear award for $87 million will focus on reducing opioid-related overdose deaths. NIH funding for Alzheimer's-related research is at $23.4 million (up 75%) for faculty of the Sanders-Brown Center on Aging. The total economic impact of UK research in FY2018 was $725.5 million for Kentucky, creating $237 million in labor income and 1,866 new jobs.
In fall 2018, UK announced its Kentucky Can: The 21st Century Campaign, which has a $2.1 billion fundraising goal. Co-chaired by Paul Chellgren, former CEO of Ashland Inc., and Lexington entrepreneur Mira Ball, co-founder of Ball Homes, the philanthropy campaign will fund innovative research and 2,100 scholarships, support athletic programs, strengthen the alumni network and improve health care. Toward the $2.1 billion goal, 41,145 donors made $212.1 million in gifts and commitments to the university during the 2018-19 fiscal year.
The fall 2018 semester brought five new academic degrees to UK, including a bachelor of arts in U.S. culture and business practices – its majors attend classes through both the College of Arts and Sciences and the Gatton College of Business and Economics.
About 25 miles down I-75 in Richmond is another member of the state's public university system, Eastern Kentucky University, founded in 1874 as a teaching college. EKU began offering its master's degree in education in 1935. In 2016, the College of Arts and Sciences separated into the College of Science and the College of Letters, Arts and Social Sciences. Fall 2019 brought new courses in polymer chemistry. In EKU's modern Memorial Science Building, a new digital forensics lab opened in spring 2019 in cooperation with Kentucky State Police. EKU now offers bachelor of science in digital forensics and in cybersecurity.
At the helm of private Asbury University in Wilmore, Ky., since July 2019 is Kevin J. Brown, Ph.D., a former president of Wells Fargo Bank. Brown served most recently as associate dean for Asbury's Howard and Beverly Dayton School of Business. Brown succeeds Sandra C. Gray, Ph.D., also a former bank executive and professor of business.
Asbury is the only school in the world with media students who have worked, since 1984, as paid journalists and broadcasters at the Olympic Games. All incoming undergrad students at Asbury University receive scholarships; 100% of students also participate in at least one mission trip before graduating. For more than a decade, AU students in math, science and music have had a 95% acceptance rate into grad schools. It is the only school with a student-led Equine Service Mounts program.
Resources for Kentuckians improve workforce issues
By the year 2020, it's projected that 63% of Kentucky jobs will require at least some postsecondary education or training. In addition, Kentucky currently faces a shortage of skilled workers and falls below the national average in workplace participation.
Organizations throughout the state, including KET, have been building partnerships and programs to address the issue. Since its earliest days, KET has helped Kentuckians prepare for success in the workforce through its GED test-prep system and later through its Workplace Essential Skills television series.
As Kentucky's economy evolves, even more is needed to address the workforce-readiness needs of a changing state. KET has developed resources that highlight opportunities in the workplace and provide the education employees need to take the next step in their careers. These resources are available to employers who wish to recruit and train new and current workers.
According to the Kentucky Chamber of Commerce Workforce Center, a lack of soft skills is the No. 1 workforce issue in Kentucky. To address this, KET's newly developed Workplace Essential Skills Online provides training for soft skills and job readiness with lessons offering real workplace examples. The curriculum focuses on skills needed to perform in high-demand fields such as health care and manufacturing. Job searching, resume prep, professional communication and other job success strategies are addressed as well as critical thinking, problem solving and more.
KET is also a partner station in the national American Graduate initiative, which focuses on highlighting in-demand career fields and training workers to find success in them. Through its American Graduate work, KET is building community partnerships to develop content and resources to address some of Kentucky's most urgent needs for workforce training and education.
More information about KET's resources in this area can be found at KET.org/workforce.