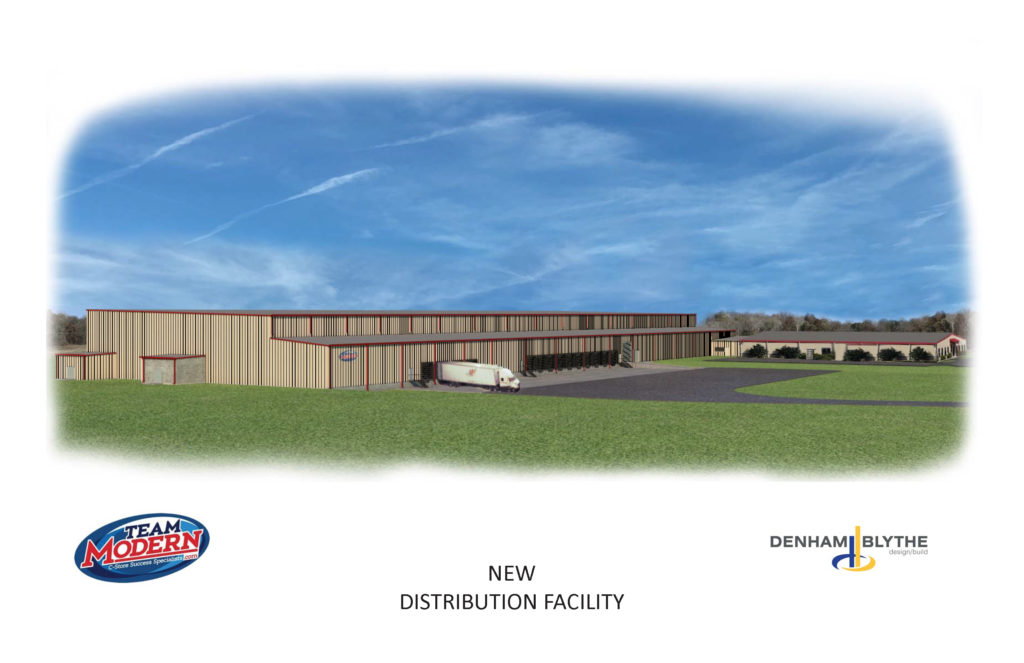 SOMERSET, Ky. — Team Modern, owned and operated by the Ray family, has purchased the former Safe Auto office building on Valley Oak Drive in Somerset and is finalizing construction plans to build a 115,000-square-foot distribution center on 70 acres adjacent to the building to serve its distribution division. The distribution center will increase Team Modern's freezer/cooler capacity for its growing foodservice business and will allow product movement and sortation to be automated, which Chief Financial Officer Michael Ray said is critical to remain viable in a competitive marketplace.
The new facility will allow Team Modern to maintain its more than 200 current jobs and provide a platform to add 20 to 40 jobs in the future.
"It's a good problem to have, but we have completely outgrown our current facility," Ray said. "We knew we could not continue to grow and service our customers with our current real estate. Our growth and our foodservice focus demanded that we find new space, and we have been very blessed that this project fell together to allow us to do that."
Taking care of existing businesses, improving the local workforce and creating an environment that that is desirable for expansion are top priorities for the Somerset-Pulaski Economic Development Authority (SPEDA), President and CEO Chris Girdler said.
"The Ray family has been a staple of the Somerset and Pulaski County community for many decades and we are so excited for Team Modern and the community as a whole with the announcement of their expansion," Girdler said. "This is a tremendous project that has amazing short- and long-term benefits. We, as a community, stand solidly behind this three-generation company and are proud of the work they do every day."
Michael Ray expressed appreciation for SPEDA's dedication to existing businesses and this project.
"We are thankful to Chris Girdler and the SPEDA organization for their continued assistance and support," he said. "It has been a long road and they have been very patient with us through the process."
The Team Modern story begins in the early 1960s with Bill Ray and a single jukebox in Danville, Kentucky. Enough nickels led to a second jukebox, and the rest is history. Bill Ray moved to Somerset in 1965 and built his company, Modern Vending, on a tradition of focusing on the needs of the customer and caring about people. Modern Vending is now one of the largest independent, family-owned wholesale distributors in Kentucky.
Grocery distribution was added in the late 1980s, and is now the largest part of the business, serving convenience stores and related customers in six states from the company's distribution center in Somerset. Team Modern now operates five divisions, all headquartered in Somerset: Modern Amusement, Modern Vending, Modern Distributors, Modern Signs & Graphics, and Modern Equipment Sales & Service.
Today, Jerry, Mickey and Michael Ray represent the second and third generations of the Ray family who are moving the company into the future.
"We wish dad could have been here for this project," Team Modern Owner Mickey Ray said. "It was years of his work and financial guidance that put us in the position to be able to consider something like this. Dad was the ultimate entrepreneur and loved nothing more than making a deal. This is certainly a big deal for Modern and he would have certainly been up for the challenge."
Team Modern Owner and President Jerry Ray said he is appreciative of the way the community has rallied behind the company. "For a family-owned company to undertake a project of this size requires a lot of support and guidance," Jerry Ray said. "The local community and its leaders have been very supportive in helping us make this project a reality."
Somerset Mayor Alan Keck reciprocated that gratitude for what Team Modern brings to the community.
"This amazing family success story paints a beautiful picture for what we want in our community," Keck said. "I am thankful and honored they would choose to expand and do so in our area. This is a huge investment, commitment and new career opportunities for our citizens. I appreciate the Ray family and their entire team."
Pulaski County Judge-Executive Steve Kelley said he is thrilled to see a local company prospering.
"Team Modern has been and continues to be an industry leader, and we want to continue doing whatever it takes to help them grow in our region," Kelley said. "Thank you to management for placing your confidence in the people of Pulaski County to grow your business. And thank you to all the state and community partners that worked together to make this expansion a reality. We are proud of all your success."
Michael Ray emphasized the importance of the Modern team in the company decision, "We believe in our team. That's why we are comfortable with this type of investment. One of our company values is Optimistic Energy, and I think it describes our culture. We have a really smart, hard-working team that believes we can succeed in whatever we do. That positive energy gives us the confidence to move forward."