By Jacqueline Pitts, The Bottom Line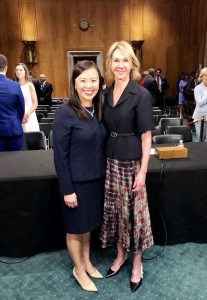 FRANKFORT, Ky. — President Trump recently nominated Kentuckian Jennifer Yue Barber to be a representative of the U.S. on the Economic and Social Council of the United Nations, with the rank of ambassador, and alternate representative to the sessions of the General Assembly of the UN.
Barber, who is fluent in Cantonese, was raised in Frankfort, Ky. and is currently a member of the Louisville law firm Frost Brown Todd LLC, where she focuses on state and local tax, economic incentives and government affairs.
She serves on many boards and councils across the commonwealth, including the Kentucky Chamber's Tax Working Group. Previously, Barber has served on the University of Kentucky Board of Directors and the Kentucky Fair Board.
Barber is a graduate of the University of Kentucky where she earned her bachelor's and law degrees. She began her career by clerking in the Office of the Chief Justice of the Supreme Court of Kentucky.
If confirmed by the U.S. Senate, Barber would join fellow Kentuckian Kelly Craft, the U.S. ambassador to the UN, and could serve as an alternate to Craft.
---