By Lorie Hailey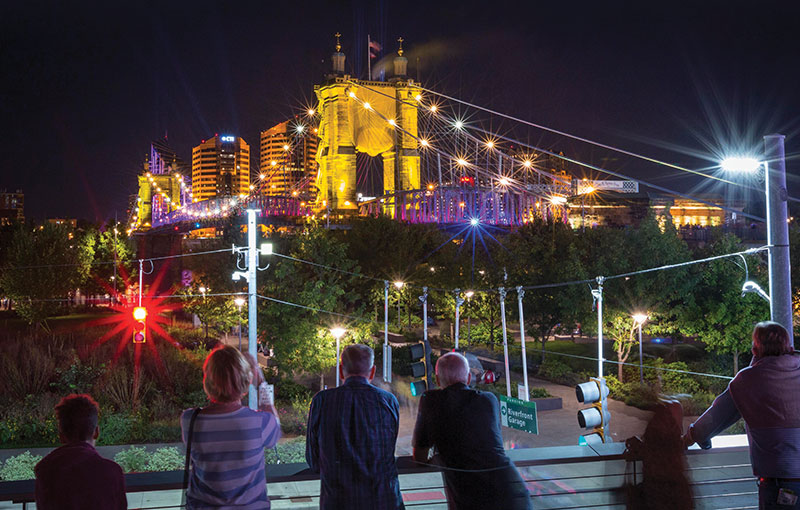 Quaint downtowns bustling with development. Prominent universities and a successful community college system. Historic neighborhoods and a booming residential real estate market. Global logistics expertise that is driving growth and bringing more high-paying jobs. Quick access to the best regional airport in North America. Four major league sports teams and successful high school sports programs that bring the community together. Innovative entrepreneurs and a supportive business community. Exciting riverfront development; multiple arts and culture venues. A cost of living that is 4.1% below the national average.

Northern Kentucky is one of the largest urban areas in Kentucky. It is a thriving manufacturing center; it's a leader in logistics, finance and technology. It has walkability, world-class restaurants, live music and a variety of craft breweries and bourbon distilleries. It also has an active suburban community with great schools and shopping destinations.
And it's all just across the river from downtown Cincinnati, "America's Queen City."
"We are part of the Cincinnati metro region, but at the same time, we are Kentucky," said Boone County Judge/Executive Gary Moore. "We market ourselves as part of Cincinnati, but with a Southern charm."
When a company is considering locating in Northern Kentucky and compares it to elsewhere, the region "fares very well," Moore said.
"We have major league sports … pro soccer, pro baseball, pro football. We have an amazing arts and culture community. We can sell all of that as part of Northern Kentucky because we're just minutes away from those things. Yet we have lower taxes, we have a great workforce and a quality community to be able to market and sell. So we fare very well in those situations."
It's why Northern Kentucky is growing, he said. Nowhere else in Kentucky can offer that.
"Northern Kentucky is also a great place to invest because it has the amenities of a large city, a great education system and workforce, arts and music venues, professional sports and housing affordability," said Paul Verst, chairman and CEO of Verst Logistics, headquartered in Walton. "It's a great place to raise a family."
Thomas Banta, managing director of Covington-based Corporex Companies and Corporex Realty & Investment, agreed.
"Northern Kentucky is an extraordinary place," Banta said. "It is a vibrant, fast-changing community featuring unique restaurants, historic architecture and thriving businesses."
Innovative community
NKY has attracted the attention of many large companies, but it also is bustling with entrepreneurs and small businesses that are inventing new products or services and helping existing business and industry leaders meet challenges in new ways. NKY has a robust entrepreneurial community that connects startups and small businesses with mentors, partners, resources and potential funders.
Led by Brit Fitzpatrick, Blue North KY is the entrepreneurship/innovation arm of Northern Kentucky Tri-ED. Blue North serves as the connector and guide for NKY's entrepreneur network. Prior to joining the Tri-ED team, Fitzpatrick founded one of the first software-as-a-service mentoring startups and launched communities for underrepresented entrepreneurs in Tennessee. She also led the founding team at 1804 Entrepreneur Center in her hometown of Louisville.
Tri-ED was awarded $2.3 million in state and federal grants to grow the NKY entrepreneurship ecosystem. Most recently, the agency was one of 44 awardees out of 183 applicants for a competitive Seed Fund Support Grant from the U.S. Economic Development Administration, "which will enable us to help close the capital gap for NKY startups through a seed-stage investment fund," Fitzpatrick said.
---
IT'S FREE | Sign up for The Lane Report email business newsletter. Receive breaking Kentucky business news and updates daily. Click here to sign up
---
"Blue North is helping entrepreneurs navigate the ecosystem more easily through a filterable database of regional resources and entrepreneurship-focused content, which we will host on our website, bluenorthky.com," she said. "We're actively launching in-house services and programs to serve entrepreneurs of all types, at all stages."
Blue North's goal is to conduct 300 meetings with entrepreneurs by June 30. These meetings consist of "wayfinding sessions," which are 30-minute meetings with Blue North's team designed to help entrepreneurs map out their business models and identify their top three pain points. Blue North then can help the entrepreneurs plug into resources that can help solve the entrepreneurs' challenges, Fitzpatrick said. They also offer "weekly office hours" sessions, which are more in-depth for entrepreneurs who want help validating their business model and who want to know the best way to build the first version of their product or service.
"We also have a step-by-step process that helps prep these entrepreneurs for a more formal entrepreneurship program, apply for an accelerator, or pitch for early investment, if that's their goal," Fitzpatrick said.
There are also office hours sessions for branding and marketing, teaching entrepreneurs how to use technology in their businesses to scale sustainably, and creating pitch decks for those seeking outside capital. Blue North also hosts quarterly investor office hours with investors in its network who are based throughout the U.S.
"We're launching a number of events and programs in 2020 that will add value to the ecosystem, bring new innovation into our region's larger companies, and help attract new earlier-stage companies to the region," Fitzpatrick said.
In 2018, Tri-ED created the NKY Entrepreneurship Council (NKYEC) to take a new approach to economic development that collaborates with community partners to share goals and resources. It is a collaborative of private sector leaders who have been working in different aspects of entrepreneurship and innovation for many years. Later that year, Tri-ED, along with the Northern Kentucky University (NKU) Foundation and other partners, received a $750,000 RISE grant from the KY Innovation Office to help establish an innovation hub in the region, focusing on informatics, health and logistics innovation. The hub will provide support for entrepreneurs and promote startup businesses.
NKU is leveraging expertise from its College of Informatics and the Institute of Health Innovation to support the council's focus areas.
"We are adopting and implementing best practices in innovation from entrepreneurial communities around the world, deploying the latest in digital and social technologies, and connecting entrepreneurs to resources specific to their business and personal needs," said NKYEC Chairman Normand Desmarais, the NKU Board of Regents' secretary and co-founder of TiER1 Performance Solutions.
The commonwealth is using Northern Kentucky's collaboration as an example of how regions should approach economic development through entrepreneurship.
"This is exactly the kind of collaboration we were aiming for when developing this new investment approach, and we know the results will show why this was the right approach to take," said Brian Mefford, executive director of the Office of Entrepreneurship at the Kentucky Cabinet for Economic Development.
The goal is to create 100 new tech-enabled small businesses in the next 10 years, Fitzpatrick said, and have an active Innovation District in Covington with innovation hubs throughout the region that provide on-ramps to the ecosystem.
"Northern Kentucky will be a premier hub for entrepreneurs, providing them with outsized connectivity to the resources and connections they need to thrive," Fitzpatrick said.
Creating a regional strategic plan will help them achieve sustainable growth, she said.
Multiple programs in Northern Kentucky serve entrepreneurs. Aviatra serves women entrepreneurs at all stages; NKU's INKUBATOR program helps student entrepreneurs build and grow companies; Square1 provides K-12 students with in-school programs and hosts an annual pitch contest. There are also several startup accelerators in the region, such as The Brandery and Flywheel. MORTAR, which serves entrepreneurs of color, is expanding to Covington this year, and the region will have two new accelerator programs for pre-Series A supply chain and health innovation companies.
Blue North is gearing up to launch the CO.STARTERS, a nine-week program that has been adopted in 100 communities across the globe and helped more than 3,000 small-business owners get their ideas off the ground. The program will provide small-business owners, creators and entrepreneurs in Gallatin, Owen, Carroll and Grant counties who have business ideas the "playbook" they need to build a sustainable business around them.
NKY's geographic location is a big asset that entrepreneurs can use to their advantage. But hard work is the true backbone of the innovation community's success.
"Northern Kentucky is a place where ideas go to work. It has a 'roll-up-your-sleeves and get it done' culture, which lends itself to successfully navigating the inevitable obstacles that come with starting and growing a business," Fitzpatrick said.
Learn more at bluenorthky.com.
Unity and philanthropy strengthen community
Northern Kentucky is comprised of three counties – Boone, Campbell and Kenton – and 35 cities. It has a host of elected officials and agencies who have a habit of working together on things like tourism, health care, transportation and economic development for the region. That kind of collaboration is unique, and it is another reason Northern Kentucky has seen significant growth in recent years, Moore said.
"We are known for breaking down those county and city barriers and working collectively as one region," he said. "By uniting and working together, we can accomplish so much more."
Northern Kentucky is business-friendly and offers a long list of resources for companies of all sizes, Banta said.
"The drive to encourage business innovation and business startups is evident by the array of unique and effective programs offered for both entrepreneurs and investors," he said. "These economic dynamos  work together to listen, identify and help to devise solutions to help maximize success." 
Among the agencies that the three counties jointly operate or support are the Northern Kentucky Convention and Visitor's Bureau (meetNKY), the health department, the NKY Chamber of Commerce, the Transit Authority of Northern Kentucky (TANK) and Northern Kentucky Tri-ED, the region's economic development corporation.
"It's just the way we do things and it works so well," Moore said. "I encourage other communities regularly to try to do the same. Kentucky has way too many counties, and we need to pool our resources to be able to accomplish things."
Tri-ED President Lee Crume said he was skeptical of all of the talk about collaboration when he first came to Northern Kentucky, but he quickly saw firsthand that collaboration and partnerships drive regional growth.
"It's incredible how well the three county judge/executives collaborate, how well they set an agenda for our community and how they give each other space to pursue the projects that are important in their communities. They set an amazing tone," Crume said.
Leaders of the three counties have a good understanding of their individual markets and assets, and they do not try to poach from one another, said Tom West, City of Covington economic development director. Above all, they work to attract or keep jobs in Northern Kentucky.
Local business professionals also work together to help those less fortunate and provide opportunities to move the community toward progress. Horizon Community Funds, a community foundation that builds philanthropy in the tri-county area and helps the "less hopeful" population, was founded by four lifelong Kentuckians:
Bill Butler (chairman, Corporex Companies); Chuck Scheper (chairman, Bexion Pharmaceuticals); Bob Zapp (retired CEO, former Bank of Kentucky); and Will Ziegler (founding partner, Ziegler & Schneider PSC).
"United in its shared commitment to increase philanthropy for Northern Kentucky believes that Northern Kentucky leaders are best positioned to understand and address the interests, needs and opportunities within Northern Kentucky," said Nancy Grayson, president of Horizon.
With a long-term goal of improving quality of life, Horizon operates a variety of initiatives to build a broad, inclusive community of philanthropy in NKY.
"We have an Emergency Needs Fund developed by our volunteer-based Horizon Community Accelerator that provides funds for bus passes, ID cards and birth certificates for our neighbors facing homelessness," Grayson said. "We also have two giving circles that encourage emerging philanthropists who are ready for a deeper dive into giving back to Northern Kentucky."
Horizon operates traditional grants through its Community Impact Fund and Donor Advised Funds. It has partnerships with local nonprofits to establish funds that directly support them, such as Redwood, the Boone County Animal Shelter, St. Elizabeth's Cancer Care Center and Northern Kentucky University.
Since its inception, Horizon has granted out more than $4.5 million.
"Giving can truly happen at any level, and we have already watched smaller gifts make a big impact," Grayson said. "Thousands of dollars have been raised for our Emergency Needs Fund, and many of those gifts were less than $50. In fact, 45% of donations since our inception in 2017 have been $100 or less. Also, it doesn't always have to be about money. There are endless opportunities to get involved with nonprofits that work in our own backyard, and we gratefully serve as a conduit between Northern Kentuckians and these nonprofits."
Another organization working to effect positive change is the Northern Kentucky Regional Alliance, an organization comprised of regional leaders committed to uniting and mobilizing leadership around initiatives that produce tangible results for Northern Kentucky in the areas of health, education, job growth and community vibrancy.
Together with commercial real estate developer Corporex Companies and the Catalytic Development Funding Corp. of Northern Kentucky, NKY Regional Alliance is working to build a signature facility to house the community's growth organizations, called 1NKY. The building, slated to be constructed near the Covington riverfront along Greenup Street, will house Northern Kentucky's economic development and community growth organizations in one place. 1NKY will be located near the landmark Ascent building, from which it appears to borrow some of its aesthetics. Planning is stll in its early stages.
The Regional Alliance also led the effort to open 1NKY Frankfort, a 3,000-s.f. facility near the Kentucky State Capitol in Frankfort. It serves as the headquarters for the Northern Kentucky region, and offers a branded location where sponsoring organizations and businesses can convene, strategize and provide collective impact – and provide a unified voice on important issues. 1NKY Frankfort will provide a way for the region to speak collectively in the capital.
New developments transforming the region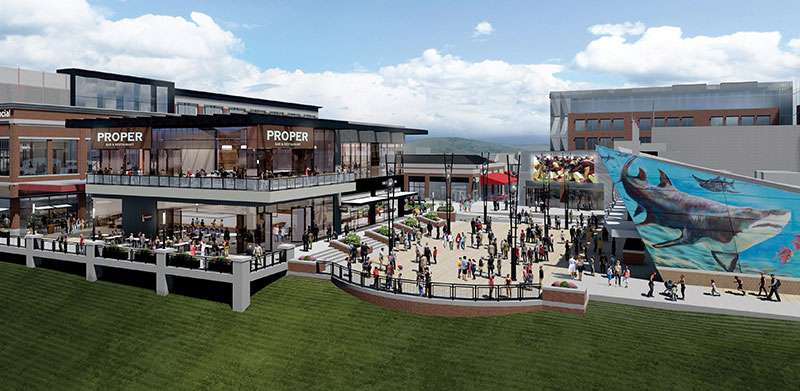 A new mixed-used development, a $40 million music venue and a 230-foot SkyWheel are among the projects slated for downtown Newport. The mixed-used development includes a hotel, office building, retail space and parking garage, and has has been approved for the World Peace Bell site in Newport's central business district.
In addition to the World Peace Bell development, a $40 million music venue is being built on the Newport riverfront by Covington-based Corporex.
The music venue at Ovation is expected to draw more than 180 events and up to 400,000 guests each year. The Venue Plaza will be linked to future phases of the Ovation development via a pedestrian walkway over the recently opened Route 9 extension. The pedestrian bridge will be linked to restaurants, nightlife and other entertainment spots within the Ovation development.
Newport city commissioners last year approved a memorandum of understanding with the Kentucky Transportation Cabinet for the construction of a pair of elevated pedestrian walkways that will connect Riverfront Commons to the Taylor-Southgate Bridge, which spans the Ohio River and links downtown Newport to downtown Cincinnati. Riverfront Commons is an 11.5-mile walking/biking path that runs along the Ohio River and links all of Northern Kentucky's river cities: Ludlow, Covington, Newport, Bellevue, Dayton and Fort Thomas. The pedestrian bridges will connect on the east and west sides of the Taylor-Southgate Bridge.
Cincinnati-based North American Partners, which purchased Newport on the Levee in 2018, is planning to invest $100 million to renovate and expand the 360,000-s.f. mixed-use, riverside development. Turner Construction, which also recently renovated Cincinnati's iconic Union Terminal, will lead the construction project.
Newport on the Levee boasts 4.5 million visitors each year. It features a variety of retail, creative office, dining, lodging and entertainment options, including the Newport Aquarium and a 20-screen IMAX theatre, along with the adjacent Starwood Aloft hotel and Aqua on the Levee luxury apartments.
Churchill Downs in October 2019 acquired Turfway Park in Florence and announced plans to demolish the existing grandstand to construct a racing and gaming venue in Northern Kentucky that would host both live and historical racing and serve as a year-round training facility.
The first phase of the proposed New Latonia facility, which is projected to create nearly 400 direct full- and part-time jobs, represents an investment of up to $150 million and would include a historical racing machine facility featuring up to 1,500 machines, a clubhouse, food and beverage venues, a synthetic racetrack, an inner dirt track and stabling facilities. The second phase of the proposed project could include a hotel, with an incremental investment of up to $50 million. The exact location of the proposed facility has not been disclosed.
Braxton Brewing opened a new taproom and brewery in Fort Mitchell in late 2019. It features 20 taps as well as a 20,000-s.f. storage facility for housing bourbon and other types of barrels for aging beer. The Covington-based company currently operates The Taproom and The Rooftop in Covington and Braxton Labs in Bellevue.