By Kathie Stamps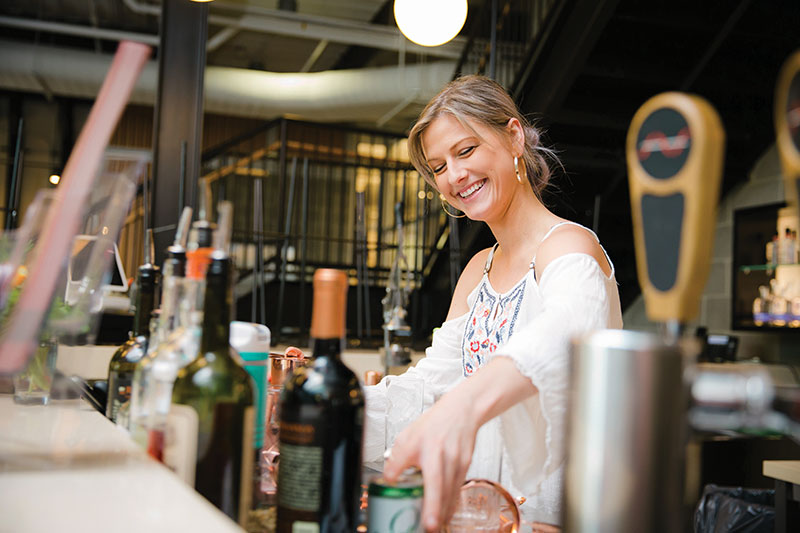 Vibrant, unique, unconventional. Those are just a few words visitors have used to describe the Northern Kentucky region, where you can enter the Kentucky Bourbon Trail, try on faux fur at Donna Salyers' Fabulous Furs, have fun at Newport on the Levee and walk along the Purple People Bridge to Cincinnati, encounter a replica of Noah's ark, or see a river crossing that was the prototype for the celebrated Brooklyn Bridge. And that's just the tip of the iceberg.

The south "literally begins at our front door, where small-town warmth and hospitality go hand-in-hand with big-city amenities and attractions," claims the Northern Kentucky Convention and Visitors' Bureau (meetNKY). Although the two communities collaborate on many things, for many years, NKY has been establishing itself as much more than just the community across the river from Cincinnati. And tourism is playing a huge role in that endeavor.
In 2005, meetNKY and the Cincinnati Convention and Visitors Bureau (Cincinnati USA) combined forces and resources to form a third marketing organization, the Cincinnati USA Regional Tourism Network, or RTN, to promote arts and cultural events and attractions to the leisure tourist.
Marketing both sides of the Ohio River has benefited both: the tourists who walk and drive across the John A. Roebling Suspension Bridge from Covington to Cincinnati and vice versa, and the tourism attractions, restaurants and retailers who serve them. The Cincinnati/Northern Kentucky International Airport in Hebron. is known by its aviation initials CVG for Covington, but it is referred to as "the Cincinnati airport" by locals and tourists alike and is yet another regional connection for Kentucky and Ohio.
Tourism for the Northern Kentucky side alone had a $2.071 billion economic impact in 2018. The "Northern Kentucky River Region" is one of the nine state regions described by the Kentucky Department of Tourism. Kentucky has had an overall tourism growth of 21% since 2013, according to the Department of Tourism. Statewide, 71.6 million visitors in 2018 spent $7.6 billion, resulting in a total economic impact of more than $11.2 billion (up from $10.9 billion the year before), generating more than 94,500 jobs and $787 million in state and local taxes. The economic impact study was conducted by the Department of Tourism's new research partner, Tourism Economics, based in Wayne, Pa., and is used by many other state tourism departments.
"The edge of bourbon country continues to thrive," said Julie Kirkpatrick, vice president of sales and marketing for meetNKY. "We are seeing new visitors making Northern Kentucky their first stop for bourbon."
Northern Kentucky is an official gateway to the Kentucky Bourbon Trail, a road-trip-style experience established by the Kentucky Distillers' Association.
---
• IT'S FREE | Sign up for The Lane Report email business newsletter. Receive breaking Kentucky business news and updates daily. Click here to sign up
---
A new bourbon experience in Northern Kentucky, developed by meetNKY, is a program called The B-Line (online at findyoursippingpoint.com). It launched on Memorial Day 2018 and now has 16 participating businesses, all locally owned: five restaurants, six bars and five Kentucky Bourbon Trail Craft Tour distilleries, including New Riff Distilling in Newport, Old Pogue Distillery in Maysville, Neeley Family Distillery in Sparta, Second Sights Spirits in Ludlow, Coppin's at Hotel Covington, and Rich's Proper Food & Drink in Covington.
New Riff Distilling, founded in 2014 in Newport, produces bourbon, rye and gin. In the spring of 2019 the company won five "double gold" medals at the 2019 San Francisco World Spirits Competition, earning the top vote by each judge from over 3,000 worldwide entries. New Riff is a top tourist attraction in Northern Kentucky, known for its modern design, a three-story copper still, rooftop deck and spaces for conferences and events.
Last fall, meetNKY partnered with the tourism commissions of Bardstown and Frankfort for "Come Find Bourbon" (comefindbourbon.com), a marketing initiative spotlighting an easy-to-do bourbon experience of 21 distilleries throughout all three bourbon destinations.
"We're known for being spirited. We are a spirited destination," Kirkpatrick said. "There's more Northern Kentucky pride rolling around than I've seen in a long, long time. It's pretty exciting."
Braxton Brewing Co. opened in 2015 and now has several locations, including The Taproom on 7th Street in Covington, featuring a new 5,000-s.f. rooftop bar that opened in July 2019; Braxton Labs, a brewery and taproom in Bellevue, Ky., with 40 original beers on tap; and Braxton Barrel House in Fort Mitchell, which opened in September to make barrel-aged beer like a stout they've named Dark Charge Cognac Ex-Bourbon. Braxton also has a hard seltzer called Vive, sold at Kroger, in grapefruit, lime, mango and dragonfruit flavors.
Northern Kentucky and Greater Cincinnati also have dozens of wineries, including 12 Mile Creek Winery (formerly known as Alice N Johns Winery) in Campbell County's California, Ky., Rose Hill winery and vineyards in Butler, Ky., and the Skeleton Root, a winery and event space in Cincinnati's Over-the-Rhine neighborhood.
Expansion plans for the 20-year-old Northern Kentucky Convention Center in Covington are in a holding pattern, but that hasn't stopped convention bookings. Sales contracts exceeded meetNKY's projections for 2019, coming in at 116% of the expected pace for room nights. The nearby IRS Center, a large building and adjacent parking lots across 23 acres of land, closed in September. Government officials, business leaders and meetNKY staff are working with consultants and conducting feasibility studies to see how best to develop the property, including proposals for an expansion of the convention center.
Annual conventions for the Kentucky League of Cities and the Kentucky Travel Industry Association are among the events held at the convention center, and business has been booked through 2025.
"We're way out in front," said Eric Summe, president and CEO of meetNKY. "We're happy to say we have a lot of interest in our center and in our destinations."
The faith-based attractions designed by Northern Kentucky-based Answers in Genesis (AiG) bring in visitors from around the world. The Creation Museum in Petersburg, Ky., opened in 2007. A $3 million upgrade in 2019 involved a 4D theater and new exhibits and videos, funded entirely by donations from supporters. A $2.2 million upgraded planetarium is under construction. AiG also operates the Ark Encounter in Williamstown, Ky., featuring a 510-foot-long Noah's ark.
Since its opening in 2016, the Ark Encounter has hosted as many as 9,000 guests in a single day. Recent enhancements include a new 2,500-seat auditorium, a new family play area designed to accommodate children of all abilities, and a larger zoo that now has kangaroos, emus, lemurs, sloths and other animals. Because of the expansions at both the Creation Museum and Ark Encounter, visitors were wanting to spend more time at both locations, so AiG created a special "Explore More" bonus pass for guests to use on their second day at either attraction.
Hotel occupancy in NKY hit a record high in 2018 from group tours and families coming to the area for these faith-based attractions and for travelers experiencing bourbon tours. The national average for hotel occupancy is 66.2%; Northern Kentucky's demand was 72.8%. Four new hotels with a total of 370 rooms opened in Florence in 2019: Holiday Inn Express & Suites Cincinnati Airport (90 rooms), Staybridge Suites Florence (91), Fairfield Inn and Suites Cincinnati Airport (92) and Tru by Hilton Cincinnati Airport (97). Two more hotels are in the works in Florence.
Hotel Covington, a $22 million hotel located inside a historic downtown building, is expanding. Late last year, the City of Covington and investment firms The Salyers Group and vR Group announced plans to renovate and reimagine the former YMCA building and Gateway Bookstore located at the corner of Madison Avenue and Pike Street to expand Hotel Covington and create a mixed-use development that will include 60 VIP and presidential suites at the hotel, along with office space and "bourbon distillery experience."
"Demand for Northern Kentucky hotels showcases the strength of our destination's offerings as part of a vibrant region," said meetNKY Board Chair Tim Bray, director of communications for the Kentucky Speedway.
Across the Ohio River, Cincinnati attractions continue to thrive, including the National Underground Railroad Freedom Center, Contemporary Arts Center, Krohn Conservatory and the Cincinnati Museum Center within Union Terminal. The Cincinnati Art Museum, which opened in 1886, had record attendance for the 2019 fiscal year of 346,000 visitors, thanks in part to one of the more popular exhibits in recent memory, "No Spectators: The Art of Burning Man" that featured iconic effigies standing three stories high. Other museum attractions for the year included Paris 1900: City of Entertainment, Collecting Calligraphy: Arts of the Islamic World, and Kimono: Refashioning Contemporary Style.
Fiona, a hippopotamus born prematurely and weighing only 29 pounds in early 2017 at Cincinnati Zoo & Botanical Garden, took the world by storm with viral videos and daily updates of her development. Three years later she continues to be a draw for tourists. In November 2019, Cece the giraffe gave birth to a six-foot-tall calf at the zoo.
From land to sea, the Newport Aquarium in Newport, Ky., has fishes large and small, plus alligators and turtles. The aquarium celebrated 20 years at Newport on the Levee in 2019 and is investing $1 million in a new exhibit for the spring of 2020 called "Shipwreck: Realm of the Eels" with a sunken ship theme across five different zones.
In late 2018, North American Properties acquired Newport on the Levee. The Cincinnati-based development company is working with Reztark Design Studio and Turner Construction to renovate the 380,000-s.f. retail and entertainment center along the south bank of the Ohio River near the Purple People Bridge. Look for more restaurants, walkways, outdoor venues and attractions to join existing tenants like the 20-screen AMC movie theater. Newport on the Levee opened in 2001 and has four levels of garage parking. The U.S. Army Corps of Engineers approved the permit for construction of the 230-foot SkyWheel, a riverfront observation wheel.
Riverfront Commons is an 11.5-mile walkway along the Ohio River, starting in the eastern part of the region in Dayton, Ky., and moving west into Ludlow, Ky. The city of Covington has begun renovating Riverfront Commons by the Roebling Bridge that connects Covington to Cincinnati, to construct a meeting area and amphitheater for music. "We're very excited about this," Summe said. "Visitors, particularly international visitors, are interested in the wayfinding walking aspect. Our heritage is our river."
Ovation, a mixed-use development in Newport, hopes to attract hundreds of thousands of visitors to the riverfront each year. Construction of the first phase of the project, a $40 million, 38,000-s.f. concert venue, began in 2019.
By the numbers
12,000
Number of employees in the NKY tourism/hospitality industry
1,500
Hotel rooms located around the NKY Convention Center
3,000
Hotel rooms near CVG Airport and BB&T Arena
$2.07B
Economic impact of NKY tourism in 2018
7.5%
Increase in demand for NKY hotels
---
2020 Festivals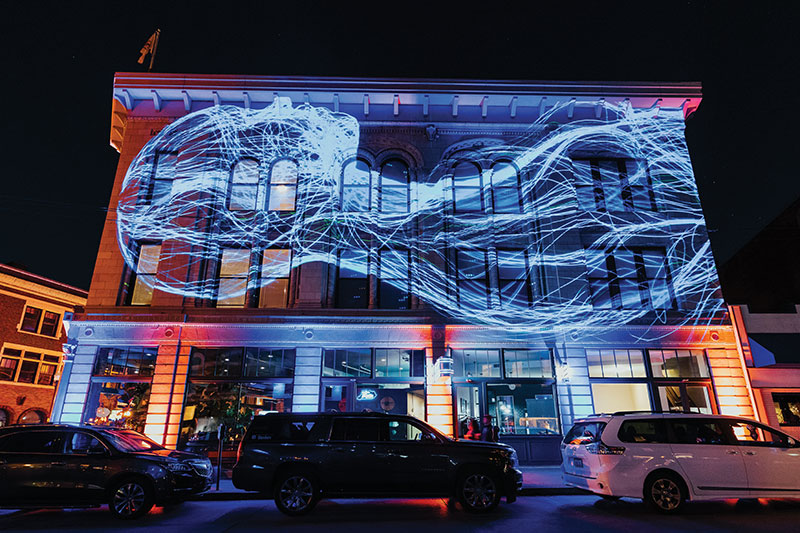 February
• Big Cheese Festival, Fairfield, Ohio
• Bockfest, Bockfest Hall in Cincinnati
• Cincinnati Auto Expo, Duke Energy Convention Center
• Cincinnati Home & Garden Show, Duke Energy Convention Center
• Mardi Gras for Homeless Children,
Northern Kentucky Convention Center
March
• Cincinnati International Wine Festival, Duke Energy Convention Center
• Cincy Winter Beerfest, Duke Energy Convention Center
• NKY International Festival, Northern Kentucky Convention Center
May
• Derby Day Festival, Williamstown
• MainStrasse Village Maifest, Covington
• Summerfair Cincinnati, Coney Island
• Taste of Cincinnati, downtown Cincinnati
• Universal Energy Expo, Northern Kentucky Convention Center
June
• Bunbury Music Festival, Sawyer Point Park
• Italianfest, Newport
July
• Cincinnati Music Festival, Paul Brown Stadium
• Cincy Blues Fest, Sawyer Point Park
• Glier's Goettafest, Newport on the Levee
• Sun Valley Bluegrass Festival, Alexandria
August
• Festival on the Lake, Alexandria
• Great Inland Seafood Festival, Newport
September
• Burlington Fall Antique Show, Burlington
• Cincinnati Riverfest and Fireworks, Sawyer Point
• Cincy Comic Expo, Duke Energy
Convention Center
• Farmers' Feast, Pendleton County
• Oktoberfest, Covington
• Oktoberfest Zinzinnati, downtown
Cincinnati
October
• Kentucky's Edge Bourbon Conference & Festival, Covington and Newport
• Kentucky Wool Festival, Falmouth
• Salt Festival, Big Bone Lick State Park
November
• Winterfair, Northern Kentucky Convention Center
---
Attractions
Ark Encounter
Williamstown
BB Riverboats
Newport
Big Bone Lick State Park
Union
Blue Licks Battlefield State Park
Carlisle
Braxton Brewing Company
Covington
Donna Salyers' Fabulous Furs
Covington
Elk Creek Vineyards
Owenton
Kentucky Speedway
Sparta
MainStrasse Village
Covington
New Riff Distilling
Newport
Newport Aquarium
Newport
Newport on the Levee
Newport
Northern Kentucky Back Roads Wine Trail
Camp Springs
Purple People Bridge
Newport
Riverside Food Tours
Covington
World Peace Bell
Newport