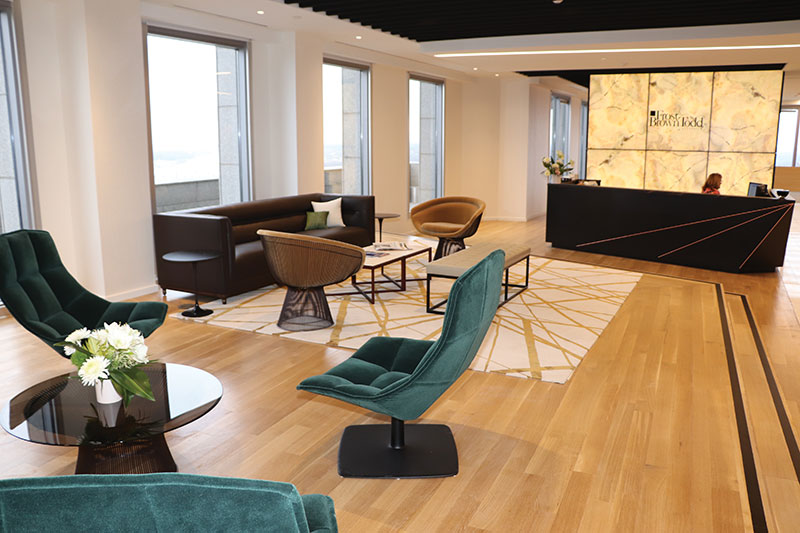 Law firm Frost Brown Todd's Louisville headquarters office is nearing the end of a significant renovation, one that has updated its workspaces from the needs of a quarter century ago to those of today.
The firm employs 525 lawyers in 13 markets across nine states, among them a Lexington office in Lexington Financial Center on West Main Street and the headquarters now occupying six floors of the 35-story tower at 400 W. Market St. in Louisville.
Geoff White is member in charge for the Louisville office, which last had been configured and designed 25 to 27 years ago, he estimates. Employment numbers have been stable for a while now, and no exponential growth is foreseen.
"We had an opportunity to negotiate a (Louisville) lease renewal and in so doing, we really carefully examined our space," he said.
Two or three decades ago, it was common to have one secretary assigned to one or two attorneys, White said. But today, he said, assistants often work with three to four attorneys each, and some individuals, because of high-functioning teams, may be assigned to assist seven or eight attorneys.
White's counterparts at regional to larger firms across Kentucky echo his experience when evaluating office spaces in a changing legal services work environment. Some are choosing to downsize square footage to streamline operations while others, in the process of merging or adding new positions, are still pursuing larger footprints.
Technology has become increasingly important, White said, in order for law office staffers to work collaboratively in teams across offices. And in many cases, technology has also reduced the need for paper storage, he said, with offsite and electronic data storage options. A firm law library with book-packed shelves once took up a third of one floor, but that's now a thing of the past, as research material is all available in a digital format, White said.
According to a July 2019 article, "Five Must Dos When Designing a Law Firm Workplace" published by REJournals, a Midwest commercial real estate news website, industry experts said today's legal services employees appreciate more choices than the traditional office or conference work settings afforded. They like elements such as "breakaway" spaces to work collaboratively or indoor or outdoor lounge areas. And as in most new business office settings today, they're placing more emphasis on bringing in natural light with glass walls as opposed to traditional office finishes.
That's been the case for FBT's renovation, foregoing the old school carrels and cubicles. With the help of architecture design, planning and consulting firm Gensler, the renovated space will have one less floor of offices but uses a more open floor plan with plenty of natural light from frosted glass walls and state-of-the-art workstations, featuring standing desks that attorneys and staff associates had been pushing for.
---
IT'S FREE | Sign up for The Lane Report email business newsletter. Receive breaking Kentucky business news and updates daily. Click here to sign up
---
There are "huddle areas" for quick consultations and conference spaces in work areas. A new hospitality space is already being used for special events.
"It's a big change for us," White said.
During renovations, the firm temporarily used two floors of the building. Approximately half of the office's 140 or so attorneys were able to move back into the remodeled space in mid-January, when White estimated the project was about two-thirds completed. When finished, FBT will occupy the 10th and 28th-32nd floors, an arrangement White hopes will serve the office for at least the next decade.
The McBrayer Law Firm has Lexington headquarters and Louisville offices, a government relations office in Frankfort and a presence in Washington, D.C. It relocated its Louisville office last year after a successful merger.
James H. Frazier III, the firm's managing member since 1993, said McBrayer relocated to a new downtown Louisville office for 16 employees. The firm's Lexington location, with a current roster of 38 employees, is in the Chase building, where it's been located since 2002.
In Lexington, McBrayer occupied the 9th and 10th floors and a small portion of the 11th floor. By about 2014, it completely occupied the 11th floor, and positions in different practice areas of focus continue to fill.
"I have no room for expansion that's contiguous on either floor – that's a conversation for another day," he said.
Frazier said being a medium-sized regional firm has had its benefits, such as remaining in a position of continued growth, even throughout the 2008-10 recession. With larger firms doing little hiring and some contracting, he said, McBrayer looked to that potential employment pool for its needs.
About 10 years ago, McBrayer entered the Louisville market with one attorney, eventually growing to eight before adding seven attorneys from the former Reed Weitkamp Schell & Vice PLLC firm in a June 2019 merger. Since then, another attorney has been added and another hire is planned, Frazier said.
Given this rapid growth, a larger location was warranted so the Louisville office moved downtown to the 24th floor of the Hilliard Lyons building at the corner of 5th and Jefferson streets, where Reed Weitkamp had been operating. The remainder of the floor is being built out in offices and conference rooms.
"I'm very excited about Louisville," Frazier said. "It's a different market, but it's a market if you've got a niche in – and we do – and you've got the right people – which we do – you can expand that footprint."
Frazier said in his experience, administrative assistants used to have a 2-to-1 or 1-to-1 ratio per attorney, but now he sees that more often as 3-to-1 or even 5-to-1, brought on by technological advances and younger hires who are adept with using these automations without assistance.
Frazier said he has friends in larger law firms who report they're expanding, but to other states rather than into existing markets. McBrayer hasn't elected to venture outside Kentucky thus far, he said, but it's been discussed periodically.
At Louisville-based Wyatt Tarrant & Combs, C. Tyson Gorman has been overseeing a main office move from 500 W. Jefferson to 400 W. Market. He's a partner in the Louisville office, one of five locations that also include Lexington, New Albany (Ind.), Memphis and Nashville.
At the end of 2019, Gorman said, the firm's lease was up on West Jefferson, a spot it had occupied more than 40 years under multiple leases. After looking at options that included remaining or relocating, Wyatt decided to move its 100 attorneys and staff members to West Market. The new offices will be smaller – a change from four floors and 74,000 s.f. to two floors and 41,000 s.f. – but about 20 years newer, he said.
One floor at West Market previously was a law office and only needs minor modifications, he said, while the other floor requires extensive work. Renovations began in December 2019, and he hopes it will be completed by early May 2020.
Gorman said in his firm there commonly are three to six attorneys assigned per assistant, much different than when he entered the field 23 years ago and the ratio was 1-to-1. Technology is lessening Wyatt's need for storage space, including bulky law library volumes.
"We used to literally have tens of thousands of books on hand, and now it's all available at the click of a keyboard," he said. "That's a big space saver."
Some legal documents are stored electronically, though paper storage remains an issue at times, Gorman said, because paper files still must be taken to court proceedings.
Overall, square footage has contracted at all the firm's offices. Wyatt's Lexington site gave back a floor at its current location three to four years ago, and the Memphis office moved to a smaller location. The Nashville office moved a few times in the past few years in its own downsizing effort, and New Albany occupies roughly the same space it always has, though it's in a smaller office overall.
"Over the course of the last five years, we've basically shifted the size of our offices downward at all locations," Gorman said.
When starting the process of moving the Louisville location, he consulted peers and found many other firms are seeking smaller locations.
Conference spaces are still used but less often, he said. All parties used to get together as a large group for closings, exchanging or signing documents, but now much of that can be and is done electronically, Gorman said. As a result, his new office has 30-40% less conference room space.
Office equipment, such as copiers and printers, is smaller and more all encompassing, he added.
"The devices we used to need get combined into multipurpose devices," he said.
But will the size of law offices continue to shrink over time, or will there be a natural stabilization point lest workplaces become too impractical in their compactness?
"I think eventually it will stabilize," Gorman said, "because of the nature of legal work and the need for lawyers to have private meetings with folks."
---
Shannon Clinton is a correspondent for The Lane Report. She can be reached at [email protected].