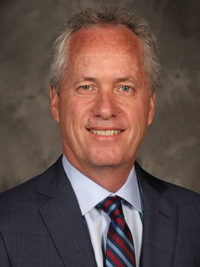 LOUISVILLE (March 15, 2020) — Mayor Greg Fischer announced today during a regular update on Louisville's response to the COVID-19 outbreak that he is in self isolation after being exposed to someone who tested positive for the virus.
"Although I have no symptoms, I was tested for the virus in consultation with the Metro Department of Health and Wellness," Fischer said. "I do not yet have the results of that test. In the meantime, I have self-isolated, just as we'd ask anyone to do.
"Should the test come back positive, I'll be working from home for the quarantine period, which begins with date of exposure, so that's March 7."
The mayor will be in isolation until early in the week after receiving guidance from Metro Health and Wellness that he be isolated 14 days from the date of exposure. He added that future media briefings on the city's response to the pandemic will be conducted virtually in order to limit person-to-person contact.
According to Gov. Andy Beshear, there are currently 20 active cases of COVID-19 in the Commonwealth of Kentucky, including three in Louisville-Jefferson County. Beshear announced in his briefing today that he also was tested after being at the same event as Mayor Fischer on March 7 but that his test has already been returned negative.
The mayor also reminded the public today of the steps that were announced late last week and yesterday in order to contain the spread and protect the public, including a temporary closure, effective immediately, of all 17 Louisville Free Public Library locations, 13 community centers, the Mary T. Meagher Aquatic Center and some indoor Zoo attractions. Additionally, two historic homes operated by Louisville Metro Parks & Recreation– Historic Locust Grove and Riverside, the Farnsley-Moremen Landing, will close for tours and programs. The grounds at both sites will remain open to the public.
Late last week, the city announced it was postponing all city-sponsored events through April 5, 2020. The Wilderness Road Senior Center closed at the end of business Friday, March 13. City golf courses and public parks will remain open.
The community center closings will not impact the Metro Office of Resilience and Community Services' plans to use five of the centers to distribute 26,000 frozen meals to people over 60 over the next three weeks, starting on Tuesday. Seniors can get five meals at a time and return the following week for another five meals.
Five community centers will be open solely for the purpose of meal distribution:
• Shawnee Community Center
• Beechmont Community Center
• Sun Valley Community Center
• Wilderness Road Senior Center
• Arthur S Kling Community Center
Meals also will be available at the East Government Center. For more information, call (502) 574-5050.
The Louisville Metro Department of Health and Public Wellness is urging everyone to take the following actions:
• Wash your hands often with soap and water for 20 seconds.
• Avoid touching your eyes, nose and mouth.
• Cough or sneeze into your elbow or a tissue.
• Practice social distancing.
• Avoid contact with sick people, and stay home if you are sick.
• Call your healthcare provider if you are concerned that you have contracted COVID-19.
• Rather than shaking hands, for the time being, greet each other with an elbow bump.
And, if you have questions, please call the Kentucky Coronavirus hotline at 1-800-722-5725, or visit Kycovid19.ky.gov.