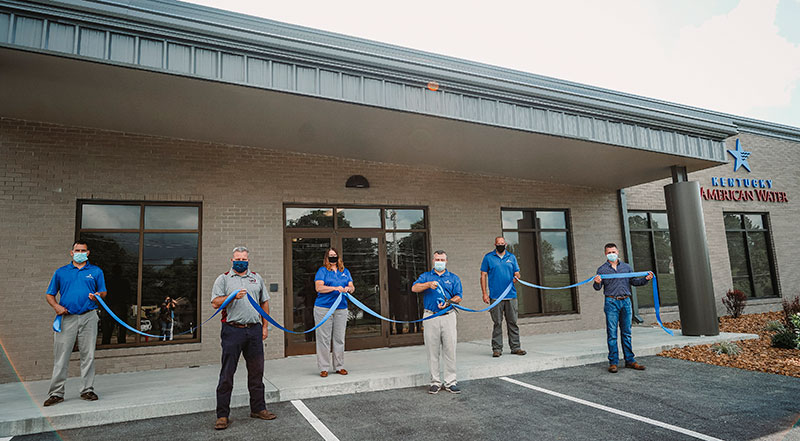 LEXINGTON, Ky. — Kentucky American Water has completed a new $1.4 million field operations facility in Owenton, Ky., after nearly a year of construction.
Company representatives joined Owen County Judge Executive Casey Ellis and Owenton Mayor Adam Gaines at the 409 Main Street location recently for a brief ceremonial ribbon cutting with all COVID-19 safety and social distancing measures in place.
"Kentucky American Water is pleased to continue investing in our northern division operations, which spans Franklin, Gallatin, Grant and Owen counties, through the addition of this new facility, which will serve as an operational hub for these areas," said Dorothy Rader, senior superintendent of operations for the utility's northern division. "Our employees will now benefit from improved equipment and material storage and delivery as well as better space for employee training sessions. This facility also enables our employees to perform their roles more safely, efficiently and cost-effectively, ultimately benefiting our customers, too."
The 9,900-s.f. maintenance garage has nearly 6,600 s.f. of garage space as well as 3,400 s.f. for personnel needs.
"While Kentucky American Water could have built this facility anywhere in the region, they chose to build it here within the city limits of Owenton, and we appreciate the company's continued investment in our community," said Owenton Mayor Adam Gaines.
Ellis added, "Kentucky American Water has demonstrated a strong commitment to Owen County for nearly two decades through capital investments and other community support as well as by providing quality water and sewer services. We appreciate businesses like Kentucky American Water who make a positive impact on Owen Countians' quality of life."
Kentucky American Water, based in Lexington, Ky., has served Owen County since 2001 when it purchased the water assets of the former Tri-Village Water District. A year later, it purchased the water assets of Elk Lake Water District, and then the water and wastewater assets of the city of Owenton in 2005. The company completed in 2010 construction of its Kentucky River Station II at Hardin's Landing facility, a 25 MGD water treatment plant located on the Kentucky River at the Franklin/Owen County line on US 127N. The water treatment facility originally served the company's central division customers in Central Kentucky, but in 2014 the facility was connected to the company's Owen County system so that it could serve the company's northern division customers, too.
Kentucky American Water invests approximately $25 million annually in water system improvements efforts.