Fort Thomas, Ky. — A high-energy Swing Revival band provides high-octane music for high-flying circus acts, performing safely outdoors for free. Prepare to mask-up for this weekend's Swingin' Cirque Revue in Tower Park. The KSO and City of Fort Thomas will be following Kentucky "Healthy at Work" requirements as musicians and safely return to distanced and safe outdoor activities. Hand sanitizer will be available and distancing reminders will abound.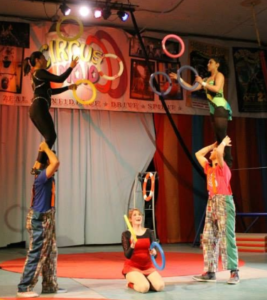 The KSO's Devou-Doo Daddies is a 10-pc group that covers the hits and sounds of the 1990s swing revival bands — Royal Crown Revue, Big Bad Voodoo Daddy, The Squirrel Nut Zippers, The Cherry Poppin' Daddies and more. Circus Mojo is based at the Ludlow (KY) Theater to mentor youth in the circus arts and brings together circus acts and performers from across the globe to teach and entertain. The KSO and Circus Mojo have teamed up in the past for hi-jinx and great music. "In these crazy times we decided to scale down the forces and ramp up the energy," KSO music director James Cassidy enthusiastically announced.
The KSO's four active subsidiary groups allow the orchestra to add area jazz, studio players, and vocalists to the orchestra's talented roster of musicians to authentically perform varied genres of jazz, fusion and pop across nearly six generations (1898 – 2020). "The Devou-Doo Daddies came about after we put the group together to play a set at our Jump Jive and Wail Gala in 2015, and it was simply too much fun, so we just kept adding charts and dates, remarked Cassidy.
CGO (Chief Goof Officer) Paul Miller is the mojo behind Circus Mojo. A former Ringling Brothers and Barnum and Bailey Circus clown for 6 years, Paul is plugged into circus acts and entertainers throughout the world. "Ten years ago the KSO helped us launch and introduce Circus Mojo to the community. Since then we've been fortunate to bring circus artists from 35 countries and 6 continents to Ludlow," chortled Pauly the Clown.
Audiences will enjoy many acts backed up by the Daddies, including Dizzy Lizzy of the National Circus Institute of Australia, dancer/unicyclist extraordinaire Eddie Moffit, Ft. Thomas's own juggler Damien Berkheimer and from Chicago — the stunning international trapeze artists Duo Rose.
The KSO appreciates the generous support of the following local corporate sponsors: St. Elizabeth Health Care, Duke Energy, Bircus Beer, The Milburn Family Foundation, The Wohlgemuth-Herschede Foundation, and the City of Fort Thomas for hosting the KSO's 2020 free series of family-friendly and safe summer programs. Seniors and others who wish to avoid even distanced crowds are invited to attend the Saturday 10:30 a.m. dress rehearsal at Tower Park. Others can join the program streamed live at 7:30 on Facebook Live.
Join the Kentucky Symphony Orchestra Saturday at 7:30 p.m. — July 11 at Tower Park in Fort Thomas. Food trucks will be on-site. Bring blankets, picnics, or lawn chairs. For more information, registration and directions, visit the KSO at http://www.kyso.org or call (859) 431-6216. $5 (per person) suggested donation. Free parking in Tower Park (though it is limited).
About the KSO:
For 28 years the Kentucky Symphony Orchestra has taken the "phony" out of symphony by eliminating traditional barriers and presenting engaging, live, thematic concerts that enrich, educate, and entertain the residents of Northern Kentucky and Greater Cincinnati. The KSO performs three series of concerts annually throughout Northern Kentucky.